Ukraine's #1 job site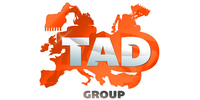 TAD Construction Group
Verified
Industry:

Wholesale, distribution, imports, and exports

Company size:

10-50 employees

Site:

Primary contact:

Грач Юлия

Phone number:
Наше предприятие с 2011 года занимается импортом спецтехники с разных стран Европы. Теперь Вы можете купить у нас телескопический погрузчик, автобетоносмеситель, экскаватор, бетононасос, каток и другую необходимую для Вас технику, которая поможет в решении строительных и бытовых проблем. Наши менеджеры всегда готовы ответить на любые Ваши вопросы, и предложить оптимальный вариант. На площадке компании «TAD Construction Group» всегда есть такая техника как: бетоносмесители с самозагрузкой от известных марок Carmix, Terex, Dieci, Italmacchine, Fiori; погрузчики вилочные, телескопические, мини погрузчики от JCB, Bobcat, Manitou, Komatsu, Thomas.Если Вы занимаетесь сельским хозяйством, можем предложить Вам технику, которая поможет быстро собрать урожай и переместить его в нужное для Вас место. Экскаваторы-погрузчики быстро и аккуратно смогут сделать эту работу за Вас. Машины фирм New Holland, JCB, Terex, Caterpilar и других к Вашим услугам.
Posted jobs
There currently aren't jobs posted in the "" category.
Irpin, searching in Kyiv ·
1 month ago
·