Ukraine's #1 job site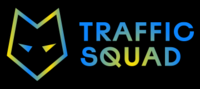 Traffic Squad
Marketing, advertising, and PR
50–250 employees
Read more
Traffic Squad — українська, IGaming, mediabyuing компанія.З моменту започаткування в 2019 році, наша компанія виросла з 5 до 140+ співробітників. Нам довіряють найбільші гравці індустрії. Бо ми завжди ростемо, дослухаємося до побажань і змінюємося разом із ринком.
FIRST HUMAN, THEN BUSINESS Ми оперуємо не Business to Business підходом, а Human to Human. Будь-то команда, партнери чи країна, наша позиція незмінна — first human, then business. Бо знаємо, що наш бізнес — гра не на один день і найбільша ставка яку ми можемо зробити в ній — людські відносини.
За чотири роки існування ми сформували команду зe бест оф зе бест! Ми насолоджуємося відчуттям, що кожен робить вагомий і унікальний вклад у компанію. А компанія — з задоволенням вкладає у команду! Ми віримо в наших людей. Тому дуже раді давати можливість розвиватись. Наші співробітники виростають з розробника до керівника відділу, з медіа баєра до тім ліда команди. Пишаємося вами, гайз!
Приєднуйся до нашої команди! Заходь на каву потеревенити та дізнатись про нас більше. Будемо дуже раді бачити тебе частиною нашої squad:)
Jobs
6
There currently aren't jobs posted in the "" category.