Ukraine's #1 job site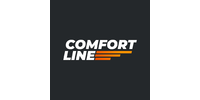 Комфортлайн
Verified
Industry:

Manufacturing and production

Company size:

10-50 employees

Site:

Primary contact:

Литвиненко Юлия

Phone number:
11 ЛЕТ НА РЫНКЕ!
«Комфортлайн» — лидер по производству роллет, ворот Киева и Киевской области.
Компания «Комфортлайн» за весь период работы зарекомендовала себя, как надежный поставщик, профессионал в своем деле, решая индивидуально вопрос каждого клиента. Мы гарантируем высококачественный монтаж и пусконаладочные работы с гарантией и последующим обслуживанием.
Компания «Комфортлайн» является официальным партнером группы компаний «Alutech» в Украине и имеет успешный опыт по производству защитных роллет, используя оригинальные профили, комплектующие и аксессуары ТМ «Alutech».
Posted jobs
There currently aren't jobs posted in the "" category.
Kyiv ·
5.7 km from center
· 2 weeks ago
Kyiv ·
10 km from center
· 1 week ago
Kyiv ·
3.4 km from center
·

Hot
Kyiv ·
3.4 km from center
· 2 days ago