Ukraine's #1 job site
Resume from October 13, 2019 PRO
Гудзоватий Петро
Ігорович
Head Chef
Full-time, part-time, remote.
Age:

28 years

City:

Lviv

Ready to move to:

Kyiv, Odesa, Other countries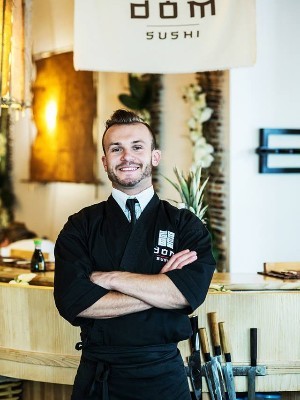 ---
Contact information
The job seeker has entered a phone number, email and address.
You can get the contact info for this resume on this page: https://www.work.ua/resumes/1687147/
---
Work experience
Head Sushi Chef
from 09.2016 to now (3 years 2 months)
Japanese Restaurant "Dom Sushi", Gdansk/Poland (Hospitality)
Sous Chef
from 12.2014 to 07.2016 (1 year 7 months)
Restaurant "Mikado Cafe", Abu Dhabi/UAE (Hospitality)
•All about Japanese Cuisine.
•mostly working at the open kitchen
•during a year of the Mikado Cafe made efforts and achieved work and improve the food quality and speed of serving dishes
•participated in out visiting festivals in the city
•participated in the development of new dishes, improvement and implementation of the menu
•conducted trainings for the staff kitchen and hall
•thanks to the quality of work, open communication and professionalism achieved sales improvement courses
Sous Chef
from 05.2014 to 12.2014 (7 months)
Restorant-club "Split-Club", Lviv (same)
control of all cooking processes, training chefs, recruitment, ordering and receiving primary production, quality control of all products restaurant cooking European, Ukrainian and Japanese dishes
Chef
from 12.2013 to 04.2014 (4 months)
hotel" Radisson Blu Resort Bukovel 5*, Bukovel (Hospitality)
all processes of a la carte
Chef
from 05.2013 to 10.2013 (5 months)
hotel"Europe"/Crimea, Partenit (Hospitality)
Baking on the buffet, cooking pizza, cooking Italian, Ukrainian and Tatar dishes cooking semis compliance with all standards of HACCP
Chef
from 07.2012 to 05.2013 (10 months)
Sushi bar "Asahi", Stry (Обслуговування)
cooking Japanese food (rolls, soups, salads), cooking pizza keeping all HACCP standards.
---
Education
БАТИ
Енергетика, Бережани
Higher, from 09.2008 to 05.2013 (4 years 8 months)
---
Professional and other skills
Computer skills
Microsoft Office, Internet ,etc
---
Language proficiencies
Romanian — average
Japanese — beginner
Ukrainian — fluent
Russian — fluent
English — fluent
Polish — fluent
---
Additional information
➢Possessing a high level of personal cleanliness and a comprehensive understanding of how to comply with all relevant food and safety standards.
➢Developing and motivating kitchen teams to do better.
➢Having considerable knowledge of healthy foods and nutritional matters.
➢Ensuring that food is always ready on time and to the required standards.
➢Knowledge of specialties recipes for complete meals, sauces, soups, pastries, meat, vegetables, salads, fish and poultry dishes.
➢Paying attention to detail, and able to work to a very high standard.
➢Able to not only operate but also thrive in a pressure-cooker, high-volume environment.
---
Save to applications
---
Similar resumes
---