Ukraine's #1 job site
Resume from October 1, 2019 PRO
Непомнящий
Максим
Web-разработчик
Remote.
Age:

28 years

City:

Dnipro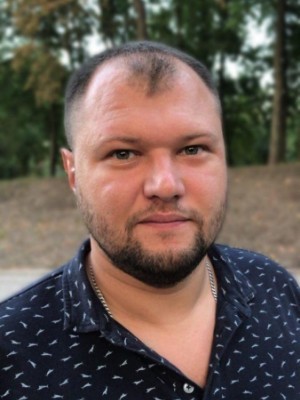 ---
Contact information
The job seeker has entered a phone number and email.
You can get the contact info for this resume on this page: https://www.work.ua/resumes/4316545/
---
Work experience
Full-Stack developer
from 12.2016 to now (2 years 10 months)
Фриланс и суб-подряд, Днепр (web)
Разработка front-end и back-end по дизайну и ТЗ.
Full Stack developer
from 11.2015 to 11.2016 (1 year)
Vintage Web Studio, Днепр (Днепропетровск) (веб-студия)
Full Stack developer
from 08.2013 to 07.2015 (1 year 11 months)
Сommexi.com, Днепр (Днепропетровск) (education startup)
Web-developer
from 01.2013 to 07.2013 (6 months)
T3Leads, Днепр (Днепропетровск) (lead generation)
Web-developer
from 08.2012 to 12.2012 (4 months)
ShiftReset, Днепр (Днепропетровск) (startups development)
Web-developer
from 07.2010 to 06.2011 (11 months)
Dimalex, Днепр (Днепропетровск) (outsourcing)
---
Education
Киевский национальный
Радио-физический, Киев
Higher, from 09.2008 to 07.2012 (3 years 10 months)
---
Language proficiencies
English — above average
Russian — fluent
Ukrainian — above average
---
Additional information
Дата рождения: 8 марта 1991
Город: Днепропетровск
Эл. почта: [open contact info](look above in the "contact info" section)
Skype: guru.net
GitHub: https://github.com/zoonim116

Профессиональные навыки
PHP – Высокий, использую в настоящее время, 4 года опыта.
HTML – Высокий, использую в настоящее время, 4 года опыта.
CSS – Высокий, использую в настоящее время, 4 года опыта.
JS – Высокий, использую в настоящее время, 4 года опыта.
Jquery – Высокий, использую в настоящее время, 4 года опыта.
Angular - Высокий, использую в настоящее время, 1 год опыта.
React JS - Высокий, использую в настоящее время, 1 год опыта.
MySql – Высокий, использую в настоящее время, 3 года опыта.
Mongo Db – Высокий, использую в настоящее время, 2 год опыта.
Laravel – Высокий, использую в настоящее время, 1 год опыта
Yii/Yii2 – Высокий, использую в настоящее время, 1 год опыта.
Kohana – Высокий, использую в настоящее время, 1 год опыта.
Codeigniter– Высокий, использую в настоящее время, 2 год опыта.
FuelPHP – Эксперт, использую в настоящее время, 3 года опыта.
Wordpress - Высокий, использую в настоящее время, 2 год опыта.
Cordova/PhoneGap - Высокий, использую в настоящее время, 1 год опыта.
IonicFramework - Высокий, использую в настоящее время, 1 год опыта.
Google API - Высокий, использую в настоящее время, 1 год опыта

Реализованные мной проекты

couriersandfreight.com.au
couriersandfreight.com.au - The simple way to manage your couriers and freight(https://www.couriersandfreight.com.au/)
Technologies: React/Redux, Laravel, Mysql, GraphQL, HTML5, CSS3

theatre.mtrdev.com
theatre.mtrdev.com - Famous Bulgarian theater. In this project was implemented ability to reserve and buy tickets for a theater performance using API. (https://theatre.mtrdev.com)
Technologies: Laravel, WebSocket, Mysql, Caching, Jquery, HTML5, CSS3

Ilikeyou.com
Ilikeyou is a great place to meet men and women. If you're looking for a person to chat with or free dating you've come to the right place! Thousands of men and women are chatting around the clock (https://ilikeyou.com )
Technologies: PHP(Codeigniter), Jquery, Mysql, Memcache, HTML5, CSS3.

Picreel.com
Picreel optimizes offers on your website by tracking visitors' mouse and scroll movements in real time and then serving up the best offer when they navigate away from valuable content. You can use our design templates or create your own offers that will be displayed to visitors based on the business rules you set and the website content they are viewing. Then we collect lead data and deliver to your CRM or marketing automation tool in real time.
Technologies: PHP(Codeigniter), Jquery, Mysql, Elasticsearch, Memcached, Amazon CDN, Amazone AWS, HTML5, CSS3.

Chesnok
E-shop about dishes (http://chesnok.com.ua )
Technologies: PHP(Shop-Script), Jquery, Mysql, HTML5, CSS3

Tropical trade
Platform for binary options brokers (https://tropicaltrade.com)
Technologies: PHP(Wordpress), Jquery, Mysql, HTML5, CSS3

Freespins.tube
Platform for playing games (https://freespins.tube)
Technologies: PHP(Wordpress), Jquery, Mysql, HTML5, CSS3

Colombo.ua
Online store for selling plumbing (http://colombo.ua)
Technologies: PHP(Wordpress), Jquery, Mysql, HTML5, CSS3

Karavan.com.ua
Website for malls (https://karavan.com.ua)
Technologies: PHP(Wordpress), Jquery, Mysql, HTML5, CSS3

Center-travel.com
Website for booking hotels, excursions, rent cars and etc.
Technologies: PHP(Wordpress), Jquery, Mysql, HTML5, CSS3

Gamakatsu-kiev.com
Create online-shop ( https://gamakatsu-kiev.com)
Technologies: PHP, OpenCart, Javascript, Mysql.

Networkroom.org
Create a portal for people to exchange their contacts between people who was in some meeting (http://networkroom.org/).
Technologies: PHP, Javascript, Jquery, SOAP, Mysql.

Lemage
Create online-shop.( http://lemage.ua)
Technologies: PHP(Yii), Jquery, Mysql, Mongo DB, HTML, CSS

Sharomet
Create online-shop (http://sharomet.ru)
Technologies: PHP(WebAsyst), Jquery, Mysql, HTML, CSS

Scooter77
Create online-shop (http://scooter77.ru)
Technologies: PHP(WebAsyst), Jquery, Mysql, HTML, CSS

Vocalreferences
Platform for exchange video, audio and text testimonials (http://vocalreferences.com/home/homepage)
Technologies: PHP(Yii), Jquery, Mysql, HTML, CSS, Youtube API, Cross-domain JS, Cache

MoneyZone
News portal (http://money.zone)
Technologies: PHP (Wordpress), Jquery, Mysql, HTML5, CSS3

Oregano.agency
Promo site for web studio (http://oregano.agency)
Technologies: PHP(Wordpress), Jquery, Mysql, HTML5, CSS3
---
Save to applications
---
Similar resumes
---