Ukraine's #1 job site
Resume from October 1, 2019 PRO
Korotun
Viktoriia
Receptionist, адміністратор
Full-time.
Age:

26 years

City:

Cherkasy

Ready to move to:

Kyiv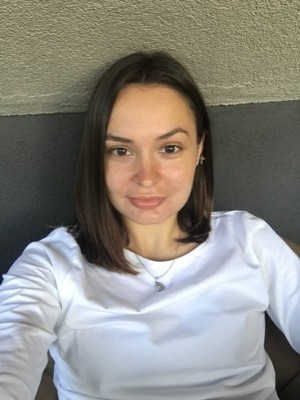 ---
Contact information
The job seeker has entered a phone number and email.
You can get the contact info for this resume on this page: https://www.work.ua/resumes/5060730/
---
Work experience
Supervisor
from 03.2016 to 09.2018 (2 years 6 months)
Schrader gartneri, Nesodden, Norway (Agriculture)
I've been working at the greenhouse in Norway. There we grew potted plants, so I was able to master the whole cycle from planting to flowering. But mine main responsibility is preparing daily orders, control over the packing process, and checking of the goods
Trainee in agriculture area
from 11.2013 to 05.2015 (1 year 6 months)
ByGrowers, Odense, Denmark (Agriculture area)
I improved level of my English, I've gotten a lot of experience how to communicate with people from different countries. I was helping with organizations and control over the working process.
---
Education
Cherkasy State Technological University
Finance and credit, Черкассы
Higher, from 09.2009 to 05.2013 (3 years 8 months)
---
Language proficiencies
English — advanced
Ukrainian — fluent
Russian — fluent
---
Additional information
Hello my dear future employer!

My name is Viktoriia Korotun. I'm 25 y.o., I'm tidy and well looking person. I'm from Cherkasy city.

I was educated by a financier at Cherkasy State Technological University. Now I'm getting second education at State Agrarian and Engineering University in Podilya in the direction of Agronomist.

I've been living abroad since November 2013. At first I've been to Denmark for 18 months. After I made a little break and come back home to Ukraine for 10 months time. And from March 2015 till September 2018 I've been working in Norway.
At both countries I've been working in agriculture area. At first as a student and the last half year as a supervisor.
It was really great experience for me to live and work in such a developed countries, travel a lot, communicate to people from different nationalities, and open new cultures for myself. I've gotten a lot of work experience as well. How to work in a team, how to perform the tasks, smooth conflicts, etc.

But now I would like to try new life in my mother country, here, in Ukraine. And the first step what I have to do, it's to find a job.
So, if perhaps you have any offers for me, please, let me know. Thank you for your attention and sorry for disturbing!

With best regards
Viktoriia Korotun!

[open contact info](look above in the "contact info" section)
Viktoriia_korotun in instagram
‭‭[open contact info](look above in the "contact info" section)‬‬
---
Save to applications
---
Similar resumes
---