Ukraine's #1 job site
Resume from January 21, 2019 PRO
Єгорова Тетяна
Олександрівна
Продавець-консультант
, 7 000 UAH
Full-time.
Age:

24 years

City:

Lviv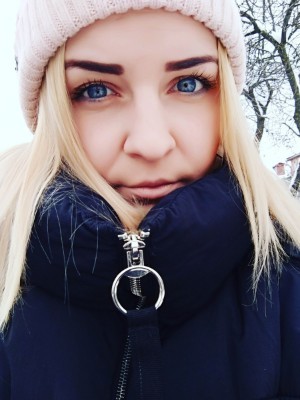 ---
Contact information
The job seeker has entered a phone number, email and address.
You can get the contact info for this resume on this page: https://www.work.ua/resumes/5235892/
---
Work experience
Waiter
from 05.2018 to 10.2018 (5 months)
Malia port restaurant, Greece,Crete ,Malia (Hospitality industry and service)
Cleaning, service, bartender
Продавець-консультант
from 01.2018 to 03.2018 (2 months)
Actors fur, Львів (Продаж хутра і шкіри)
Вивчила асортимент хутра, консультація клієнтів, привітність,відповідальність,толерантність.
Shop assistant
from 07.2016 to 10.2016 (3 months)
Desspina apartments, Greece,Crete ,Malia (Hospitality industry , selling, conversation with costumers)
I been shop assistant on Crete two summers. I met many people there,improved my skills, language: English, Russian, Greek. I was selling clothes and souvenirs,was opening shop and closed him.
Being on stubborn i stayed much responsible than i was before. Also in the next summer i went for the same position from June 2017 until November 2017
Spa therapist
from 04.2015 to 11.2015 (7 months)
Blue sea&Spa resort, Greece ,Crete, Stalis (Hospitality industry and beauty)
I had practice from my University there in spa. This job included: massage,face treatment,nice look,conversation, promotion.
---
Education
Львівський державний університет фізичної культури
Спортивний туризм, Львів
Unfinished higher, from 09.2013 to 07.2017 (3 years 10 months)
Походи в гори,спілкування з туристами, оформлення турів і т.д
---
Language proficiencies
English — average
Russian — fluent
Ukrainian — fluent
---
References
Μαρία Καστελλιανου
Власниця готелю і магазину, Desspina apartments, 6944526363
Κατερίνα
Головний офіціант, Malia port restaurant, 6932075523
---
Additional information
Готова вчитися всьому новому, весела,життєрадісна. Вважаю,що де б ти не працював : ти завжди знайдеш хороших людей ,які стануть для тебе не лише командою,але й справжніми друзями!
---
Save to applications
---
Similar resumes
---