Ukraine's #1 job site
Resume from October 13, 2019 PRO
Коптев Александр
Сергеевич
SMM-журналист
Part-time, remote.
Age:

22 years

City:

Dnipro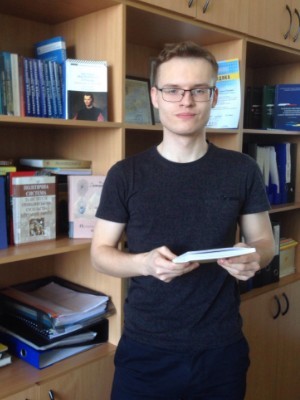 ---
Contact information
The job seeker has entered a phone number, email, Facebook and Instagram.
You can get the contact info for this resume on this page: https://www.work.ua/resumes/5283414/
---
Work experience
Корреспондент
from 11.2016 to now (2 years 11 months)
NobelTV (27 канал), Днепр (СМИ)
Являюсь корреспондентом телеканала, имею опыт работы "в полевых условиях", также опыт редакторского дела.
Соорганизатор и участник программ на 27 канале:
- "Об'єктив"
- "Топ-треш"
- "Головна тема"
- "Дитячий відпочинок у Дніпрі"
---
Education
Университет им. Альфреда Нобеля
052 Политология, Днепр
Higher, from 09.2014 to 01.2020 (5 years 4 months)
Имею диплом бакалавра Политологии (с отличием).
В настоящий момент студент-магистр специальности 052 Политология.
Являюсь автором научных статей, участником областных и всеукраинских конференций, а так же образовательных программ, таких так: "Державотворець"; "ZavtraUA".
---
Professional and other skills
Computer skills
Имею знания и опыт работы в: Microsoft Office, Edius, Adobe Premiere, Adobe Photoshop
---
Language proficiencies
Ukrainian — fluent
Russian — fluent
English — above average
---
Additional information
Вне рабочее время занимаюсь написанием стихотворений, чтением и социальной активностью направленной на саморазвитие, посещаю различные культурно-массовые мероприятия, тренинги, коворкинги...
Ссылки на соцсети:
[open contact info](look above in the "contact info" section)
[open contact info](look above in the "contact info" section)
---
Save to applications
---
Similar resumes
---