Ukraine's #1 job site
Resume from October 2, 2019
Dovgal Yulia
Alexandrovna
Sales manager
Full-time.
Age:

32 years

City:

Kyiv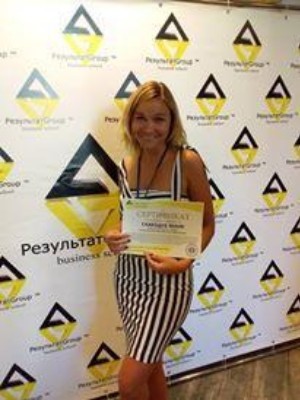 ---
Contact information
The job seeker has entered a phone number and email.
You can get the contact info for this resume on this page: https://www.work.ua/resumes/5486368/
---
Additional information
Desired job position: sales manager
Age : 32 years old
City : Kyiv
Contact information : [open contact info](look above in the "contact info" section) ( Telegram)
Email : [open contact info](look above in the "contact info" section)
Work Expierence
Sales manager
02.2019 - 04.2019
Go Capital (financial services)
Outgoing calls, advising customers on service
Sales manager
03.2018 - 09.2018
Building company
Sale of building material
Sales manager
04.2017 - 11.2017
Logistics Company
03.2014 - 09.2016
Sale of international services
Metallurgical company "Stalkomplekt"
sale of metal
active customer search
conduct of negotiations logistics control of transactions until completion of shipment
Secretary
12.2010 - 05.2011
Transport Company "Autolux"
Incoming calls
inbound and outbound documentation
Order of stationery goods
Sales manager
09.2009 - 11.2010
Business magazine «Kompanion»
Search for potential customers through active sales,
preparation of price lists and commercial offers
work with regular customers
Education
2004-2009
Kiev National University of T.Shevchenko
Faculty of Western Philology (Greek, English Languages)
Advanced education
International Business Development Agency / Concentrated Sales (2017.2 days, Odessa)
Business School "Result of Groups" / Effective Internet Marketing Management (2018.2 days, Kiev)
Knowledge of languages
Greek— average
English — free
Russian - free
Additional information
Business and personal qualities
Purposefulness, responsibility, diligence, punctuality, self-criticism, energy, justice, negotiation skills,
ability to persuade and negotiate.
---
Save to applications
---
Similar resumes
---