Ukraine's #1 job site
Resume from October 2, 2019 PRO
Syromiatnykov
Dmitry
Account/affiliate-manager, business developer
, 17 000 UAH
Full-time.
Age:

25 years

City:

Kharkiv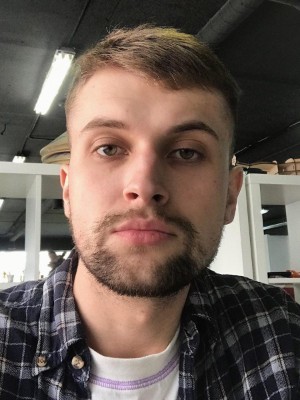 ---
Contact information
The job seeker has entered a phone number, email and LinkedIn.
You can get the contact info for this resume on this page: https://www.work.ua/resumes/5708724/
---
Work experience
Middle account-manager
from 03.2019 to now (7 months)
TapMedia, Харьков (Digital-marketing)
Responsibilities:

- providing excellent customer service in order to maintain existing partners (both individuals and companies) as well as to acquire new ones
- establishing strong and profitable for both parties relationship;
- maintaining business connections and creating new ones;
- working with conflict situations;
- helping advertisers maximize their earnings;
- account management;
- building and maintaining relationships with advertisers;
- monitoring and analyzing results of partners' campaigns and helping them to get higher ROI and maximize their earnings;
- representing the company at industry events.
Logistics Coordinator
from 01.2018 to 09.2018 (8 months)
Landstar Ranger, Sanford, NC (Logistics and freight solutions)
- Book loads for assigned drivers
- Instruct drivers with the load info
- Fill out the agreements between brokers and carriers
- Accept load tenders
- Collect proof of deliveries from drivers
- Monitor cargo orders including value control of every transaction
- Oversee deliveries, ensure timely deliveries and maintain accurate logs of all loads
- Build sustainable books of business and long-term relations with clients
Менеджер по работе с клиентами; контент-менеджер.
from 02.2015 to 09.2016 (1 year 7 months)
АН "Город", Харьков (Недвижимость)
---
Education
Национальный Технический Университет "Харьковский Политехнический Институт"
Экономический; маркетинг и экономика., Харьков
Higher, from 09.2012 to 02.2018 (5 years 5 months)
Закончил бакалавриат на кафедре "Экономики и маркетинга"; закончил магистратуру на кафедре "Менеджмента и управления персоналом", защитил диплом. С отличием.
Мариинская Гимназия #6
Харьков
Secondary, from 09.2006 to 05.2012 (5 years 8 months)
---
Language proficiencies
English — above average
French — beginner
Russian — fluent
Ukrainian — fluent
---
Additional information
В сфере продаж, услуг и маркетинга я работаю с 2010 года. В данный момент сфокусирован на развитии в области digital-маркетинга и смежных IT ответвлений.

Обладаю прекрасными коммуникативными навыками, отлично взаимодействую с людьми, как в команде, так и вне. Ответственен, трудолюбив, креативен. Быстро и легко обучаем. Очень уверенно пользуюсь ПК и всем необходимым софтом для работы.

Нахожусь в активной фазе изучения французского языка, поэтому, могу рассмотреть вакансии ориентированные на французского работодателя.
---
Save to applications
---
Similar resumes
---