Ukraine's #1 job site
Resume from July 12, 2019 PRO
Манькута Светлана
Владимировна
Офис-менеджер, администратор, секретарь
, 6 000 UAH
Full-time.
Age:

47 years

City:

Cherkasy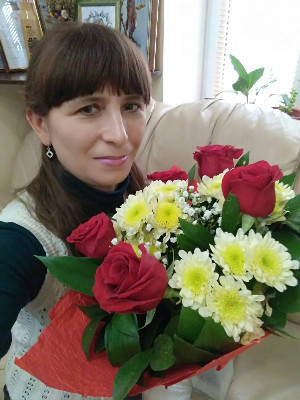 ---
Contact information
The job seeker has entered a phone number, email and address.
You can get the contact info for this resume on this page: https://www.work.ua/resumes/678318/
---
Work experience
Администратор
from 11.2017 to now (2 years)
Юридическая компания, Черкассы (юридические вопроси разных направлений)
Методист учебно-организационного отдела
from 05.1997 to 10.2017 (20 years 5 months)
Восточноевропейский университет, Черкассы (образование)
Организация учебного процеса, составление расписания, ведение документации по учебной работе, составление и распечатка додатков к дипломам, и т.д.
---
Education
Черкасский национальный университет им.Б.Хмельницкого
Украинская филология, учитель украинского языка и литературы, Черкассы
Higher, from 09.1991 to 06.1996 (4 years 9 months)
Закончила курсы бухгалтеров
---
Professional and other skills
Computer skills
Упевнений користувач ПК (Word, Eхel)
Уміння працювати з офісною оргтехнікою.
---
Additional information
Відповідальність, висока працездатність,організованість, пунктуальність, уважність, вміння спілкуватись з оточуючими, рівне та спокійне ставлення до людей, раціональність та ефективність в організації праці на робочому місці;працьовитість, цілеспрямованість, порядність, знання правил етикету, уміння працювати у команді, легко навчаюсь,шкідливих звичок не маю.
---
Save to applications
---
Similar resumes
---