Сайт поиска работы №1 в Украине
Резюме от 6 марта 2018 PRO
Файнин Александр
Вадимович
Key Expert of Project, Business Development Manager, NGO, Charitable,
40 000 грн
Полная занятость, неполная занятость, удаленная работа.
Дата рождения:

15 февраля 1973

(45 лет)

Город:

Киев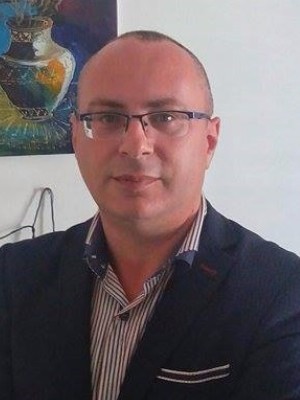 ---
Контактная информация
Соискатель указал телефон и эл. почту.
Получить контакты этого резюме можно на странице https://www.work.ua/resumes/1439754/
---
Опыт работы
President
с 11.2017 по наст. время (8 месяцев)
Charitable Fund "Uman Tomorrow", Киев (Charitable organization)
The purpose of the fund is to facilitate the creation of an eco-system, comfortable for residents and guests of Uman.

Creation from scratch, management, project management, coordination of activities. Territory marketing.
Business development manager
с 08.2016 по 01.2017 (5 месяцев)
Caviar.co.il, Netanya (Food products (Fish and Seafood))
IT solutions, optimization of delivery service, marketing research, business planning, new projects development
CEO
с 08.2016 по 06.2017 (10 месяцев)
Charitable Fund "Help for You", Netanya, Israel (NGO, Charitable Fund)
My duties: Development, management and fundraising.

Today Ukraine, as well as Israel suffers from terrorism on its territory. The antiterrorist operation in the Donetsk and Lugansk oblasts and Crimea annexation led to the fact that Ukraine has more than 1 million refugees from these regions and almost 10 thousand Ukrainian army soldiers wounded in combat. The refugees and wounded soldiers are among the most disadvantaged sections of the population who need a permanent material and moral aid.

We, citizens of Israel, who were born in Ukraine, have vast experience for providing both humanitarian and financial aid from around the world, and in December 2015 created the Fund «Help for You." We care about the tragedy in Ukraine. We provide and will provide assistance to those who suffered at the war, which imposed outside - adults and children who left their homes and soldiers who were wounded to protect their motherland.

THE MAIN TASKS OF THE FUND ARE:

Improving the living conditions of disabled children and orphans
Professional support for people with mental limitations
Support and protection of single mothers, the elderly and disabled
Improving the quality of life of migrants from the Crimea, and from the Donetsk and Lugansk oblasts
Improving the quality of life and rehabilitation of Ukrainian soldiers who were wounded in the area of ATO
Help for repatriation and adaptation in Israel
Front Desk Manager & Development Consultant
с 01.2016 по 08.2016 (7 месяцев)
MGallery David Tower Hotel by Sofitel, Netanya, Israel (luxury hotel)
!Starting from scratch!
Management and coordination of the reception desk and bell boys staff: check-in/check-out operations, reception desk working, shifts, work with PMS Opera and TARS.
Organizational and administartive consulting for the Reception management.
Business Development Senior Officer
с 06.2015 по 01.2016 (7 месяцев)
Vistory Tours, Netanya, Israel (DMC, incoming & outgoing tour operator)
Victory Tours is a multi functional tour operator. I am working for the development of online booking and English speaking segment of customers.
DEO
с 05.2014 по 12.2014 (7 месяцев)
Bakefeel Bakery, Kyiv (restaurant, food delivery)
Duties: creation and development of the web-site, organization of delivery service, marketing, promotion, business model, strategy planning, staff teaching

Web-site/online store www.bakefeel.com.ua was created, delivery service has started, business model and marketing plan were elaborated.
CEO
с 01.2013 по 05.2014 (1 год 4 месяца)
Online booking system uConcierge / Program "All-Ukraine.travel", (E-commerce, travel & hospitality)
From startup till today. Global travel online servcie in Ukraine. Online booking of hotels, hostels, tours, restaurants, transfers, events, tickets, souvenirs, medical services etc. The portal "All-Ukraine.travel" and Kiev Tourist Card are projects by my management.

- Coordination of the IT group activities
- Financial regulation and pricing
- Development of product strategy and user-flow
- Marketing research
- Business planning
- Business schemes elaboration
- Development of standards for categorization of travel products, including standards for hotels, transportation companies, restaurants, resort and recreation
- Negotiations, contracting and coordination of service providers (vendors)
- Elaboration of contracts and base documentation
- Elaboration of information tourist portals of cities and regions of Ukraine
- Trainings for new employees
- Copyrighting
- Creation of the "Tourist Lab" training center
- Coordination of the IT products security (SSL, PCI DSS)

Starting the uConcierge.net online travel platform and Portal "All Kyiv" on June, 2013, starting preparation of portals of Dnipropetrovsk, Ternopil, Kamyanets-Podilskyi and Crimea.
My business plan approved by the investors and the project is funded.
CEO (freelance)
с 08.2012 по наст. время (5 лет 11 месяцев)
Travel & Hospitality Business Consulting, (Business Consulting)
-Building a Business
-Business development, improving business
-Development and promotion of projects
-IT solutions and E-commerce
-Optimize the cost of the promotional campaigns
-Attracting investment
-Market research
-Legal services
-Business Planning
-Recruitment
-Project management

Result: I worked for/in some successful projects including:
- Hospitality: Kirov Holiday Center (Yalta, Crimea), Hotel Edem (Sudak, Crimea), OK Odessa Hotel (Odessa), Budget hotel (Kamyanets-Podilskyi), Chabanka Hotel (Odes'ka Oblast), South Coast Resort Complex & Camping (Odes'ka Oblast);
- Online Booking: Toursnlodging.com, uConcierge.net, Hotels24.ua;
- Restaurants: Bakefeel (Kyiv) - organization of delivery service and E-commerce
Country Representative
с 04.2010 по 09.2011 (1 год 5 месяцев)
SINO PAYMENTS - Hong Kong, China, (IT-consulting / Services / Equipment Manufacturing)
Duties: Promotion of the company's products in Ukraine, negotiations with Ukrainian banks for implementation of the company's products
Founder
с 10.2008 по наст. время (9 лет 9 месяцев)
Online booking system Toursnlodging.com, Kyiv (IT, travel, hospitality)
- Create a project "from scratch"
- General management of the system
- Coordinating the IT team
- Development of contracts and basic documentation
- Creating a product strategy
- Market Research
- Training of staff

The system has successfully been operating for five years.
President
с 10.2004 по 01.2015 (10 лет 3 месяца)
NGO Ukrainian Youth Tourist Association (UYTA), (Non-Governmental Organizations)
Duties: General management, financial activity control, development of new activity directions
Result: UYTA professionals have worked out and implemented the following projects: "Youth, Recreational, & Ecological Tourism of Ukraine - Unity and European Integration", "Social & Ecological Tourism of Ukraine - European Quality without Bounders and Obstacles", "Students Tourist Lab", "Tourist Online Shops Protection", "Ukrainian Functionaries Crush Youth Tourism" etc. In the period of 2004-2010 UYTA was working out recommendations in respect to the changes introduction to the legislation system: proposal on youth hostels classification and standardization, working out National Eco-lodges Network in cooperation with National Ecological Academy; revision of the Draft of Ukraine "About Amendments Introduction to the Law of Ukraine "About Tourism". In particular it was suggested to include into the list of travel industry notions "virtual tourist agent / tourist operator".
UYTA has conducted a number of actions for students and young people. Due to UYTA support the following projects were started: Youth Tourist Portal www.youthtour.org.ua that allows online booking of youth hostels in Ukraine and all over the world; Network of euro hotels "Youth Tourism and Hostels of Ukraine®"; International youth and ecological tours around Ukraine on the regular basis; Educational and Experimental Center "Students Tourist Lab"; Youth Tourist Magazine "Hostel Style". UYTA operations are supported by the Ukrainian authorities: Supreme Council and Cabinet of Ministers.
Due to UYTA operations for the first time in Ukrainian tourism online booking of tours around Ukraine takes place since 15.01.08. In 2005-2010 UYTA partners served over 160,000 tourists (locals and foreigners) due to UYTA support of youth tourism development.
Director
с 02.2002 по 07.2012 (10 лет 5 месяцев)
Company "SunCity Travel, LLC", (Incoming Tour Operator)
Duties: General management, financial activity control, development of new directions of activity
Result: Company is a founder of the trade mark "Youth Tourism & Hostels of Ukraine®" and online travel shop Hostels-Ukraine.com. In 2004 the company was nominated for a rank "the Best tour operator of internal tourism" in competition of "Stars of the Ukrainian tourism" (5th place). The company offers youth scheduled tours across Ukraine, unites under the trade mark 27 youth hostels, and has representations in 8 cities of Ukraine. The company is the official representative of the worldwide youth online booking system HostelsClub.
Company is a partner of the worldwide online booking systems:
- HostelWorld and HostelBookers (since 2005)
- HostelsClub (since 2006)
- IWB (since 2007)
- Expedia/Venere (since 2010)
Mission Co-ordinator
с 04.2001 по 12.2001 (8 месяцев)
American Distribution Committee JOINT, (Non-Governmental Organizations)
Duties: Organization of reception of delegations of sponsors and controllers from abroad. Preparing for programs and itineraries for delegations, logistics, control over realization of reception of delegations
Director
с 02.1998 по 04.2001 (3 года 2 месяца)
AFINA Travel Company, (Outgoing Tour Operator)
Duties: General management, the financial activity control, development of new directions of activity of the company, development of charter programs
Result: Company was a General Representative in Ukraine of tour operators "Nova Era Tours" (Cyprus) and "IRIS Tours" (Australia), as well a participant of joint Russian-Ukrainian-French project "Mini Hotel" (1999). In 2000 I create the concept of development of youth hotels (hostels) in Ukraine.
Co Managing Partner
с 05.1997 по 10.1999 (2 года 5 месяцев)
Nova Era Tours, Larnaca, Cyprus (DMC, incoming tour operator)
Organization of charter flights from Ukraine to Cyprus, General Representative in Ukraine, working in Cyprus for the all inclusive services.
Deputy General Director
с 06.1995 по 02.1998 (2 года 8 месяцев)
FLIMM Travel Company, (Outgoing Tour Operator)
Duties: Development of new travel directions, the control and coordination of advertising activity, negotiating with foreign partners, accreditation in embassies
Result: I have developed and prepared for realization tour packages to Brazil, South Africa, Czech Republic, Israel, France, Malta and Cyprus.
Deputy Director for Innovation Activity
с 06.1993 по 06.1995 (2 года)
SLID & Co Ltd., (Real Estate and Development)
Duties: Development and promotion of innovative projects, coordination of the business offers creation
Result: Development of following projects: manufacturing of fructose from waste of sugar manufacture, the organization of development of granite deposits in Zhytomyr and Vinnitsya provinces. I was engaged in creation of the concept of free economic zones - Inter Ports in Ukraine' development, headed group of investments researching for Gostomel airport (Antonov's Aviation Plant), took part and headed delegations in negotiations with foreign investors in Switzerland, Moscow, Kyiv, Lviv.
Deputy Director
с 04.1992 по 05.1993 (1 год 1 месяц)
VAAD Information Center, (Non-Governmental Organizations)
Duties: General management of activity of the Centre, creation of programs for seminars and conferences, creation of the Centre's representations of to Ukraine.
Technical Assistant
с 09.1990 по 04.1992 (1 год 7 месяцев)
ALTERNATIVE Private Enterprise, (Publishing and Printing)
Duties: Control over process of design and exploration works preparation, technical and technological control over process of the books edition.
---
Образование
Kyiv Institute of River Transport of the Odessa Sea Academy
Faculty of Economics, Specialization: Transport Management, Kyiv
Высшее, с 09.1991 по 05.1997 (5 лет 8 месяцев)
---
Дополнительное образование
EUJS & WUJS Leadership Trainings (1991-1993)
Enterpreneurship in Israel (2014, 4 monthes)
Forex/Binary Options/Sales/Retention/Telemarketing (2015, 3 monthes)
•TARS •PMS Opera •Luxury Hospitality course (2016, 1 monthes)
---
Профессиональные навыки
Навыки работы с компьютером


MS Word, Excel, PhP, HTML, Corel Draw, Adobe PhotoShop, PowerPoint. Task & project management: Asana, Scrum. CSM: Joomla!, Slaed, WorldPress, Magento. Expert PC user's skill. Expert online booking engines Venere.com, Hostelworld.com, Hostelsclub.com property opertator's skill.

Teaching for tourism and E-commerce

(5 лет опыта)




Эксперт, 1 год назад.

Consulting and business planning

(19 лет опыта)




Эксперт, использую в настоящее время.

Start up project management

(20 лет опыта)




Эксперт, использую в настоящее время.

Travel & hospitality expertize and development

(22 года опыта)




Эксперт, использую в настоящее время.

IT project management

(4 года опыта)




Эксперт, использую в настоящее время.

IT marketing

(2 года опыта)




Эксперт, использую в настоящее время.
---
Знание языков
Английский — эксперт
Русский — эксперт
Украинский — эксперт
Иврит — средний
---
Дополнительная информация
Personal Skills:
Responsible, initiative and hard-working person, good decision making, administrative, management, communicational and interpersonal skills. I am ready to start a project from zero, because have good experience since 1993.

The most important achievements in a life and career:
I am a President of NGO Ukrainian Youth Tourist Association. I was an adviser of Vice-Prime-Minister of Ukraine Vyacheslav Kyrylenko till August, 2006. My initiatives in a youth tourism sphere are supporting by Verkhovna Rada (Parliament of Ukraine), President of Ukraine, Cabinet of Ministers of Ukraine, number of ministries, etc. Also I am a founder of trade mark "Youth Tourism & Hostels of Ukraine®", Youth travel magazine "Hostel Style", author of programs of the Free Economical Zones Inter Ports (1994) and youth hostels network (2000) creation in Ukraine. Since 2009 I am working for elaboration of the National Eco-lodges network in Ukraine. Also I am a co-author of the program for development of the youth tourist infrastructure of Ukraine for Euro 2012.

Publications about me / interviews with me:
Newspapers: Kyiv Post, Kyiv Weekly, Fakty, Vechirni Visti, Kommentarii, Kommersant, Zerkalo Nedeli, Vlast' Deneg, Kontrakty, 2000, Turisticheskie Novosti, Ukrainian Tourism, Delo
TV channels: ICTV, Inter, TV 1, STB, Novyi, NTN, UT 1, UBC, City, 1+1, 24TV, Rada
Radio: Svoboda, Nashe, Nova
Сохранить в отклики
Похожие резюме
---