Сайт поиска работы №1 в Украине
Резюме от 17 февраля 2017
PRO
Балановський Роман Володимирович
Accountant, economist, financier, banking (the agricultural business)
Полная занятость.
Дата рождения:

17 октября 1992

(24 года)

Город:

Одесса

Готов к переезду:

Другие страны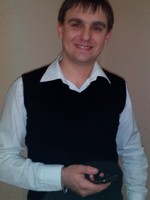 ---
Контактная информация
Получить контакты этого резюме можно на странице https://www.work.ua/resumes/2871018/
---
Опыт работы
Accountant
с 01.2015 по 05.2015 (4 месяца)
PE "Baltskaya Sewing Factory", Балта (Industry and Manufacturing (One of the largest factories in the Odessa area which is engaged in foreign trade activities.))
1. Independently and fully maintains records of fixed assets, stocks, funds, accounts and other assets, equity and liabilities, income and expenses for the company accepted form of accounting in compliance with common methodological principles of accounting and considering features of enterprises and data processing technology.

2. Provides a complete and accurate reflection of the information contained in the adopted accounting of primary documents on accounts.

3. In agreement with the owner (manager) of the company and chief of accounting, banking institutions to submit documents for the transfer of funds according to certain taxes and fees and to make payments to other creditors pursuant to contractual obligations.

4. Participates in the inventory of assets and liabilities, the design of materials related to the lack of compensation and losses during shortages, theft and damage to assets, to check the status of accounting in subsidiaries, representative offices and other separate divisions.

5.Prepares data for inclusion in the financial statements shall compilation of some of its forms, and other forms of periodic reporting, based on accounting data.

6. Provides training processed documents, registers and reporting to store them for a specified period.

7. Constantly exploring new and meets regulatory guidance documents help you with the organization and accounting and makes proposals for their implementation in the enterprise.
8. Performs some service orders his immediate supervisor.
Accountant centralized accounting
с 07.2014 по 12.2014 (5 месяцев)
Department of Education Baltic Regional administrations, (Education (District Department of Education. Balta includes 22 comprehensive schools, 7 pre-school institutions, sports schools and other educational institutions.))
1 Organization of accounting financial and business education department, taking into account the characteristics and processing technology credentials.
2 Monitoring the correct use of cash and valuables educational, economic timely payments.
3 Development of the order of accounting policies, changes to accounting policies selected, making suggestions on choosing a form of accounting based on the structure and characteristics of educational institutions.
4 The organization full of fixed assets, materials, fuel, and other resources inventory, fulfillment cost estimates required by law and national standards.
5 Drawing with heads of agencies served by centralized accounting project cost estimates and calculations to them.
6 Preparation of tax, financial and statistical reports based on reliable primary documents and relevant accounting records, timely submission of the appropriate authorities.
7 accrual and payment deadlines established in wages and timely accrual and transfer taxes, fees and other mandatory payments.
8 Settlements arising in the course of the budget, Payroll, organizations and institutions.
9 Ensure strict compliance standard, Financial and kasovayi discipline, budget assignments, legality write-off of accounts shortages, damages, accounts receivable, accounts payable and other funds.
10 Implementation of reviewing the legality of the documents received by the accounting department, accuracy and timeliness of their execution, compliance costs approved asyhnuvannyam.Provedennya reconciliation of amounts received from the parents to the records.
11 Preservation accounting documents. Registration and putting them in the prescribed manner to the archive.
12 Other duties assigned by the order of ...
Inspector Department of credit loans ...
с 08.2012 по 03.2013 (7 месяцев)
JSC "Delta Bank" (http://deltabank.com.ua/ru/), Odessa (Providing banking services)
Responsibilities:
1. Negotiations, customer identification,
2. The processing of loan applications,
3. Preparation of documents.
4. Analysis of the financial condition of physical and legal entities
5. Tracking debts clients.
6. Information on new features and products the bank.
7. Conduct promotions.
---
Образование
National University of Horticulture
Economics and Business, Specialist Accounting and Audit Specialist, Uman
Высшее, с 09.2009 по 07.2014 (4 года 10 месяцев)
Equivalent to Master's level, I have international diploma (in English and Ukrainian languages).
He defended his thesis with distinction on "Accounting, Auditing and analysis of bank lending to the example of JSC" Delta Bank "
---
Дополнительное образование
Maintenance of computer systems and networks (unfinished education level of junior specialist) (3 years)
---
Профессиональные и другие навыки
Навыки работы с компьютером


Professional PC users. Skills in MS Office (Word, Exel, Database Access, Power Point, Outlook), skills of web browsers (MS Explorer, Mazilla Firefox, Opera, Safari, Google Hrom). Skills service PC.

Driver category (B, C) - average use now, 2 years experience

(2 года опыта)




Средний, использую в настоящее время.
---
Знание языков
Ukrainian - native I can be interviewed in this language — эксперт
Russian - fluent I can be interviewed in this language — эксперт
English - below average — начинающий
---
Дополнительная информация
Personality:
Communication skills, responsibility, punctuality, teamwork, leadership inclinations, desires to improve.
Сохранить в отклики
Похожие резюме