Сайт поиска работы №1 в Украине
Резюме от 17 апреля 2018
PRO
Romaniuk
Roman
Chief Operating Officer
Полная занятость.
Дата рождения:

29 апреля 1985

(32 года)

Город:

Киев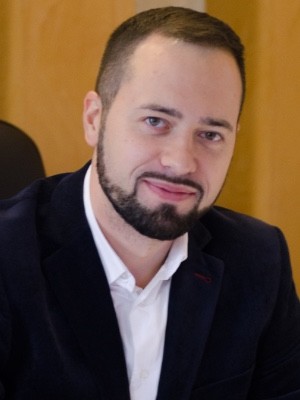 ---
Контактная информация
Соискатель указал телефон и эл. почту.
Получить контакты этого резюме можно на странице https://www.work.ua/resumes/3699994/
---
Опыт работы
COO
с 11.2016 по наст. время (1 год 5 месяцев)
SONMAX, Київ (Startup and IT Consulting)
•Set up new education programs with $50k revenue and 150% ROMI.
•Develop revenue growth model for a main educational product (from $200k to $600k and 200% ROMI).
•Set strategy and vision for new areas of opportunity. Prepare a roadmap for the launching of 4 new products in 2018.
•Create new, scalable partnership program based on marketplace model.
•Develop and manage new channels of revenue for existing products and monetization models.
•Provide risk assessment for existing business model.
•Draw business development strategy for 2025 that will result in user and revenue growth.
•Work closely with marketing, product, IT, and sales teams to identify impactful opportunities and drive partnerships to execution.
•Thoroughly qualify each business and optimize lead generation.

Projects under supervision: sonmax.club; yaroslav-samoylov.com; fazarosta.com
President, Senior Project Manager
с 01.2015 по 10.2016 (1 год 9 месяцев)
K.Fund (KIG), Kyiv (Marketing, PR, Publishing, Consulting, Asset Management)
•Lead and execute product campaigns.
•Launch K.Fund Books publishing business.
•Take participation in setting up of numerous of projects, such as UNIT Factory, BIONIC University, iLearn, Kyiv International Economic Forum, Novopecherska School.
•Manage brand marketing campaigns and education programs.
•Take part in the development and launching commercial and social projects.
•Participate in the launch and implementation of the business training project.
•Develop with a consultancy agency a strategic plan and concept of the Fund as a separate product.
•Lead the development and implementation of the reputation strategy to enhance the reputation of the fund and its shareholder.

Achievements and successfully launched projects:
•Successfully establish a private fund - K.Fund.
•Consolidate all shareholder projects under one brand - K.Fund.
•Launch K.Fund Books publishing business.
•Effectively execute a longer-term strategy aimed to foster the brand reputation of the Fund and its shareholder, and create shareholder positive image in media for the foreign investors.

http://kfund.ua
Executive Director
с 01.2012 по 01.2015 (3 года)
UDP (KIG), Kyiv (Media, Marketing, Advertising, PR, Design, Production, Agent Services in Real Estate, Consulting)
•Create a central marketing agency.
•Participate in creation, launching and bringing to market UDP brand.
•Supervise execution of company corporate standards and customer quality service.
•Participate in CRM Terrasoft implementation for sales monitoring and financial reporting.
•Develop, launch, manage and complete strategic initiatives that enable revenue growth and improve company profitability and efficiency.
•Consolidate all sales and marketing departments under one UDP brand (Novopecherski Lypki, Boulevard of Fountains, River Stone, Parkove Misto).
•Represent UDP company at official events and in the media.
•Effectively integrate and connect LEAN techniques and tools in River Stone construction site to eliminate waste, reduce costs, increase customer satisfaction, and improve financial performance.

Achievements:
•Successfully bring UDP brand to the second place among Kyiv developers.
•Create synergy, efficiency and reduce marketing costs of projects.
•Improve company financial performance and increase customer satisfaction.
•Gain labor efficiency.
•Successfully introduce unified corporate standards and customer service standards.

http://www.udp.ua
Member of the Board
с 01.2012 по 01.2014 (2 года)
BIONIC Hill (KIG), Kyiv (Real Estate Management and Use, Multiprofile Asset Management Management)
•Assist in project launching and in developing a concept.
•Launch from zero a system of internal control and a project management system.
•Provide the strategic direction and leadership for CRM implementation as well as the implementation of new policies and procedures.
•Develop, implement and facilitate continuous improvement projects leveraging LEAN.
•Ensure that team is using structured problem-solving methods to resolve issues (5 Why Analysis, Fishbone diagrams, A3).
•Interview, hire and train employees.
•Direct the development and implementation of a new operating structure.
•Successfully organize and launch the entrepreneurship program at BIONIC University.

Achievements:
•Ensure successful launch of the project.
•Establish effective project management system and internal communication system.
•Facilitate implementation of LEAN techniques and tools.
•Successfully launch the entrepreneurship program at BIONIC University.

http://bionic-hill.com
Senior Investment Manager
с 01.2011 по 01.2012 (1 год)
Asset Management Company (KIG), Kyiv (Stock Exchange, Brokerage Activity, Managing, Investment Company (Asset Management))
•Establish $1 mln private equity fund.
•Develop, recommend and execute investment strategy.
•Search for partners.
•Work to mitigate risks by conducting a risk assessment of investment portfolio.
•Buy and sell shares on international stock exchanges (NASDAQ, NYSE, AMEX, LSE, Moscow Exchange).

Achievements:
•Ensure a successful exit from open positions on international stock exchanges and bring profit to the investor.
Senior Project Manager
с 01.2010 по 01.2011 (1 год)
Asset Management, AR Crimea (Auditing, Management Accounting, Financial and Legal Consulting, Consulting)
•Play a key leadership role in selling the Crimean hotel.
•Responsible for all aspects regarding the selling of the company on the seller's side.
•A $30 mln deal under my full responsibility.
•Prepare information for due diligence to support reached agreements.
•Effectively manage processes of evaluation and audit affecting the price in the most beneficial way to the seller.
•Manage risks that could affect the value of the company.
•Solve all conflict issues regarding the deal (tax authority, antimonopoly committee, international banks).
•Provide direction and oversight for the complex level financial, tax, legal audits (PricewaterhouseCoopers, Deloitte, Ernst & Young).
•Provide oversight and quality review of financial and legal reports prepared for different users.

Achievements:
•Successfully close a deal and bring $30 mln profit.
•Effectively eliminate all risks for the investor.
•Implement best practices and process improvements across all functional areas.

http://mriyaresort.com
Deputy Executive Director
с 01.2009 по 01.2010 (1 год)
Asem-Ai (SigmaBleyzer), Kyiv (Non-alcoholic Beverages (Promotion, Wholesale))
•Establish a mineral water distribution company.
•Manage a mineral water distribution from Kazakhstan to Ukraine with a minimal marketing budget.
•Lead and execute sales strategy and product positioning taking into account the maximum cost savings.
•Organize and manage business processes of logistics and merchandising.

Achievements:
•Effectively bring in Ukrainian market new product with the most optimal costs and ensure the implementation of the sales plan.

www.asemai.kz
Senior Investment Manager
с 01.2007 по 01.2009 (2 года)
SigmaBleyzer, Kyiv (Managing, Investment Company (Asset Management), Auditing, Management Accounting, Financial and Legal Consulting)
•Lead and create highly effective cross-functional working teams consisting of analysts, lawyers, and auditors.
•Evaluate numerous acquisition opportunities and develop preliminary integration strategies.
•Develop a streamlined mergers & acquisition roadmap tailored to various deal structures.
•Organize negotiations with companies' top leaders and business owners.
•Open offices in Kazakhstan (Astana, Almaty) including searching of premises, repairing work management, purchasing of office equipment and inventory.
•Design business processes for efficient and successful delivery of strategic plan with taking into account the cultural and economic specifics of the region.
•Responsible for negotiations with Kazakh companies' top leaders and business owners and SigmaBleyzer investors.
•Manage my work in two countries.

Achievements:
•Provide leadership and direction in support of the SigmaBleyzer entrance to the Kazakhstan market.
•Coordinate audits and acquisitions of telecommunication companies for the largest Ukrainian telecommunication company Volia.
•Supervise the audits of agricultural companies for one of the largest agricultural holdings of Ukraine AgroGeneration.
•Take part in Asem-Ai company acquisition in Kazakhstan.

http://www.sigmableyzer.com
---
Образование
Steinbeis University Berlin, Germany
IBR Institute of International Business Relations, Master of Business Administration (MBA), Stuttgart
Высшее, с 10.2011 по 02.2014 (2 года 4 месяца)
Kyiv Institute of Investment Management, Ukraine
Management of organizations, Investment Manager, Kyiv
Высшее, с 09.2002 по 09.2007 (5 лет)
---
Дополнительное образование
Project management workshop Prince2 and Agile. Develof, Prince2 and Agile (2016)
UC Berkeley Center for Executive Education, Entrepreneurship and Innovation Management Program, USA (2015)
Thomas System Management Training. Jansen Capital Management (2013)
1C accounting system, Accountant (2009)
---
Профессиональные навыки
Навыки работы с компьютером
•CRM Terrasoft, Bitrix24, Trello
•1C accounting system
•Linux, Windows
•Microsoft Project, Excel, Word, Power Point, Outlook
•Cash Flow
---
Знание языков
Английский — эксперт
Украинский — эксперт
Русский — эксперт
Немецкий — начинающий
---
Дополнительная информация
Professional interests:
•Startups
•Digital
•Project management
•Production management
•IT
•Innovation and industrial parks
Сохранить в отклики
Похожие резюме