Сайт поиска работы №1 в Украине
Резюме от 25 мая 2017
PRO
Водорезова Валерия
Brand Consultant,
15 000 грн/мес.
Полная занятость, неполная занятость.
Дата рождения:

26 сентября 1991

(25 лет)

Город:

Киев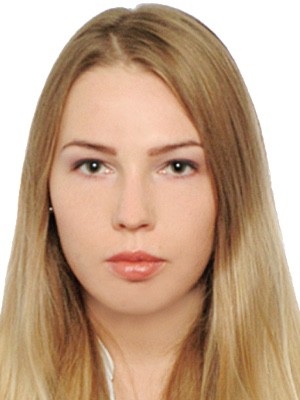 ---
Контактная информация
Получить контакты этого резюме можно на странице https://www.work.ua/resumes/3797019/
---
Опыт работы
Fashion Retailer
с 10.2016 по 01.2017 (3 месяца)
Max&Co, Kiev (Retail)
Providing great customer service to the very highest standards;
Giving expert advice on product selection to customers;
Dealing with customer complaints and compliments in a professional manner;
Arranged clothing racks for optimal use to stock new arriving merchandise;
Personal assistant, translator
с 10.2014 по 04.2015 (6 месяцев)
Lithuanian Field Hockey Federation, Vilnius, Republic of Lithuania (Field Hockey)
Efficiently managed all important telephone calls ﹣collected and sorted mail, screened and initiated telephone calls;

Maintained daily tasks list ﹣arranged meetings and made appointment with individuals on a priority basis;

Prepared reports and documents ﹣handled all the documentation work;

Planned the time table schedule of business, personal and weekend events;

Collaborated with key management personnel to assist in arrangement of special events
Insurance Sales Agent
с 05.2012 по 08.2013 (1 год 3 месяца)
FT Broker, Vilnius, Republic of Lithuania (Insurance Company)
Responsible for selling insurance policies and other services, including mutual funds, annuities, and securities, and financial planning services
Brand Consultant
с 08.2011 по 05.2012 (9 месяцев)
Fenwick, Canterbury, United Kingdom (Specialises in a wide range of luxury products, such as: clothing, accessories and cosmetics)
Picking clothing and accessories for editorial features and advertisements, concerts, music videos, films and TV shows;

Identifying a client's tastes, activities, body type and desired image in order to tailor a look to each client's needs.
Hotel Administrator
с 10.2010 по 07.2011 (9 месяцев)
Hampton by Hilton, Birmingham, United Kingdom (Tourism)
Demonstrated a high level of customer service at all times, ensured an efficient reception experience for Guests, including check in/out, and completed audit procedures. Attended appropriate training courses, demonstrated knowledge of hotel room categories, room rates, packages, promotions and other general product knowledge necessary to perform daily duties
---
Образование
Lithuanian University of Educational Sciences
Department of Belarusian Philology and Intercultural Communication, Bachelor's degree in Subject Pedagogy Belarusian Philology, Pedagogue qualification, Vilnius, Republic of Lithuania
Высшее, с 09.2013 по 12.2015 (2 года 3 месяца)
University of Birmingham
International Relations (Diplomacy), Bachelor of International Relations, Birmingham, United Kingdom
Высшее, с 10.2010 по 08.2014 (3 года 10 месяцев)
---
Дополнительное образование
Baltic Council for International Education, IELTS preparation courses (2010 year, 60 hours, total mark- 7,0)
---
Профессиональные и другие навыки
Навыки работы с компьютером


Advanced user of MS Office, Internet, Operating systems (Mac OS X, Microsoft)

Driving license category B

(5 лет опыта)




Эксперт, использую в настоящее время.
---
Знание языков
Russian language — эксперт
Belarusian language — эксперт
English language — эксперт
Lithuanian language — эксперт
French language — средний
---
Дополнительная информация
Positive attitude and good communication skills, excellent grooming standards, ability to work on my own and as part of a team. I have been highly motivated to use my knowledge of foreign languages while communicating with people of different countries. I feel at ease with people of different backgrounds and cultures and have experience in mixing with people from other countries.
Сохранить в отклики
Похожие резюме