Сайт пошуку роботи №1 в Україні
Резюме від 13 грудня 2021 PRO
Лукьянов Максим
Владимирович
Head of Sales and Operations, CCO, директор по продажам
Повна зайнятість, дистанційна робота.
Вік:

42 роки

Місто:

Київ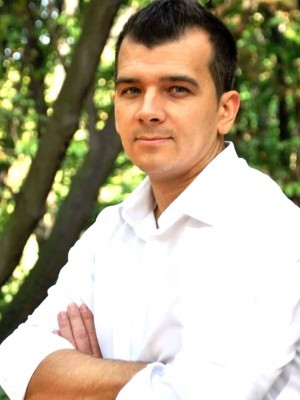 ---
Контактна інформація
Шукач вказав телефон та ел. пошту.
Отримати контакти цього кандидата можна на сторінці https://www.work.ua/resumes/4846462/
---
Досвід роботи
Chief Commercial Officer
з 03.2019 по нині (2 роки 10 місяців)
Spectrsystems, Киев (Software and Hardware solutions, Business process automation)
•Leading and scaling Sales and Business Development.
•Building strong and collaborative relationships with partners and vendors.
•Sales team management from generating and qualifying new leads using different approaches up to deal sign.
•Ensuring a robust after sales process to deliver strong customer engagement and grow further sales opportunities.
--------
•Established partnership with new strategic vendors and expanded company product portfolio in industrial automation, warehouse and transport logistics.
•Generated and successfully implement projects with deal size over 1 mln eur.
Business Development Director - EA project
з 08.2018 по 12.2018 (4 місяці)
Jooble, Київ (IT)
EA Project:
Development and implementation of sales strategy for launching a new product (Jooble Employer Account) on the market:
- Designed corporate sales process: KPIs, personal objectives, metrics for the sales process, motivation scheme for sales team;
- Build sales department (telesales) from scratch: hiring of sales professionals, created sales scripts, provided sales and product training...
- Developed sales and marketing materials;
Identified product gaps and designed solutions for development team, eliminating competitive gaps and product deficiencies in order to win new business;
- Developed new customer communication to convey key product benefits and values against customer pains and needs;
- Successfully implemented and launched corporate sale process in CRM within 2 months;
Head of sales (Large&Enterprise segment, CIS)
з 01.2017 по 08.2018 (1 рік 7 місяців)
Terrasoft, Киев (IT)
- Deliver agreed sale targets for department, monthly, quarterly, annually;
- Lead and motivate team to ensure engagement and effective co-work to meet the bottom line;
- Translate business goals into individual sales targets for team;
- Manage the end-to-end sales process for all opportunities including initial client communication, engagement of presale and integrator specialists, on-site presentations, RFI response, multi-day client workshops, negotiation and deal signing.
- Follow up and ensure total client satisfaction through the entire sales life cycle until successful project rollout.
- Expertise in analysis of customers business to provide tailor made solutions in Sales, Marketing, Service (Service Desk, ITIL, Contact Center) and wide range of business process automation on BPM platform.
- Leverage technical, business and financial acumen to communicate effectively with client executives and their respective teams;
- Maximize business opportunities and sales growth through solution selling methodology
General Manager
з 11.2012 по 01.2017 (4 роки 2 місяці)
Shell Cards Ukraine, Киев (Energy and Fuel, Oil and Gas)
Responsibilities:
- Deliver all agreed T&R targets for Ukraine;
- Develop efficient department structure, Identify and implement changes that result in system improvements
- Set long term goals for all functional units of department, construct and monitor a project plan, manage resources and deal effectively with obstacles and underperformance to ensure delivery.
- Create and implement marketing strategy for non-cash businesses: Fuel Cards, Coupons, euroShell, Bulk sales...
- Lead and motivate people (30 people, 3 teams) to ensure agreed target's delivery;
- Ensure business going in line with approved credit and accountant policy;
- Manage operational pricing/discount decisions to optimize bottom line;
- Continuously improve customer satisfaction;
- Manage the budget, forecasting and financial planning processes, ensure that strategic, accurate plans are put in place to optimize costs and ensure business profitability;
- Manage ongoing changes in the organization required to further optimize its performance;
- Monitor and anticipate competitive and regulatory pressures, and develop appropriate strategies to respond successfully;
- Develop and implement new alternative sales channels;
- Collaborate with businesses across Local and Global Retail organization

Professional achievements:

-Successful launch of a new business channels:
Bulk volume sales
Shell card acceptance abroad Ukraine (Russia, Belorussia)
-Business model optimization: department structure, regional offices reorganization, sales unit functioning changes
-Neighborhood Fleet program reload: 312% sales growth after renovation
-Sustainable growth of B2B share in total company sales +48% 2015 vs 2012
Sales Team Leader of Office Based AMs
з 07.2012 по 11.2012 (4 місяці)
Shell Retail Ukraine, Киев (Energy and Fuel, Oil and Gas)
Responsibilities:
- Ensure that the sales team (14 employees in regional offices) works effectively and has the best possible tools to convert enquiries into achievements;
- Ensure that plans are delivered and business is profitable;
- Develop pricing policy for coupons, implement it in organization and use it, actively participate in pricing process;
- Control and ensure efficient discount policy complying with company strategy and market condition;
- Provide regular forecasts of sales;
- Translate business goals into individual sales targets;
- Ensure that a 'delivery to outcome and deadline' culture is created and maintained within the team;
- Organize Competitor and Market follow up;
- Design and implement effective processes to ensure documents are closed and customers are secured and retained;
- Set, manage and ensure achievement of regional budgets in collaboration with line manager;
- Review and make deep analysis of current sales business model;
- Develop and assess alternative business models;
- Defense and implement new business model;
- Develop control tools and use them for proving business model effectiveness;
Key Account Manager
з 07.2010 по 07.2012 (2 роки)
Shell Retail Ukraine, Киев (Energy and Fuel, Oil and Gas)
Responsibilities:

- euroShell and Shell Card sales growth and development for national customers
- Building of sustainable and effective cooperation both with existing and new customers
- Elaboration of the tailor made CVP for B2B segment
- T&R compliance against new business challenges
- Building of a high performance business within core indicators: Volume, C3, Credit DSO
- Permanent cooperation with global team regarding euroShell CVP improvement for Ukraine B2B segment
- New approaches and possibilities for business development (associations, target groups, special offers for segments...)
- Joint activity with PR team to promote Shell Card
- Search and development of Shell Card dealers
- Dealer stuff coaching
- Professional achievements:
- Effective crisis and change management in establishment of new euroShell business model in Ukraine (awarded with SRA both from - ----- Global Shell Downstream and Shell Retail Ukraine)
- Change of the national b2b framework for Ukraine both for euroShell and local business
- Initiated cooperation and signed Agreement with Association of International Auto Carriers (AsMAP) + 32% growth in eS portfolio
- Three times volume growth and + 358% margin growth FY 2012 vs 2011

Professional achievements:

- Effective crisis and change management in establishment of new euroShell business model in Ukraine (awarded with SRA both from
- Global Shell Downstream and Shell Retail Ukraine)
- New credit conditions for Ukrainian B2B key customers and segment as a whole both for euroShell and local business
- Initiated cooperation and signed Agreement with Association of
- International Auto Carriers (AsMAP) + 32% growth in eS portfolio
- Three times volume growth and + 358% margin growth FY 2012 vs 2011
Territory Manager (Truck, OTR, Farm Tires Sales Department)
з 03.2007 по 07.2012 (5 років 4 місяці)
Rep. Office "Goodyear Dunlop Tires" Ukraine, Киев (Automotive)
Responsibilities:

- Elaboration of the Sales strategy for Goodyear truck tire product group on Ukrainian market
- Dealer network development and support
- Dealer stuff coaching
- Conducting of a seminars, trainings and presentations
- Pricing
- Developing and introduction of marketing strategy, the tactical ways of its realization
- Work with VIP Clients
- Bonus Systems and Incentive programs preparation for the Goodyear dealers.
- Coordination of the dealer's sales activity
- Supplies optimization.
- Cooperation with fleets
- Competitor's activity survey and analysis.
- Development of the successful working strategy in competitive environment.
- Sales forecasting

Professional achievements:

- Implementation of the sole pricing policy for the market
- Establishment of the system of "Minimal Recommended Prices" for Goodyear truck tire group on Ukrainian market.
- Establishment of the training system for the staff of our business partners
- Start of cooperation with 5 new key dealers on prepayment conditions
Key Account Manager
з 12.2005 по 03.2007 (1 рік 3 місяці)
Rep. office " Daewoo Electronics" Ukraine (Digital goods & IT Products), Киев (Digital goods & IT Products)
Responsibilities:
- New product groups promoting
- Forming orders for production and shipping
- Supplies optimization
- Search of the new clients
- Sales and support for the existing clients
- Work experience with big network clients (METRO, Foxtrot, ABV, Technoyarmarok etc.)
- Collaboration as with Ukrainian so with foreign wholesale companies and outlets.
- Adjustment of payment conditions.
- Balances, actions, invoicing other activity
- Stocks control

Professional achievements
- Successful launch of new product category for Ukrainian market
- Start of cooperation with new strategic partners: Metro, Foxtrot, Vistfort
Purchase/Sales account manager
з 01.2000 по 12.2005 (5 років 11 місяців)
LLC"The center of electronics", Киев (Wholesale and retail trade in audio-video, car appliances)
Responsibilities:
- Forming of goods assortment
- Control function of the purchasing for retail network
- Marketing research
- Cost analysis of competitors
- Search of new suppliers
- Negotiations with the suppliers
- Searching and new clients' recruiting
---
Освіта
State Pedagogical University of Makarenko
History, Sumy
Вища, з 1995 по 2000 (4 роки 9 місяців)
---
Додаткова освіта
"Solution Selling" - LBS Group Latvia, Sales Methodology

(November 2017)

mini MBA in loyalty "Loyalty 2.0" - "IdeaFirst", Marketing and Loyalty

(July 2017)

"Leader of Teams" - Business coach certification; "Shell Open University International" - Hague, Netherlands

(2015, March - April)

Leader of Teams - "Deliver Performance" module; "Shell Open University International" - Hague, Netherlands;

(2014 September - November)

"Business English" - Academy of Foreign Languages

(2008 February - December)

"Efficient Management", "Sales territory: Development& Management"; "Focus" Business Academy; Poland, Krakow

(2008 August)
---
Знання мов
Англійська — просунутий
Російська — вільно
Українська — вільно
---
Додаткова інформація
Accomplished Sales and Enterprise Operation Manager with over 20 years of experience in Sales and Operations, B2B, IT, indirect sales and in project management.
Gained large-scale experience in key positions with 30+ subordinates and more than $80 mio annual revenue.
Strong track record in: complex project implementation, building sales department ground up, launch of new products, effective Sales&Operations management resulted in organization revenue increase and growth of client satisfaction.
Negotiations with C level management and deal size over 1 mln eur.
__________

Work experience:
SaaP/SaaS/Software sales
- Elaboration and implementation of sales and marketing strategy for business;
- The launch of sales department from scratch: people hiring and training, worked out selling scripts (telesales), motivation/bonus scheme; Designed corporate sales process, personal KPIs, metrics for the sales process and customer journey funnel...;
- Implementation of CRM for sales and marketing;
- Identify marketing opportunities to grow the business: inbound and outbound, SMM, customer communication; elaboration of USP and promo;
- Personally, participated in the end-to-en sales and implementation process: business/stakeholder "pain" analysis, USP and deal signing, product development and Implementation, after sales processes;
- Expertise in analysis of customer's business to provide tailor-made solutions in Sales, Marketing, Service (Service Desk, ITIL, Contact Center) and a wide range of business process automation on BPM platform;
- Budgeting and pricing policy management
__________

Strategic thinking
High accountability
Responds resourcefully to changing circumstances and setbacks, remaining focused to deliver on targets
Formally or informally, leads and motivates groups of people towards the achievement of significant goals
Strong presentation skills
Balances systematic analysis with the ability to make difficult decisions
Formally or informally, leads and motivates groups of people towards the achievement of significant goals
Negotiation skills
Sales Management
Business Planning
Project management
Public Speaking
Solution Selling
---
Схожі кандидати
---