Сайт пошуку роботи №1 в Україні
Резюме від 6 листопада 2018
Сонгров Илья
Викторович
Junior C++/Qt developer
Повна зайнятість, неповна зайнятість, дистанційна робота.
Вік:

23 роки

Місто:

Київ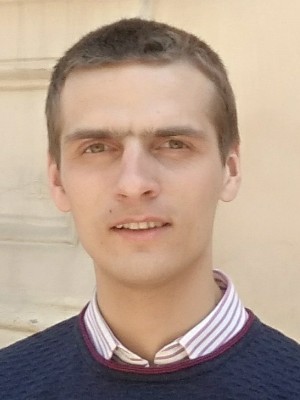 ---
Контактна інформація
Шукач вказав телефон, адресу та ел. пошту.
Отримати контакти цього резюме можна на сторінці https://www.work.ua/resumes/4976357/
---
Освіта
ОНМА
Музыковед, Одесса
Вища, з 09.2015 по 06.2019 (3 роки 9 місяців)
This is liberal arts education.
---
Додаткова інформація
Name: Ilya Songrov
City: Kyiv
Phone, Viber, Telegram: [відкрити контакти](див. вище в блоці «контактна інформація»)
Email: [відкрити контакти](див. вище в блоці «контактна інформація»)

Objective:
My name is Ilya Songrov. I was born in the first of April, 1995 in Kiliya, which is the town of Odessa region. I am a
pupil. I receive a liberal arts education. But also I like modern technologies. Computer technology is of the greatest
interest to me. I want to write code for the computer, to develop desktop applications. I began to study programming
two years ago. During this time I developed three my own projects. Now I live in Kiev. I arrived here to find a job to
become the greatest developer.

Skills:
- 2+ years of experience in C++ (noncommercial projects)
- Experience in development applications using Qt, QtCreator. Also I have experience working with Eclipse.
- Expert level in the understanding operating systems Windows
- Good knowledge of OOP
- Intermediate English, Russian (native), Ukrainian (fluent )
- Basic knowledge of STL

Work Experience:
I have experience but not in the IT field. At the moment I work in the company "Novaposhta". In my free time I study programming.

Projects:
1. Bible Brain Ring.
This application is designed to help operators in competitions of youth teams. It displays information about the
commands and their achievements on the computer screen and the projector.
GitHub: https://github.com/Ilya-Songrov/BibleBrainRing.git
Download for windows: https://drive.google.com/open?id=1bLmubAXXoX3zEXkTYJbp5YpA0pXG3LuL
2. Calculator Big Numbers.
If you multiply [відкрити контакти](див. вище в блоці «контактна інформація») by [відкрити контакти](див. вище в блоці «контактна інформація») on the calculator of your phone, you will get such a result 1,52413839e10. But in this
app you will get the result 15'241'383'936. This app outputs a full result. It easily calculates if you multiply Google by
Google, or divide the kvadragintillion by [відкрити контакти](див. вище в блоці «контактна інформація»). This app is at the final stage.
GitHub: https://github.com/Ilya-Songrov/CalculatorBigNumbers.git
3. English Aurally
This application is created to help people learn a foreign language. If you have a favorite film, follow the requirements of
the program and you will be able to learn a foreign language by ear.
GitHub: https://github.com/Ilya-Songrov/EnglishAurally.git
Download for windows: https://drive.google.com/open?id=1PCpyFf4ybeT_k5_R5fl1OOg95GqfrZP8

About me:
Character calm, temperamental, but I defend my views actively and reasonably. Diligent, accurate, I can logically
think and analyze. I have no bad habits.
Hobby:
I am fond of music. I like sports games such as football, volleyball, chess. I love board games, also spend time in the company. I am interested in innovative technologies, robotics, and machine learning algorithms.
---
Зберегти у відгуки
---
Схожі резюме
---