Сайт поиска работы №1 в Украине
Резюме от 31 октября 2018 PRO
Rudenko
Oleg
Financial Controller
Полная занятость.
Возраст:

36 лет

Город:

Харьков

Готов переехать в:

Киев, Львов, Одесса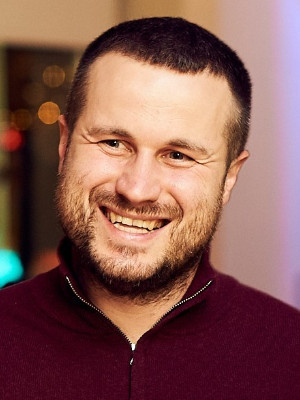 ---
Контактная информация
Соискатель указал телефон и эл. почту.
Получить контакты этого резюме можно на странице https://www.work.ua/resumes/1983714/
---
Опыт работы
Group Financial Controller
с 04.2014 по наст. время (4 года 9 месяцев)
G5 Entertainment AB, Kharkov (Game development)
G5 is a public company listed in Sweden. It has subsidiaries in US, Malta, Ukraine and Russia. I am in charge of correct and transparent accounting, budgeting and reporting for the group of companies. My main functions and responsibilities:
• Managing a financial team of 7 persons and third-party providers of accounting services in 4 countries;
• Ensure a correct and transparent day-to-day accounting process in the group;
• Budgeting: drafting of budgets, deviations analysis, enhancing of budgeting process;
• Monthly closings;
• Checking intra-group financial reports, participating in consolidation of reports;
• Financial control;
• Developing and implementing of financial business processes;
• Maintaining interim, annual and ad hoc audits.
Business controller
с 06.2011 по 04.2014 (2 года 10 месяцев)
"Investment company "Gidromash Orion" LLC, Odessa (Investments)
I performed the following functions:
• supervised the activity of management of manufacturing and trading subsidiaries;
• monitored all incomes and expenses of subsidiaries;
• drew up consolidated plans and reports for the shareholder;
• helped subsidiaries to increase their overall efficiency (for example, by developing and implementing a monitoring system for material assets, by developing and implementing new schemes of selling etc.);
• consulted management on Ukrainian legislation and tax system;
• helped to liquidate some Ukrainian subsidiaries;
• participated in development of investment projects;
• took part in negotiations with potential business partners of the company.
Chief accountant
с 11.2009 по 06.2011 (1 год 7 месяцев)
"Company Idea" LLC, Kharkov (Online booking)
I was responsible for the accounting, tax-planning, financial planning.
Here are some additional functions that I performed:
• developed new optimized schemes of working with hotels and tourists, implemented these schemes;
• optimized business processes and made changes in Terrasoft CRM by myself;
• was responsible for development of accounting part of online project (online booking site): made up a draft, made technical tasks for IT developers, played a role of product owner etc.
• controlled receivables and payables of the company.
• made all kinds of reports, including IFRS reports for a shareholder (mail.ru);
• helped call-center to communicate with English-speaking tourists.
While working in this company I learned everything about functioning of the on-line booking company, travel business and Ukrainian legislation related to this.
Accountant
с 10.2004 по 06.2009 (4 года 8 месяцев)
"T.M.M." LLC, Kharkov (Real estate)
I worked as an accountant at T.M.M. and simultaneously as a chief accountant of 4 companies of T.M.M. group.
Here are some of my achievements and additional functions at T.M.M.:
• took part in creating of the company's budgeting system;
• automated composing of financial statements;
• automated the process of financial analysis;
• took part in annual audit provided by Ernst & Young: prepared materials for audit, checked out figures, helped auditors to understand the specific of T.M.M.
While working in this company I gained a huge experience in accounting, budgeting, financial analysis. Moreover I learned many principles of functioning of big corporation in Ukraine.
---
Образование
Kharkov State University of Economics
Management, Kharkov
Высшее, с 09.1999 по 06.2004 (4 года 9 месяцев)
---
Дополнительное образование
International Association of Book-keepers (Financial statements according to international standards)

(2007)

CIMA, Advanced Diploma In Management Accounting

(2017)

ACCA, Diploma in International Financial Reporting

(2014)
---
Профессиональные и другие навыки
Навыки работы с компьютером
Experienced user of MS Office, Jira, Terrasoft CRM, 1-C, ERP Galaktika.
---
Знание языков
Шведский — начинающий
Украинский — свободно
Русский — свободно
Английский — продвинутый
Польский — начинающий
---
Рекомендации
Recomendation letters under request
+380675753525
Odd Bolin
Group CFO, CLX Communications, +46 (70) 428 3173
Chivurina Larisa
CFO, "T.M.M." LLC, +38 (044) 593-07-11
Skripchenko Dmitriy
Director, "Company Idea" LLC, +38 (067) 570-27-10
---
Дополнительная информация
Have driver`s license categories B and C. Happily married, have two sons.
---
Сохранить в отклики
---
Похожие резюме
---