Сайт поиска работы №1 в Украине
Резюме от 4 мая 2018 PRO
Колодка Татьяна
Анатольевна
Manager-head online advertising, sales promotion
, 25 000 грн
Полная занятость, неполная занятость, удаленная работа.
Возраст:

27 лет

Город:

Днепр

Готов переехать в:

Другие страны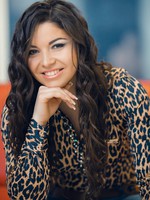 ---
Контактная информация
Соискатель указал телефон, адрес и эл. почту.
Получить контакты этого резюме можно на странице https://www.work.ua/resumes/2623258/
---
Опыт работы
Head of internet advertising company, Professional to attract customers and partners through the Internet
с 06.2008 по наст. время (10 лет 6 месяцев)
Online sales, remote work with clients in 26 countries in the world (Online sales)
3 major achievements of the previous work:
1. During the 6 years of experience has turned out more than 40 000 customers in 26 countries.
2. trained countless people online advertising.
3. Create a 23 destinations online advertising (sources of customers and partners through the Internet).

Tried and tested in the mode of mentoring, training, consulting over 7,200 hours over 6 years worked with the audience in a total amount of more than 40 000 customers in 26 countries worldwide audience of customers 18-75 years.

All these years I fulfill its mission - to help the greatest number of people to achieve their goals.

Have experience of spoken English, sales and communication with foreigners. Scale communication and sales in 26 countries.

Experience creating 23 training programs on Internet advertising for foreign customers. Experience in the management of international advertising company, experience of learning for foreign clients -Training Internet advertising (online business development).
-Experience aid for online shops and other business projects (sites) promoting, setting up advertising.

- Skills SMM (social marketing);

- Case 6-year-old skills Yandex Direct (Contextual advertising).

- Experience in writing advertising copy (practical skill of copywriting). Copywriting is the art of writing selling texts.

I am an active person who loves the constant development, you will need to work to learn something else - I will try to learn and do their work diligently in order to be useful a part in your business.

Accustomed to working hard and invest all their energy, experience and time to develop the business growth of the project and get a decent high pay.
---
Образование
Metallurgical Academy
And the economics of enterprise management, Dnepropetrovsk
Неоконченное высшее, с 09.2008 по 04.2010 (1 год 7 месяцев)
plans next year to finish my studies and restore another 2 years to get a bachelor's degree (higher education)
---
Дополнительная информация
Computer skills, software
2 held annual coaching practice online business. None, I can teach online business (attracting customers and partners through the Internet on a scale of 26 countries.). Maintaining international advertising company, conducting training for foreign customers be trained online advertising. With a computer very well make friends, to say =)
Software Video editing, Web design, online advertising, online sales, create, launch, promotion, sale of any goods or services in 26 countries around the world is a great all than I possess.

Internet advertising, sales, English - expert, using now, 6 years experience.

The man responsible, decent remuneration and am very diligently perform all their work from A to do their best, knowledge and experience.

Higher education is not consummated, but there are 6 years of experience working with business leaders from other countries. thanks to international management training and fellowship each year to thousands of entrepreneurs around the world have the experience and professionalism in communication, communication, training, customer sales of their goods and services in 26 countries.

Thanks to 6 years of experience with foreigners and improve sales of goods and services for business businessmen always got good money for their contribution to their business. Ready to learn what will be required for the tasks in your business.

Interested in working in a project that requires:
1) assist in the organization of the team and improve the level of sales through the internet;
2) assist in the sale of any goods or services in any country;
3) assist in the promotion of sites, business projects.


4) assist in the establishment and development of business projects on the Internet.
5) assistance in the establishment and promotion of online stores;
6) assistance in the training and organization of team work in a business project;
7) assist in attracting new stream of customers to the store on the ground;
8) assist in the launch of advertising in the internet under your land business;

9) assist in creating a website for your business land;
and another sphere in which the need:
- Business executives in projects via the Internet or on the ground;
-help with sales promotion, attracting new customers and partners through the Internet on the internet resources or land business products or services.

Gladly consider your suggestions, the main thing that was decent income and motivated me to give 100%!
---
Сохранить в отклики
---
Похожие резюме
---