Сайт поиска работы №1 в Украине
Резюме от 20 января 2019 PRO
Moskalenko
Yaroslav
Chef
Полная занятость, неполная занятость, удаленная работа.
Возраст:

39 лет

Город:

Киев

Готов переехать в:

Другие страны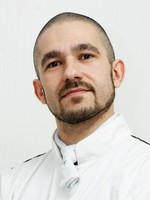 ---
Контактная информация
Соискатель указал телефон, адрес и эл. почту.
Получить контакты этого резюме можно на странице https://www.work.ua/resumes/2785159/
---
Опыт работы
Head chef
с 03.2018 по 10.2018 (7 месяцев)
Private motor yacht Africa 1, Другие страны (Hospitality)
High level fine dining, silver service for up to 12 guests. Nice and nutritious meals for 10 crew members. Provisioning and bookkeeping. Kept galley clean at all times.
Yacht chef
с 05.2017 по 10.2017 (5 месяцев)
La Nouvelle Etoile, France (Inland cruising vessel)
On board of this vessel I was in charge of providing all the meals for usually 8 guests and 5 crew members. The captain defines the boat's service as De Lux level and I was asked of high level performance. Everyday menu consisted of breakfast, lunch and dinner plus cocktail's hour snacks and chocolates sweets for after dinner's coffee. Mostly menu varied on a weekly basis due to supply specific and contained of Continental European cuisine with notes of Asia for the cocktail hour and provided guests with 3-4 courses dinner.
Managing Director
с 02.2016 по 03.2017 (1 год 1 месяц)
AV Hotel GmbH, Koetschach-Mauthen (Hospitality)
•Offering a traditional half board and A La Carte Menu for 45 guests
•Maintaining outstanding customer service, offering high class service
•Managing the kitchen production and other standard complex facilities
•Working within a small Hotel in Karinthia, the tourist region of South of Austria
•Supplying all the departments with all the necessary to function well
•Controlling all the services and departments in hotel
Chef de partie
с 01.2015 по 12.2015 (11 месяцев)
GCCL, Другие страны (River cruises)
•Operating the omelette station and the cold breakfast station
•Making breakfast dishes including baking Danish pastry and bread
•Working on three separate stations within my time at GCCL Cruise Company
•Maintaining product control, checking items on delivery to manage quality control
•Preparing, cooking and presenting breakfast, lunch and dinner in a timely manner
•Cooking on the hot breakfast line, dining room pasta station and vegetarian dishes for a total of 130 passengers and 40 crew members
•Working within the cold food galley, creating buffet sandwiches and dinner appetizers
Family's chef, nutritionist
с 04.2012 по 11.2014 (2 года 7 месяцев)
private family, Киев (Private sector)
•Creating weekly financial reports
•Purchasing necessary products and ingredients
•Creating ideal menu variation, preparing a selection of meals for each sitting
•Working closely with the customer to design menus in an attempt to improve diet
•Taking into account dietary requirements and preferences of each family member
•Holding culinary consultations and workshops, serving at events and parties off site
---
Образование
High Culinary School
Cook, Kiev
Среднее специальное, с 09.1996 по 05.1998 (1 год 8 месяцев)
Diploma
---
Дополнительное образование
Culinary school in GCCL cruise company

(2015)

Food Hygiene level 3

(2017)

Pastry master

(2016)

Secrets de Cuisine

(MCA Ship's cook certificate)
---
Профессиональные и другие навыки
Навыки работы с компьютером


food cost, technological routs using excel

Culinary carving

(10 лет опыта)




Продвинутый, использую в настоящее время.
---
Знание языков
Немецкий — средний
Английский — продвинутый
---
Рекомендации
Mykola Lugovyi
Managing Director, AV Hotel GmbH, +4368120433558, lygovoj@gmail.com
Jan Meijer
Captain/owner, La Nouvelle Etoile, 0031653104296, etoile@solcon.nl
Olga Nasonova
Executive director, http://www.recon.com.ua/, +38050 510 5776, restcons@ukr.net
---
Дополнительная информация
A bright, talented and self-motivated сhef with a successful track record of impressing customers with delicious meals and creative decorative food displays. Able to expertly instruct cooks and other kitchen workers in the preparation, cooking, garnishing, and presentation of food to the highest standards. Experienced in the planning, directing, and supervising of food preparation and cooking activities in a busy environment.
I'm an experienced chef with more than 10 years practice in many kinds catering establishments and I've been working as private chef for three years. I have good skills on cold, hot, pastry station, preparing salads, snacks, starters, soups, main course, desserts, I'm good in making all kinds of dough. I know many world culinary traditions, especially Asian cuisine. I'm good in culinary carving. Open minded and easy learning chef.
I have several recommendations in Russian and English, photos and video (in Russian).
I guess I can be useful for your clients.
---
Сохранить в отклики
---
Похожие резюме
---