Сайт поиска работы №1 в Украине
Резюме от 4 мая 2018
Brodovska
Yulia
Client Management, Project Coordinator, Administrative Manager, Sales Officer
Полная занятость, неполная занятость, удаленная работа.
Возраст:

40 лет

Город:

Киев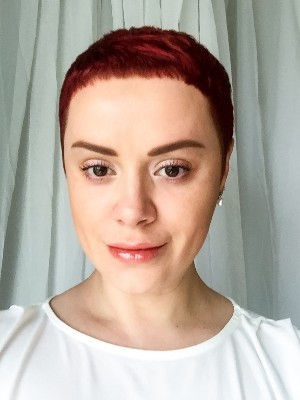 ---
Контактная информация
Соискатель указал телефон и эл. почту.
Получить контакты этого резюме можно на странице https://www.work.ua/resumes/4804517/
---
Опыт работы
Treasury Sales Officer
с 04.2013 по наст. время (5 лет 8 месяцев)
PJSC Sberbank, Киев (Банки и финансі)
- Building new relations for treasury Services among all the segment of the bank customers through increased client contact.
- Liaising with Corporate Finance, Trade Finance and branch managers on conducting ongoing and prospective of Forex (FX) and Money Market (MM)deals and to gather information about existing and prospective clients.
- Active marketing of FX and MM products and derivatives to customers and enhancement of the business turnover and profitability.
- Advising customers on FX and MM trends in response to client inquiries.
- Opening, conducting and closing of daily trading FX session, fixing individual rates on FX and MM deals for clients on Direct Dealing. Executing customers orders.
- Ensuring that suitable products are being marketed to the existing and prospective clients.
- Maximizing and enhancing the profitability and turnover of treasury sales desk, while ensuring a high level of service.
- Assisting in providing high quality of daily, weekly and quarterly market research to major clients of the bank. Contributing to the daily market commentary and market update.
- Following the latest trends in the local interbank currency exchange market and foreign exchange markets and advising to customers. Monitoring, analysis, forecasting and study of the ongoing financial market with a purpose of closing deals on more favorable conditions.
- Submitting periodic treasury sales/client reports as and when required. Analysis of Treasury sales. Building strategic client plans and executing tactics.
Treasury Sales Officer
с 03.2011 по 04.2013 (2 года 1 месяц)
Swedbank, Киев (Банки и финансы)
- Development of Treasury client portfolio, support and maintenance of long term relationship with customers, VIP clients and contacts history.
- Execution of clients orders on purchase/sale of currency and bank operation at Interbank Currency Exchange of Ukraine and international Forex markets (Thomson Reuters Dealing).
- Execution of refinancing, repo operations, operations with NBU deposit certificates, government bonds and further operations on liquidity management.
- Sale of Forex and stock market financial products and services to the bank customers. Launch of new financial products according to customers` needs. Participation in financial products and services development and promotion among clients.
- Dealing operations (DЕРО, SWAP and other MM and FX deals with all currencies) on Interbank Currency Exchange of Ukraine and international Forex markets.
- Negotiations and correspondence with customers. Preparation of banks` financial products presentations.
- Profitability analysis by products and clients, segmentation of clients by volume and profitability and daily monitoring.
- Development and preparation of weekly Forex and financial markets overview and analytics for clients and bank executives.
- Development of new strategies and research of financial opportunities with outlook for optimization and improvement of financial result of currency exchange operations.
- Organization and implementation of rates policy for non-trading operations at head office and regional divisions of the bank.
- Monitoring, analysis, forecasting and study of the ongoing financial market with a purpose of closing deals on more favorable conditions.
- Setting and providing currency exchange and deposit rates and providing quotes to all bank regional centers, maintenance of bank system upon non-trading position closing.
- Providing bank processing center with quotes for bank plastic cards currency position maintenance..
- Organization and build-up of non-trading general currency position of the bank through purchase and sale operations on Forex markets.
- Analysis and control of non-trading general currency position of the bank, including exchange operations by the regional centers and bank divisions.
- Securities market advisory services.
Administrative Director
с 09.2007 по 02.2010 (2 года 5 месяцев)
ABD Capital Ukraine, subsidiary of Swiss based consulting and finance company, Киев (Финансы, инвестиции, консалтинг)
- Financial, fiscal and legal advise
- Investor relations and related activities
- Outsourcing
- Investments: private equity and portfolio investments
- Business contacts and public relations
- Real Estate transactions: selling and buying properties and advising companies on real estate transactions; developing a portfolio of high-quality investment properties
- Social projects
- Professional executive personnel search
Personal Assistant to Managing Director
с 05.2006 по 09.2007 (1 год 4 месяца)
CA IB (Creditanstalt Investment Bank), member of UniCredit Markets & Investment Banking (UniCredit Group), Киев (Инвестиции и финансы)
- Providing daily assistance to the Managing Director.
- Companies researches with outlook for cooperation.
- Member of cross-border transactions team (M&A, IPO, SPO, private placement, warrant issue), projects coordination.
- Collection, analysis and preparation of background information for the project.
- Written correspondence with clients/potential clients, project related correspondence, internal correspondence (UniCredit Markets & Investment Banking Division).
- Proposals & presentations drafting.
- Project reporting.
- Collecting, processing and analyzing data, related to investment banking activity.
- Searching the information for database.
- Organization of the business trips & conferences.
- Personnel administration & recruitment, visa support.
- Control over the implemented by the Group corporate standards and procedures, running of related business events.
Supper Club Manager
с 06.2004 по 05.2006 (1 год 11 месяцев)
Carnival Cruise Lines (CCL), Майами, США (Услуги (ресторанный бизнес, туристические услуги))
- Report directly to the Food & Beverage Manager and Hotel Director. Working relationship with all Food & Beverage Management.
- Ensure all service standards implemented by the company are maintained on a day-to-day basis.
- Reservations: Implementation of training concept for Supper Club reservations system, Silverwhere.
- Daily briefings: Communicate information regarding VIP's, Special diets, upcoming revenue ideas, new menu implementations.
- Manage and resolve any accidents, incidents, susceptible situations in an apt and proactive manner.
- Daily communication with the Chef regarding upcoming special dietary requests, pre-bookings.
- Attend all pre-con briefings with Group Leaders, Travel Agents regarding forthcoming bookings
- Ensure proper levels of inventories and equipment are maintained.
- Ensure the Restaurant abides by all current United States Public Health regulations, including 2005 additions.
- Design and implementation of Supper Club Server training module: 4-week training program.
- Design and implementation of Food and Wine Pairing: Recently implemented as a trial program fleet wide.
---
Образование
Kyiv State Linguistic University
Foreign Languages (German and English) and Foreign Literature, Киев
Высшее, с 09.1995 по 07.2000 (4 года 10 месяцев)
---
Дополнительное образование
New York Institute of Finance, Certificate in Portfolio Management

(2008 - 2009)

Ukrainian Stock Market Development Institute, State Certificate. Securities trading. Passed with 92 (passing grade - 75)

(2010)

Finance For Non-Finance Managers course/ Kyiv Mohyla Business School, Certificate

(2008)
---
Профессиональные и другие навыки
Навыки работы с компьютером
Experienced user of MS Office package, Thomson Reuters Dealing, Thomson Reuters Eikon, Thomson Reuters 3000 Xtra, SR Bank, Telebank, ArchipelaGO, Б2, SRM Siebel.
---
Знание языков
Английский — продвинутый
Немецкий — средний
Украинский — свободно
Русский — свободно
---
Дополнительная информация
I have a diversified experience. I have worked in banking, on currency markets, foreign investment companies, as well as in restaurant business; had jobs in small foreign representative office and in large corporations; have experience working abroad and on cross-border projects with foreign offices. I am also a member of all-Ukrainian society of psychologists, practicing Gestalt.
Motivated to work in a socially responsible business that responds to current challenges and needs, believes in modern technologies, ecology, looks into the future and has space for creativity.
I would be very happy to work in a company with an idea, where I would be able to feel myself a part of the business, among people with like mind, where I would feel my added value. In a place, where I can learn, because that's what I was doing all the time, and think outside of box.
Since I'm indifferent to conventionalities and believe that people are the capital, I see myself in a business that is governed by western liberal management style, where working smart is efficient and not 9 hours a day is what matters. I am convinced that those, whose needs in creativity, initiative, personal growth and personal space are satisfied, but not the ones, who come on time and leave late from work and comply with all rules and conventionalities, achieve the best result.
I would be very much satisfied being able to work at office and remotely, part-time job is an option.
---
Сохранить в отклики
---
Похожие резюме
---