Сайт поиска работы №1 в Украине
Резюме от 9 ноября 2018
Панькова
Оксана
Stewardess
, 32 000 грн
Полная занятость.
Возраст:

30 лет

Город:

Одесса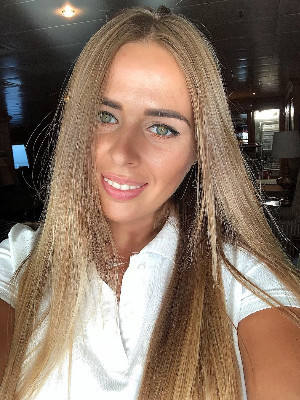 ---
Контактная информация
Соискатель указал телефон, адрес и эл. почту.
Получить контакты этого резюме можно на странице https://www.work.ua/resumes/5070830/
---
Дополнительная информация
Pankova Oksana

27 october 1988
Location: Odessa, Ukraine
Phone number(s):[открыть контакты](см. выше в блоке «контактная информация»)
E-mail:[открыть контакты](см. выше в блоке «контактная информация»)
Skype: pankovaoksana
Country of Residence: Ukraine
Languages spoken: English, Russian, Ukrainian, Italian
Marital status: single
Availability: immediate

Document`s and certificate's:

•Biometric Travel passport
•Seaman's book AB [открыть контакты](см. выше в блоке «контактная информация»)
•Steward assistant
•Security awareness training for all seafarers
•Basic safety training and instruction
•Training for personnel serving on passenger ships

Work experience:
•15.07.2018-01.10.2018 M/V MINERVA (130 m) private vessel under Malta flag, managed by PrivatSea S.A. "SETE Yacht Management S.A."
Greece, Athens.

Position: Bartender ( and bartender-waiters)
Duties: taking orders, preparation coffee/tea/cocktails, serving breakfast/lunch/dinner for VIP guest, set up the table, serving drinks and cocktails, night parties, room service, keeping Vip guests area clean (bar, launch areas, veranda, open deck areas). Folding napkins, decor, keep flowers fresh.
Serving guests in the bar as a Bartender for the VIP guests.
Cleaning all area for Vip guests on the yacht:
-cleaning the bar area for Vip guest,
-cleaning the tables, washing dirty cups,
-cleaning veranda and bar areas,
-preparation cocktails, and all kind of coffee and tea,
-room service.
Drawing up a list and purchasing products, as well as the necessary chemicals for cleaning.
At night, serving food, wine and other beverages as a waiter.
Set up, cleaning and preparation of all 9 decks on the yacht when we stay in the port without guests.
Responsible for day and evening shift.

It was my first experience at sea I did most the rotation with bar service and table service.
REFERENCE LETTER – Nektarios Charamis, [открыть контакты](см. выше в блоке «контактная информация») Hotel Manager M/V Minerva.


•11.2014-07.2018 «Trans Care Logistic LTD» Sales manager
Shipping, handling, forwarding, search and attraction of clients, business correspondence with foreign partners, negotiations with cargo delivery agents, shipping companies, execution of documents
•05.2014-11.2014 «Ayvazovsky Hotel» Receptionist
reception work, restaurant and bar work, answering the phone and tasking messages,
dealing with guests problem's, room service if necessary, in the absence of staff, breakfast and drinks, suggesting places to visit in the regions
•01.2014 – 05.2014 «SeaEnergy LTD» Forwarding department manager
coordination and organization of the transport process, cargo tracking, preparation of all necessary documents for freight forwarding in the port, Negotiations with cargo delivery agents, shipping companies.
•07.2012 – 01.2014 «Arete Ukraine LTD» Manager
•10.2011 – 07.2012 «Five Star City» Secretary, Assistant manager
•12.2010 – 05.2011 «PZU Group» Insurance CompanySales manager
•02.2010 – 12.2010 100% Media Holding «First Credit Company» Economist and
Secretary in combination

Education:
Odessa State Economic University (Odessa)
2005 - 2010 - specialty finance. Master's degree

Courses, Trainings:
02.02.2013-09.11.2013 - Oxford English School (Odessa) A2-lower intermediate level
01.04.2016-01.09.2017 - The society of Dante Alighieri, courses of the Italian Language (Odessa) Elementary Level

Additional Information:
•01.03.17- 06.05.17 - professional make-up course in Beauty Studio Natalia Itten - "Professional make-up artist" (64 hours)
•19.05.17 Make-up school make-up Gohar Avetisyan, Moscow
•09.09.17-12.09.17 - Make up Days festival in Moscow - master classes "Xenia Nikitina" and "Sergei Ostrikov"

About me :
I am just finished my contract on the vessel and now I am looking forward new work experience in position stewardess on the Yacht/Boat. I`m easy-trained and eager to learn something new. I hope my personality will fit your expectations.
---
Сохранить в отклики
---
Похожие резюме
---