Сайт пошуку роботи №1 в Україні
Резюме від 20 травня 2017
PRO
Харчук Олег Анатолійович
Customer Service Manager, Sales Representative
Повна зайнятість.
Дата народження:

15 липня 1992

(25 років)

Місто:

Київ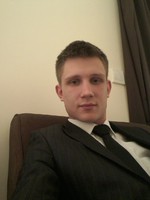 ---
Контактна інформація
Отримати контакти цього резюме можна на сторінці https://www.work.ua/resumes/2085389/
---
Досвід роботи
Guest Service Team Leader
з 01.2016 по 05.2017 (1 рік 4 місяці)
Media Rotana Hotel Management Corporation PJSC, Dubai (Hotel Industry)
Supervise all Guest Service employees ensuring that guests are taken care of in a professional and friendly manner.Maintain effective communication with all related departments to ensure smooth service delivery.Ensure that every call is attended and greeted in a professional manner as per the Rotana Standard.Provide statistical and performance feedback and coaching on a regular basis to each team member. Create and maintain a high-quality work environment so team members are motivated to perform at their highest level. Assist the manager with daily operation of the call center to include the development, analyses and implementation of staffing, training, telemarketing, scheduling and recognition programs.Supervise the activities of the Bellboys, ensuring that the guest luggage is carried from arrival point to room and from room to departure point on checkout.
Front Desk Agent
з 01.2015 по 01.2016 (1 рік)
Media Rotana Dubai, Dubai (Hotel Industry)
Обеспечивать быстрий, качественни по отношению ко всем гостям сервис. Быть ответсвенным за все операции свзязаные с Ресепшном - чек-ин, чек-аут, бухгалтерские отчёты дневной и ночной смены, а также другие прилагаемые функции на Фронт Деске.
Переводчик
з 06.2013 по 12.2014 (1 рік 6 місяців)
Частный Нотариус, Сокаль, Сокальський район, Львовская область (Услуги для населения)
Перевод различных юридических документов
---
Освіта
Киевский международный университет
Лингвистика, перевод, Киев
Вища, з 09.2013 по 07.2014 (10 місяців)
Получил степень Магистра по квалификации филолог/переводчик-референт/переводчик английского и испанского языка.
Киевский международный университет
Лингвистика, Перевод, Киев
Незакінчена вища, з 09.2009 по 06.2013 (3 роки 9 місяців)
Получил степень Бакалавра по квалификации филолог/переводчик английского и испанского языка.
---
Додаткова освіта
Национальний университет Саламанки, Испания (01 июля - 17 июля 2013 - курсы испанского языка/бизнес испанский.)
Национальний университет Саламанки, Испания (02 июля - 18 июля 2014 - повторные курсы испанского языка/бизнес испанский.)
TRADOS (5 октября, 2013)
---
Професійні та інші навички
Навички роботи з комп'ютером
Microsoft Office Word, Excel, Power Point - на уровне пользователя

OPERA (PMS) - компьютерная система, позволяющая получить информацию практически обо всех направлениях работы гостиницы (от степени заполненности до выставленных счетов) - ну уровне опытног пользователя.
---
Знання мов
Російська — експерт
Англійська — експерт
Іспанська — середній
---
Додаткова інформація
Kharchuk Oleh Anatoliyovych

Date of birth: July 15, 1992E-mail: [відкрити контакти](див. вище в блоці «контактна інформація»)

Phone: [відкрити контакти](див. вище в блоці «контактна інформація»)Skype: oleg.kharchuk

LinkedIn: Oleh Kharchuk
Driving license: Holder of valid UAE and Ukrainian Driving license


CAREER OBJECTIVE

Obtain employment in service field that will allow me to use my ability to work with people and take advantage of my knowledge of English, Spanish and Russian languages.
****************
PROFESSIONAL EXPERIENCE


February 01, 2016 – May 02, 2017– Guest Service Team Leader/ Supervisor at Rotana Hotel Management Corporation

Responsibilities:
Supervise all Guest Service employees ensuring that guests are taken care of in a professional and friendly manner. Maintain effective communication with all related departments to ensure smooth service delivery. Ensure that every call is attended and greeted in a professional manner as per the Rotana Standard. Provide statistical and performance feedback and coaching on a regular basis to each team member. Create and maintain a high-quality work environment so team members are motivated to perform at their highest level. Assist the manager with daily operation of the call center to include the development, analyses and implementation of staffing, training, telemarketing, scheduling and recognition programs. Supervise the activities of the Bellboys, ensuring that the guest luggage is carried from arrival point to room and from room to departure point on checkout.

********************
January 16, 2015 – January, 2016 - Front Desk Agent at Rotana Hotel Management Corporation

Responsibilities:
To be responsible for all systems and procedures connected with Front Desk - check-in, check-out, cashiering, night reception function, guest transfers and guest etiquette and other allied Front Office tasks. To provide prompt, efficient and responsive service to all hotel guests, as to achieve a high level of guests' satisfaction, organizational profitability in an environment of high individual moral. Ensure guests are personally greeted and escorted. Maintain an up to date knowledge of hotel information. Maintain an awareness of rate levels to be sold on a daily basis and the occupancy levels. Receive payment, provide currency exchange, ensure that bills are on shift are checked and closed correctly. Deal swiftly, efficiently and sensitively to guest complaints and follow through.

****************

June 2013 –December 2014 – Translator/Interpreter with private notaries and travel agency

Responsibilities:
Provide interpreting / translating services for people and other individuals for meetings, interviews from English/Spanish into Russian/Ukrainian and vise versa. Translate in oral or written various juridical documents.

****************

October 2012 - May 2013 – Translator/Interpreter at "SOFTEX" Company (car industry)

Responsibilities:
Provide interpreting/ translating service related to import/export of cars/ spare car parts.


EDUCATION

2013 – 2014 - Kyiv international university, Theory and Practice of Translation. Master degree in the specialty "Translation", and obtained qualification of Philologist, translator consultant, translator of English.
2009 – 2013 – Kyiv international university, Theory and Practice of Translation.
Bachelor degree in the specialty "Philology", and obtained qualification of Philologist, translator of English and Spanish (Graduated with high honors).

ADDITIONAL EDUCATION

July 01 – July 17, 2013/ July 02 – July 18, 2014 – Attended the courses at National University of Salamanca (Spain). Certified in Spanish Language and Business Spanish
October 5, 2013 – Practical course of TRADOS program
December 04 – December 21, 2012 – Attended practical translation courses at foreign insurance agency "INGO Ukraine"
October 04 – October 21, 2011 – Attended practical translation courses at translation bureau "LINGVO"


LANGUAGES
Ukrainian – native, Russian- native, English – free, Spanish- advanced.

COMPUTER KNOWLEDGE:
Microsoft Office Word, Excel, Power Point on user level
OPERA (PMS) System on advance level

PERSONAL SKILLS
Responsible, sociable, earnest, creative, optimistic, reliable, tolerant, tactful, stress-resistant

REFERENCE:
Youssef Barakat - Assistant Director of Front Office at Media Rotana Hotel.
Tel: [відкрити контакти](див. вище в блоці «контактна інформація»)
Email: [відкрити контакти](див. вище в блоці «контактна інформація»)

Margo Akhunova – Assistant Director of Human Resources at Media Rotana Hotel.
Tel: [відкрити контакти](див. вище в блоці «контактна інформація»)
Email: [відкрити контакти](див. вище в блоці «контактна інформація»)
Зберегти у відгуки
Схожі резюме