Сайт пошуку роботи №1 в Україні
Резюме від 6 березня 2018 PRO
Akhadov
Emil
User Support Technician,
25 000 грн
Повна зайнятість, неповна зайнятість, дистанційна робота.
Дата народження:

29 березня 1993

(25 років)

Місто:

Кременчук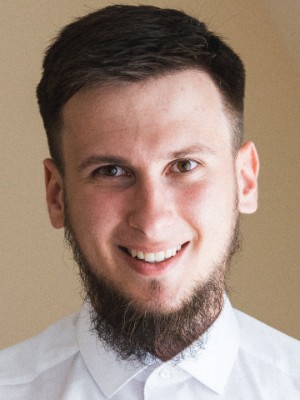 ---
Контактна інформація
Шукач вказав телефон, адресу та ел. пошту.
Отримати контакти цього резюме можна на сторінці https://www.work.ua/resumes/2873516/
---
Досвід роботи
Technical Support Specialist (Full-time remote job)
з 11.2017 по нині (7 місяців)
Skyeng, Moscow (Online English school)
IT Specialist
з 07.2017 по 10.2017 (3 місяці)
KERNEL, Kremenchuk (Agricultural sector)
- 1st and 2nd level user support (directly and remotely via phone, email, TeamViewer, Jira Service Desk).
- Installation, configuration and maintenance of personal computers, network and office equipment.
- Solving problems with software (MS Office, 1C Enterprise), Operating system (MS Windows XP, 7, 10), MS Remote Desktop, network connection.
- Granting access to the company's services via MS Active Directory.
If could not solve the problem - gathered needed information and reported to the next level support via email and Jira Service Desk.
- Communication with ISPs, Mobile operators and Service centers.
Inventory control and reporting.
Systems Administration Technician
з 02.2016 по 07.2017 (1 рік 5 місяців)
DataCall, Kremenchuk (Business services, Outsourced call-center)
- Installation, configuration and maintaining of Operating Systems and needed software on the workstations according to customer's requirements.
- Installation, configuration and maintaining of office equipment.
- Technical and software support of users, consulting users about work with local network and software, drafting guidelines by work with software and informing users about it by training or conducting instructions.
- Implementation of measures to ensure operability of local network and its recovery from system failures or after network equipment breakdown.
- Setting passwords and permissions and control of network resources.
- Detection of user's mistakes, software bugs and taking measures to fix them.
- System monitoring, enforcing network security (protection against unauthorized access to information, viewing or modifying of system files and data).
- Equipment assembling and the local network construction, and supervision of third-party organizations technicians who assemble the equipment and construct the local network.
- Establishment of the monthly budget for expenses, finding and ordering all supplies and equipment needed to maintain workstations, office equipment, to extend and upgrade the local network.
- Doing research and negotiation with Internet Service Providers to extend and upgrade the local network.
- Working with customer on testing, configuring and putting into operation the new software.
- Recording events in conference-hall, dubbing and processing the recorded videos.
- Conducting a business correspondence on technical aspects with customer and employees of the structural units of the company.
- Making my own working schedule for next month.
Implementation of an inventory of all office equipment and keeping it updated.
- Executing specific assignments of immediate supervisor or manager.
Translator / Editor (Remote freelance job)
з 11.2014 по нині (3 роки 7 місяців)
Unbabel inc., Lisbon (Translation work)
- Translations of texts with various subject matters from English to Russian.
- Reviewing and editing the works of other translators before sending to customer.
Cashier
з 06.2013 по 08.2013 (2 місяці)
Walmart Inc., Myrtle Beach, South Carolina, USA (Sales)
English language practice - Work and Travel USA
Sales person
з 05.2013 по 08.2013 (3 місяці)
Bigham and associates inc., Myrtle Beach, South Carolina, USA (Sales)
English language practice - Work and Travel USA
Forums moderator (Remote volunteer job)
з 03.2009 по 03.2011 (2 роки)
PlayGround.ru, Moscow (Computer and console gaming forums)
- Keeping forums in order, editing /deleting /moving posts and threads to appropriate sub-forums.
- Writing tutorials how to fix technical issues.
- Helping to forum users to solve their technical problems.
---
Освіта
Kremenchuk Mykhailo Ostrohradskyi National University of Ukraine (KrNU)
Electronics and computer engineering, Computer systems and networks, Kremenchuk
Вища, з 05.2010 по 02.2016 (5 років 9 місяців)
Bachelor's Degree (May 2010 – June 2014)
Master's Degree (September 2014 – February 2016)
---
Додаткова освіта
English language practice - Work and Travel USA (2013, 3 months)
English language cources - Lingua (Advanced level), Excellent mark (September 2013 – February 2015)
---
Професійні навички
Навички роботи з комп'ютером
- Level of competency in computers: Advanced user;
- Languages: English - Advanced, Russian - Native, Ukrainian - Native.
- Proficient in: MS Office (Excel, Word), network monitoring tools, video editors, etc.
- Doing SEO-optimization of website (as a hobbie).
- I'm good in computers hardware and Android smartphones software
- Know basics of computer networking and data-transferring technologies.
- Can solve technical problems related to computers and equipment.
- Can find on the Internet things that can't find others,
- Сompetently keep the business correspondence, negotiations.
- Create detailed and understandable regulations and guides.
---
Знання мов
Російська — експерт
Українська — експерт
Англійська — експерт
---
Додаткова інформація
Personal qualities:
- Pleasant;
- communicative;
- computerate;
- I love to solve problems, see things through, get job done and achieve results;
- responsible;
- reliable;
- honest;
- punctual;
- highly motivated;
- able to work in a team and independently;
- ready to study and earn new knowledges.

Additional information:
- married, no children;
- no bad habits;
- hobbies: gym, reading books, learning English, searching new information over the internet, Search engine optimization, cutting music to make phone ringtones, reading IT articles and exploring how to optimize devices performance running Android and Windows OS;
- foreign passport and US Social Security Number;
- certificate for operation of motor boat with engine capacity up to 149 h.p (May 2010).
- valid driving license - category B.
Зберегти у відгуки
Схожі резюме
---