Сайт пошуку роботи №1 в Україні
Резюме від 11 грудня 2017
PRO
Крутиков Роман Геннадьевич
Head of subdivision (top management)
Повна зайнятість, неповна зайнятість, дистанційна робота.
Дата народження:

7 серпня 1979

(38 років)

Місто:

Маріуполь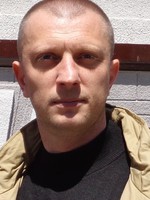 ---
Контактна інформація
Отримати контакти цього резюме можна на сторінці https://www.work.ua/resumes/3224399/
---
Досвід роботи
Store manager
з 04.2014 по нині (3 роки 8 місяців)
JSC Planeta Leta, Stavropol (Garden hypermarket)
• Organization and control of all the main business processes of the hyperrmarket;
• Ensure the completeness of the range;
• Provision of merchandising;
• inventory management, optimization of cash balances;
• Management of promotional activities and promotions;
• Managing client services;
• Ensuring a high level of customer service in accordance with standards;
• Planning and control of budget execution store, optimization of store management costs;
• Check the proper condition and functioning of all engineering systems and structures, safety of employees and customers, goods and equipment;
• Plan, organize and control the inventory of goods and other property in the store;
• Provide and control the optimal staffing, organization planning and execution control work schedule, providing quality service, taking into account the intensity of the customer flow.
Floor manager Garden
з 05.2008 по 02.2014 (5 років 9 місяців)
OBI DIY hypermarket (LLC "DIY Ukraine"), Mariupol (DIY hypermarket)
• Management, coordination and control of sales processes in accordance with company policy
• Ensuring a high level of customer service
• Consideration of complaints from customers, decided to return or exchange goods
• Ensuring and monitoring of the sales plan
• Control of write-offs
• Analysis of the sales department, participated in the formation of orders
• Organization and control of inventory, tracking audit
• Providing attractive presentations of goods (proper vyklakdka product, in both qualitative and quantitative ratio, in accordance with the concept of merchandising)
• Monitoring compliance with the prices of goods, their timely replacement, control of a properly designed price tags
• Provide a safe display and storage of goods in the upper zones
• Monitoring of promotional and advertising campaigns (accommodation promotovarov, posters and price tags)
• Planning the schedule of work and personnel management, ensuring maximum efficiency in the work of each employee's department
• Development of measures to improve the skills of employees of department
• Participation in the selection, adaptation and training of new employees
• Perform the duties of Deputy Store manager of the sales during his absence
---
Освіта
Priazovsky State Technical University
Faculty of Economics, Marketing Specialist, Мариуполь
Вища, з 09.1996 по 06.2001 (4 роки 9 місяців)
Faculty of Economics, Marketing Specialist
---
Додаткова інформація
Energetic, purposeful, sociable, able to find creative solutions of the problem.
Knowledge of PC - at the level of an experienced user (Word, Excel, Internet, 1C, Basis, Astor), system administration, support of web-pages. Languages - Ukrainian freely, English is basic level.
Зберегти у відгуки
Схожі резюме