Сайт пошуку роботи №1 в Україні
Резюме від 17 лютого 2017
PRO
Popadyuk Vyatcheslav
Head of Export,
30 000 грн/міс.
Повна зайнятість.
Дата народження:

11 травня 1979

(37 років)

Місто:

Київ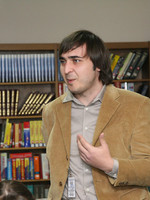 ---
Контактна інформація
Отримати контакти цього резюме можна на сторінці https://www.work.ua/resumes/3370372/
---
Досвід роботи
France/MENA Business Development Manager
з 06.2016 по нині (8 місяців)
Belkozin Pryluky Plant, Киев (Manufacturing)
- distribution network set-up;
- key accounts management;
- marketing analytics and policies development;
- new markets acquisition
Senior Export Manager
з 09.2014 по нині (2 роки 5 місяців)
Ukrsilicate, LLC, Киев (Manufacturing)
Not limited by:
- export-inport strategy set-up;
- price level adjustment;
- product line development;
- export sales;
- marketing and new brand promotion;
- planning and coordinating the international shipment of goods;
- negotiating with shippers, agents and vendors;
- setting up a distribution network;
- exhibitions & events coordination;
- new product and quality development;
- equipment & raw material purchase;
- reaching excellent customer service, etc.
Project Coordinator / Foreman
з 05.2013 по 09.2014 (1 рік 4 місяці)
Viva Inject, LLC, Киев (Construction)
Lead in the major project with the strategic client (KSM GROUP);
B2B Projects;
Sales & After-sales management (80% cross-sales, up-sales);
Supervision of a construction unit;
Procurement for works;
Training, instruction, and control of Occupational Safety and Health;
Support for CEO and English/French speaking partners, etc.
Deputy Director
з 06.2012 по 04.2013 (10 місяців)
MDR Teremki, Kyivzelenbud, Киев (Manufacturing)
Liaisons with foreign partners;
B2B and B2C local sales;
Marketing, sales, HR supervision;
Document flow, tenders, procurement, IT issues;
Occupational Health & Safety supervision (at Fleet Department);
Machinery and building control, etc.
Office Coordinator
з 05.2011 по 05.2012 (1 рік)
John Deere, Ukraine, Киев (Manufacturing)
Purchasing:
coordination of existing and new suppliers (contractors) at the subject of their timely and quality fulfillment/delivery all services/products;
resolving all unplanned situations with acting suppliers;
monitoring the team needs and converting them into a best solution available on market;
organizing the procedure of new tenders, Purchase Orders, and processing data to ERP.

Achievements:
new contract with Business Center with lower price and better conditions;
reduce of mobile phones costs by 28% by choosing correct plans and additional services + informing the team about the best options to economise;
special offers and services from hotel chains, taxi services, and other.

John Deere LNR Certificate at Red Tape and Bribery Resistance

Facility Coordination:
Contracts, bills, cleaning, car fleet, furniture, communication channels, office equipment.

Travel Management:
Ukraine, EU, US trips including transfers/car rent and events.

OSH:
Tracking health & safety team-members working conditions.
---
Освіта
Kyiv National Taras Shevchenko University
English/French Interpreting, Киев
Незакінчена вища, з 09.2005 по 06.2009 (3 роки 9 місяців)
---
Додаткова освіта
Kursor Educational Center: Export and Logistics (2016)
---
Знання мов
English — експерт
French — середній
Зберегти у відгуки
Схожі резюме