Сайт пошуку роботи №1 в Україні
Резюме від 30 листопада 2016
Лясковский Алексей Владимирович
System administrator,
10 000 грн/міс.
Повна зайнятість.
Дата народження:

31 липня 1995

(21 рік)

Місто:

Київ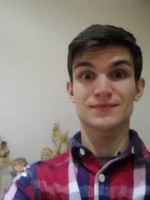 ---
Контактна інформація
Отримати контакти цього резюме можна на сторінці https://www.work.ua/resumes/3724041/
---
Додаткова інформація
Summary of Qualifications
Degree in Computer Systems Networking and Telecommunications, National Technical University of Ukraine 'Kyiv Polytechnic Institute', underwent training in hosting company HOSTLIFE.
Have been working as technical support L1/helpdesk for mobile operator and now working as network system administrator . Strong-willed and hard-working, quick-learner, detail oriented, good team-player, willing for challenges in configuration and networking spheres as well as eager to learn new technologies and tools; good-natured and easy-going.

Technical skills
Operation Systems:
Windows XP/7/8/10, Windows Server 2008/2008R2/2012R2, Ubuntu, CentOS, OEL6,AWS EC2/VPC (basic)

Software/applications:
-Active Directory
-MS Office 2010/2013,
- MS Exchange (basic)
-Acronis Backup&Recovery/True Image/Disk Director
- Cobian backup
- Kerio Control
- Zabbix
- FileZilla
- Putty

Remote access :
RDP,SSH, FTP, Lite Manager, TeamViewer

Networking:
TCP/IP, Ethernet ,Wi-Fi ,DNS ,DHCP,VLAN,, VPN , POP3/IMAP, basic VoIP

Virtualization:
VMware,VirtuaBox, basic Hyper-V

Databases:
Microsoft Access, MySql, basic MS SQL Server 2008

Programming Languages/ Technologies:
PowerShell,bash, cmd, T-SQL, HTML (basic)
Experience of configuration Apache/Nginx

Experience :

1)Turkcell Global Bilgi,
Technical support L1/helpdesk of 4G network subscribers,
July 2015 – October 2015
Responsibilities:
-support and consultation subscribers with technical questions;
-billing operations, etc.

2) "KPD Consulting" Law Firm,
System administrator,
October 2015 – August 2016
Responsibilities:
- administration workstation;
- installation and configuration software;
- server administration ;
- installation and configuration of network equipment;
- helpdesk ;

3) "B4U CARD SOLUTIONS LIMITED"
System administrator,
August 2016 - present
Responsibilities:
- support and development of office network infrastructure;
- installation and configuration OS and soft;
- maintenance of servers;
- backup & recovery;
- monitoring and troubleshooting;
- skype-manager administration;
- access control system administration;
- OTRS management;
- CCTV server administration;


Education:
National technical university of Ukraine "Kyiv Polytechnic Institute" (Kyiv, Ukraine), Institute of Telecommunication Systems
Telecommunication systems – bachelor degree (2012 - 2016)

Faculty of informatics and computer science
Computer systems and networks - master's degree (2016-2018), distance learning

Training and Certifications:
- PortaOne Educational Lab training courses (2016-2017),
Linux administration, DBMS SQL, Oracle, Apache, VoIP
- Introduction to the Internet of Everything (IoE) by Cisco Networking Academy, February 2016.
-Hosting technical support training in HOSTLIFE company, October 2015.

Language skills:
English - Intermediate
Ukrainian - Native
Russian - Native

Interests:
Reading, hiking in the mountains, trips, handmade, football, table tennis.

Зберегти у відгуки
Схожі резюме