Сайт пошуку роботи №1 в Україні
Резюме від 15 травня 2017
PRO
Husieva Svetlana
Junior front-end developer, business analyst
Повна зайнятість, неповна зайнятість, дистанційна робота.
Дата народження:

26 травня 1986

(31 рік)

Місто:

Київ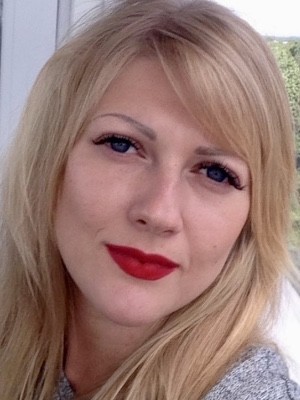 ---
Контактна інформація
Отримати контакти цього резюме можна на сторінці https://www.work.ua/resumes/3741158/
---
Досвід роботи
Site admin
з 09.2015 по нині (1 рік 8 місяців)
Euroasian, Киев (Development and IT implementation)
- studying and analyzing customer's business processes;
- working with the website, moderation, testing and checking (making a list of tasks for programmers), writing technical tasks, making algorithms, planning different events, search of the key clients, organization, managing, making a report;
- website layout, searching for bugs and fixing them, content filling.
Manager of the restaurant chain
з 08.2014 по нині (2 роки 9 місяців)
"Kazbek" Restaurant, restaurant chain, Mykolaiv (restaurants, night clubs, karaoke)
Responsibilities:
- Preparing the establishment for the opening, non-stop waiting on guests during the working hours.
- Daily control of products quality, estimating the daily food consumption and placing orders with suppliers accordingly, ordering utensils and contacting merchants regarding their supplies on a regular basis.
- Coordinate administration, budget, payroll, staff and vendors
Maintaining the cleanliness and sanitation standards of the restaurants by routine checkup of the cleaning done by facilities staff.
- Maintaining a friendly environment for staff and customers.
- Recruiting, training and motivating staff.
- Maintaining high standard quality hygiene, health and safety.
- Analyzing and planning restaurant sales and organize marketing events and promotional plans accordingly.

The reason for leaving: professional growth as well as personal growth
Manager
з 03.2013 по 06.2014 (1 рік 3 місяці)
"Bombey", Mariupol (bowling club)
Professional experience:

- Managing the whole "creating" process and the opening of the club itself.
- Choosing all in-house aspects of the club, from in-house decorations to menu selection.
- Scheduling working hours of the staff.
- Searching the market regarding clients' demands and prices.
- Generating reports on business, staff, and profit and future plans.
- Hiring and training staff according to skills required.
- Catering.
- Cooperating with advertising, trade and management representatives

Achievements:
Opening and successful performance of the club

The reason for leaving: relocating
Coach (tutor)
з 07.2012 по 05.2016 (3 роки 10 місяців)
"The territory of knowledge", Mykolaiv (educational centre)
- Coach at the "Hotel and restaurant manager", "Barman-waiter", "Restaurant-keeper" courses.
- Holding lessons and seminars.
- Individual and group learning.
- Holding workshops and theory lessons according to the educational program.
- Assembling methodological materials

Achievements:
The excellent knowledge of restaurant and hotel structure.
The pattern of setting up and managing a restaurant or a hotel.
---
Освіта
National University of shipbuilding named after admiral Makarov
Automation of technical processes and production, Mykolaiv
Вища, з 09.2007 по 02.2013 (5 років 5 місяців)
---
Додаткова освіта
Brain Academy, Front-end development (2016, 5 months)
Computer academy "Step", HTML5, CSS3 (2016)
"69 mistakes of the restaurant manager" (seminar, Odessa, A. Musatov) (2015)
"The golden rules of the service" (2012)
---
Професійні та інші навички
Навички роботи з комп'ютером
HTML5, CSS3
Front-end development, JavaScript
Working with databases
---
Знання мов
English — середній
Russian — експерт
Ukrainian — експерт
---
Додаткова інформація
I am responsible, persistent and usually achieve all the tasks set. I am good-looking, open-minded, energetic and punctual person. I am active and attentive at my work place.
Зберегти у відгуки
Схожі резюме