Сайт пошуку роботи №1 в Україні
Резюме від 15 листопада 2017
PRO
Корчагина Ирина
Marketing manager
Повна зайнятість.
Дата народження:

2 травня 1981

(36 років)

Місто:

Київ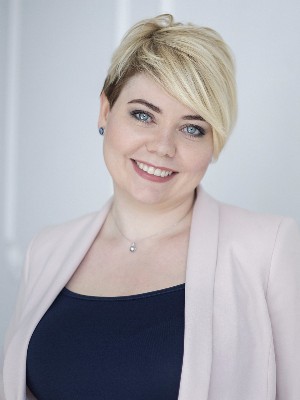 ---
Контактна інформація
Отримати контакти цього резюме можна на сторінці https://www.work.ua/resumes/4186941/
---
Досвід роботи
Senior project manager
з 08.2012 по нині (5 років 3 місяці)
FreshMarketing, Kyiv (Marketing agency)
•Working out marketing strategies and concepts based on client's business goals analysis and assessment.
•Financial planning of the projects, control of financial liabilities.
•Project team management.
•Proactive searching and attracting strategic clients.

Achievements:
•Implemented more than 50 marketing projects focused on increasing sales in IT and Consumer Electronics segments (retail and online promo, BTL promo, merchandising, retail salesperson's education and motivation, direct marketing, events of different scale) for total budget more than $2 mln.
•Worked out projects within Ukrainian launch campaigns such products as Windows 8, Office 365, Intel Ultrabook, WD Passport, WoT Blitz, BlackBerry.
•Attracted TOP-10 Ukrainian IT-market clients (Asus, Asbis, Beko, Huawei); their aggregate budget amounted $200+K for the first 6 month.
•Won a year service tenders (clients – NDA) with aggregated budget $500K+.
•Doubled the efficiency (sales/budget for promotion) of one of the key projects (client NDA).
•Created high efficient and motivated project team (10 persons). As a result - retention of all clients and zero staff turnover.
Marketing Manager
з 09.2010 по 08.2012 (1 рік 11 місяців)
RRC Ukraine, Kyiv (Leading Distributor of IT-equipment and IT-solutions)
•Working out and implementing marketing strategy of company.
•Launching new products.
•Building up collaboration and determining common goals between Vendors and Distributor.

Achievements:
•Increased financing of vendor's marketing activities by 20%.
•Successfully launched 7 new brands (Juniper, SafeNet, Sophos, Citizen and the others).
•Successful anti-crisis marketing case – delivered twice faster than planned Cisco Pipeline (mandatory list of marketing activities with KPI for each).
•Increased by 25% satisfaction with the quality of events (due to participant's follow-up).
Marketing Manager
з 05.2006 по 05.2010 (4 роки)
ITC Publishing, Kyiv (IT-Media)
•Marketing support
•PR-support of the projects
---
Освіта
Plekhanov Economic University
Master of management, Marketing specialization, Moscow
Вища, з 02.1999 по 06.2004 (5 років 4 місяці)
---
Додаткова інформація
CREDENTIALS:
•More than 80 successful marketing projects implemented for big multinational companies (Acer, Asus, Cisco, Microsoft, Intel, Motorola, WD and others).
•Experience in В2В marketing: lead generation and qualification, event management, loyalty and partner management, market analysis, sales strategy, communication strategy.
•Experience in B2C marketing in Consumer Electronics segment: presence and promotion in retail, online promotion, direct advertising BTL promo, events.
•Managerial experience, setting targets, team motivation and development.
•Experience in negotiation at every level, participating and winning tenders, attracting customers.
•Successful experience in working with objectives of promotion and sales growth (reaching targets).
•Fluent English.

REFERENCES:
•Anna Kazandzhan – Managing Partner, FreshMarketing (Contact on request).
•Yuri Mykolyshyn– Marketing Director, Intel Ukraine in the period of collaboration (Contact on request).
•Irina Temchenko – Country Manager, WD Ukraine (Contact on request).

Additional education, coursera.org:
University of Pennsylvania, Introduction to Operations Management;
University of Amsterdam, Introduction to Communication Science, Copenhagen Business School; Copenhagen Business School, Strategic Management course;
The State University of New York, Strategic Self-Marketing and Personal Branding.

Зберегти у відгуки
Схожі резюме