Ukraine's #1 job site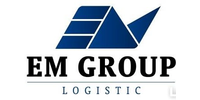 EM Group Sp. z o.o.
Transportation and logistics
250-1000 employees
Read more
EM Group
Transport drogowy
EM GROUP jest doświadczonym operatorem logistycznym, świadczącym usługi z obszaru TSL [Transport Międzynarodowy — Spedycja — Logistyka]. Realizujemy przede wszystkim zlecenia drogowego przewozu przesyłek całopojazdowych [FTL].
Posiadamy niezbędne licencje, uprawnienia i ubezpieczenia umożliwiające realizację drogowych usług transportowych na obszarze całej Europy, a także szereg specjalnych pozwoleń na przewóz niektórych towarów. Zatrudniamy lokalnych reprezentantów w każdym kraju europejskim, który tego wymaga,
Dzięki wieloletniemu doświadczeniu naszych logistyków zawsze przygotowujemy Klientom dedykowane rozwiązania logistyczne, uwzględniające specyfikę produkcji i zdefiniowane wymagania w zakresie transportu drogowego dla powierzonych towarów.
O rynkowej atrakcyjności EM GROUP stanowi przede wszystkim nowa flota pojazdów, pozwalająca przewozić ładunki z zachowaniem najwyższych standardów jakości i funkcjonalności oraz grupa zaufanych i sprawdzonych przewoźników kontraktowych z terenu całej Europy.
Wydajne zarządzanie flotą zapewniają nam zaawansowane rozwiązania informatyczne w zakresie planowania tras i monitoringu taboru. Inwestycje w nowoczesną infrastrukturę i flotę oraz szkolenie specjalistów to stały element polityki jakości EM GROUP.
Zapraszamy do współpracy!
There are currently no posted jobs.