Ukraine's #1 job site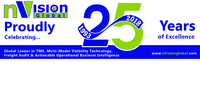 NVision Global
Transportation and logistics
50-250 employees
Read more
Since its inception, n Vision Globalhas evolved from a global fastest growing company. n Visionboasts facilities on four continents, superior technology, quality services and comprehensive business intelligence applications second to none.
As we Partner with our customers we are committed to listening and dynamically customizing our processes to support each of their unique business requirements. Our commitment is to provide each customer with responsiveness that is unparalleled in the industry. We are dedicated to this philosophy, we understand that a successful relationship depends on the delivery of state-of-the-art technology, quality focus, flexible processes, unparalleled service and global business intelligence.
nVision Global at a glance:
Global Headquarters located in Atlanta, Georgia USA
Operating Facilities in The Americas, Europe and Asia
10,000 Transportation Providers Supported
Core Services include Global Freight Audit and Payment, Logistics Management and Claims Services
100,000,000 Transactions Processed Annually
$ 5.2 Billion in Annual Freight Spend
Experts in processing all Modes of Transportation
There are currently no posted jobs.