Ukraine's #1 job site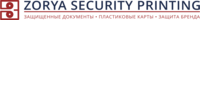 Zorya Security Printing (Зоря, полиграфический комбинат)
Verified
Industry:

Media and printing

Company size:

250-1000 employees

Site:

Primary contact:

Оксана Довгалевская

Phone number:
ZORYA SECURITY PRINTING (ПОЛИГРАФИЧЕСКИЙ КОМБИНАТ «ЗОРЯ») является крупнейшим частным производителем и экспортером защищенных документов в Украине.
Предприятие поставляет свою продукцию государственным заказчикам в Украине, ЕС, Азии, Африке и на Ближнем Востоке.
В перечень продукции входят такие высокотехнологические защищенные документы как:
электронные паспорта;
ID и смарт-карты (удостоверения личности, водительские права и др.);
акцизные марки;
свидетельства на право собственности;
дипломы;
другие защищенные документы для государственных и негосударственных органов.
Предприятие также поставляет системы, ПО и материалы для защищенной персонализации пластиковых документов (принтеры, ламинаторы, голографические ламинаты и расходные материалы).
Приглашаем в команду профессионалов для участия в активном развитии компании и получения уникальных знаний и опыта!
Posted jobs
There currently aren't jobs posted in the "" category.
Kyiv ·
7.1 km from center
· 2 days ago
·
Kyiv ·
7.1 km from center
· 2 days ago
Kyiv ·
7.1 km from center
· 3 days ago