Ukraine's #1 job site
Resume from January 18, 2022 PRO
Хватов Алексей
Сергеевич
Sales manager, Business developer
Full-time.
Age:

39 years

City:

Dnipro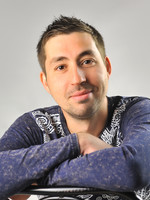 ---
Contact information
The job seeker has entered a phone number and email.
You can get this candidate's contact information from https://www.work.ua/resumes/5543934/
---
Work experience
Marketing manager
from 06.2012 to now (9 years 7 months)
PFSOFT, Днепр (IT)
•Improving marketing strategies to achieve global presents for the US and UK markets
•Promoting Protrader software on Google using SEO , AdWords, blogs, forums and content distribution
•Use social media like Facebook, Twitter, YouTube to increase customer awareness, leads and traffic
•Training and managing four people, mentoring on increasing sales in Asia
•Analyzing potentials of the new and existing Asia markets to increase company market share
Sales manager
from 04.2007 to 10.2009 (2 years 6 months)
IDI Corporation, Ho Chi Minh (Fish Production)
•Managed and organized tradeshows in China and Ho Chi Minh City to increase product distribution of the fish products for Europe and Asia markets
•Simplified customer orders via company website and improved the overall site structure layout
• Trained and educated staff teaching English, soft and communicational skills for better negotiable techniques with new and existing clients
---
Education
RMIT University (Physical Presence)
Management and Business, Melbourne
Higher, from 2006 to 2008 (2 years)
MBA. Graduate school of business
---
Language proficiencies
English — fluent
---
Additional information
I am online marketer with strong and in-depth knowledge in SEO (Search Engine Optimizations), marketing, social media promotion, PPC (pay per click) advertisement, blog writing, content distribution and sales. Recognized for proven results, meeting deadlines, exceptional creativity and problem solution abilities, while making substantial contribution for small and medium companies.
---
More resumes of this candidate
Higher education · Full-time, part-time, remote
Marketing manager,

PFSOFT · 9 years 6 months

Marketing manager,

DISC-SOFT · 1 year 2 months
PRO
·
Dnipro, Kryvyi Rih, Kyiv
Higher education · Full-time
Marketing manager,

Professional Finance Software · 9 years 11 months

Marketing manager,

DISC-SOFT LTD · 7 months
Higher education · Full-time, part-time, remote
Marketing manager,

PFSOFT · 9 years 9 months
Similar candidates
---