Ukraine's #1 job site
Resume from October 1, 2019 PRO
Zinoviev
Aleksandr
Front-end, web-developer
Full-time, part-time, remote.
Age:

28 years

City:

Kyiv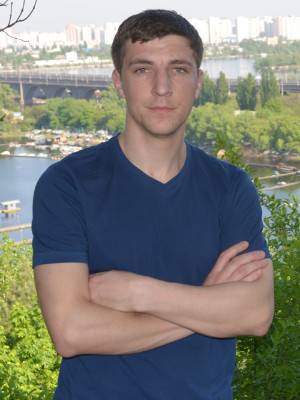 ---
Contact information
The job seeker has entered a phone number and email.
You can get the contact info for this resume on this page: https://www.work.ua/resumes/2066624/
---
Work experience
Front-end developer
from 07.2017 to 02.2019 (1 year 7 months)
WEFUTURE LTD, Київ (web-development)
- Work about a large project with difficult logic;
- Changing and improving frontend web service interfaces;
- Development of new interfaces.
Front-end developer, Web-developer
from 04.2016 to 04.2017 (1 year)
"GreenWeb" agency, Киев (IT)
- Website development on various CMS;
- Creating templates for various CMS;
- Editing existing sites;
- Sites with a fixed design making responsive;
- Diagnostics and fixing problems in the working/appearance of sites;
- Website fast-loading;
- Writing short instructions about site administration;
- Optimization site to search engines.
Web developer
from 02.2015 to 03.2016 (1 year 1 month)
"Site-Ok", Киев (Web development, search optimization)
- Website designing;
- HTML-coding from design layouts;
- HTML-coding without design;
- Setting up CMS systems;
- Organization of site functionality;
- Making responsive of sites with fixed design;
- Optinization sites to serch engines.
Web site administrator
from 05.2014 to 09.2014 (4 months)
ELDI Group, Київ (Safety and Security)
- Administration of site gazer.com;
- Monitoring the work of SEO-optimizer and programmer;
- Control and correction of content on the site;
- Audit, analytics and design improvements to the site.
IT engineer
from 02.2013 to 08.2013 (6 months)
ViknoLider, Калуш (Sale)
- Changing the functionality and design improvements of the site;
- Site administration;
- SEO;
- Stationary and remote technical support for company employees;
- Installation and technical support of the video system throughout the network of branches;
- Setup and technical support the GPS monitoring system of the
company courier service.
---
Education
Ternopil National Pedagogical University named after Vladimir Gnatyuk
Faculty of Engineering and Education. Department of Computer Technology. Computer Graphics, Internet and Multimedia Technologies, Тернополь
Higher, from 08.2007 to 06.2012 (4 years 10 months)
---
Professional and other skills
Computer skills
- HTML5 and CSS3, including adaptive cross-browser markup;
- Understanding of BEM and smacss methodologies;
- SASS, SCSS;
- Bootstrap;
- JavaScript - basic knowledges, in learning;
- PHP - basic knowledges;
- Git;
- Gulp;
- Docker;
- Adobe Photosop;
- Databases;
- HTML-coding to popular CMS;
- Administration and configuration of the popular CMS.
- SEO (basic knowledges, understanding of principles, processes and tools);
- Basic knowledge of Linux.
Web development

(9 years of experience)




Advanced, I currently use it.

Searh Engine Optimisation

(7 years of experience)




Above average, I currently use it.
---
Language proficiencies
Ukrainian — fluent
Russian — fluent
English — average
---
Additional information
PROFESSIONAL CHARACTERISTICS
I understand the concept of usability, I observe a clear sequence of actions, I strive for quality, convenience and benefit. I quickly understand new technologies, constantly improve my skills and learn new ones.

I prefer active participation in the organization of the work process, I enjoy the promotion of my ideas for improvement, I do not criticize without a decent alternative.

PERSONAL CHARACTERISTICS
Ambitious, friendly, loyal, sociable, responsible, self-critical, organized.

MY SOME WORKS
http://kseniakams.com - online store by template (OpenCart 1.5)
http://recruitingpro.biz - corporate website by layout (WordPress)
http://goldenapple.com.ua - online store by template (OpenCart 1.5)
http://chemicalguys.kiev.ua/ - online store by layout (OpenCart 2)
http://citystylegroup.com.ua/ online store by layout (OpenCart 2)
http://tardigrad.net/ online store by layout (OpenCart 2)
http://woodstock.net.ua/ - online store by layout (Magento 1.9)
http://service-ritual.kiev.ua - catalog by template (Joomla 3 + Virtuemart 3)
http://biosense.net.ua - corporate website by layout (Joomla 3)
http://riel.ua - corporate website by layout (Joomla 3)
http://samson.com.ua - corporate website by layout (Joomla 3)
http://realstroyservice.com.ua - corporate website (gallery), по шаблону (Joomla 3)
http://globalsport.com.ua - online store by template (Joomla 3 + JoomShopping)
http://finance-coach.ru - corporate website, improvisation (WordPress)
http://feltforyou.com.ua - online store by layout (WordPress + Woocomerce)
http://center-visa.com - corporate website by template (WordPress)
http://bionic-house.com.ua - adaptation for mobile
http://sddu.com.ua - adaptation for mobile
http://jolly-kids.com.ua - adaptation for mobile
http://chiniokno.ru - adaptation for mobile
http://santeh-online.com.ua - online store, improvisation (Joomla 2.5 + Virtuemart 2)
---
Save to applications
---
Similar resumes
---