Ukraine's #1 job site
Resume from January 24, 2022 PRO
Bondarenko
Dmytro
Sports trader, Спортивный аналитик, трейдер
, 20 000 UAH
Full-time, part-time, remote.
Age:

36 years

City:

Zhytomyr

Ready to move to:

Chernivtsi, Ivano-Frankivsk, Lviv, Odesa, Ternopil, Uzhhorod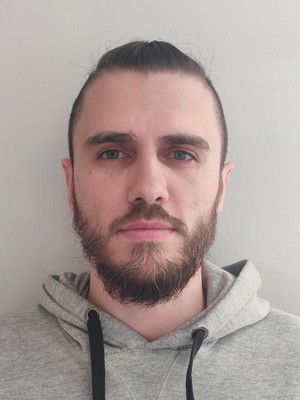 ---
Contact information
The job seeker has entered a phone number and email.
You can get this candidate's contact information from https://www.work.ua/resumes/6135376/
---
Work experience
Data Quality Manager
from 07.2020 to now (1 year 6 months)
Betzillion, Житомир (Gambling)
Sports trader
from 05.2020 to 07.2020 (2 months)
EvoPlay (gg.bet), Київ (Gambling)
Обязанности:
- Хорошее знание видов спорта
- Ведение событий в онлайне
- Ручное ведение событий в онлайне
- Ручное ведение событий
- Контроль ставок в режиме онлайн
- Анализ клиентов в режиме онлайн
- Ручной расчет событий
Sports trader
from 01.2019 to 04.2020 (1 year 3 months)
Offsidegaming (lsbet.com bet9.com), Житомир (Gambling)
Обязанности:
•Хорошее знание правил видов спорта
•Ведение событий в онлайне
•Создание рынков
•Ручное ведение событий
•Контроль ставок в режиме онлайн
•Анализ клиентов, поиск мошенников
•Ручной расчет событий
•Деловое общение, сотрудничество с зарубежными партнерами в режиме онлайн
Менеджер по продаже металлопластиковых конструкций
from 03.2015 to 11.2018 (3 years 8 months)
STEKO, Одесса (продажа и монтаж металлопластиковых конструкций)
Обязанности:
•Консультация клиентов
•Обработка заказов
•Рачет стоимости
•Работа с бригадам монтажников
•Гарантийное и послегарантийное сопровождение клиентов
---
Education
Одесский национальный политехнический университет
Менеджмент внешнеэкономической деятельности, магистр, Одесса
Higher, from 2002 to 2008 (5 years 11 months)
---
Professional and other skills
Computer skills
С компьютером на ты.
---
Language proficiencies
English — average
Ukrainian — fluent
Russian — fluent
---
Similar candidates
---