Ukraine's #1 job site
Resume from November 12, 2019 PRO
Герасименко
Марина
HR Director, Head of Human Resources, HR Manager
Full-time.
Age:

35 years

City:

Kyiv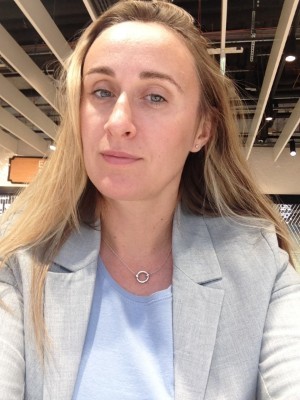 ---
Contact information
The job seeker has entered a phone number and email.
You can get the contact info for this resume on this page: https://www.work.ua/resumes/1661277/
---
Work experience
HR consultant
from 11.2017 to now (2 years)
Recruiting, Executive search, HR-consulting, Київ (HR-consulting)
•Recruitment and staffing
•Personnel on-boarding and performance processes
•Development of internal HR policies
•Compensation and benefits
HR Director (Ukraine, Caucuses, Moldova)
from 07.2013 to 11.2017 (4 years 4 months)
Teva Pharmaceutical Industries Ltd, Киев (Pharmaceutical)
•Serve as a strategic business partner and guide the leadership team regarding employee relations matters and work side-by-side to manage and resolve difficult scenarios. Partner with Teva's leaders to attract, retain, and develop the best talent.
•Oversee development of policies, programs and communications for effective management of HR issues in compliance with local laws and regulations.
•Develop best in class HR programs, many from scratch, aligned to business objectives. Oversee program implementation. Programs include but are not limited to:
•workforce planning (talent mapping, succession planning, and organizational development and design)
•total rewards initiatives (job grading, compensation, benefits, including executive and other corporate compensation and benefit plans)
•workplace culture
•talent acquisition programs
•management and leadership development
•employer value proposition creation and employer brand marketing
•change management initiatives

Key Achievements:
•Increase organizational effectiveness-facilitated cross company org. changes and Reshape implementation, support Teva leaders & people in driving the strategic change successfully in the merger and acquisition process.
•Drive excellence in HR services and improve HR capabilities by developing full-cycle HR system for documents flow and HR processes and documents: collective agreement, employee agreement, recruitment policy, bonus policy, car policy, implementing on Teva sites HR document trees and implementing on-line tools: C&B, Succession Management modules.
•Strengthen Performance & Reward Link- strengthen reward for performance culture
revising compensation and benefit policy, developed detailed retention plan for HIPOs, equity compensation implementation.
•Enhance Talent Capabilities- establishing succession planning and focus in building infrastructure and value added programs
•Development of recruitment and induction processes- internal recruitment lunch, implementing competency-based interview model and building on-line infrastructure.
Associate HR Manager /HR Generalist
from 11.2010 to 07.2013 (2 years 8 months)
COLGATE-PALMOLIVE, Киев (Consumer Goods)
•Employer Branding & Staff Recruitment; Retention; Orientation & On-Boarding;
•HR Policies & Procedures; Employee Relations and Employment Law;
•Performance Management; Compensation & Benefits Administration inc. Expatriates Benefits;
•Training & Development; Talent Management and Succession Planning;
•HR Project Management; Managing Annual HR Budget; HR Generalists Affairs

Key Achievements:
• Launched and currently manage "Assessment Center tool" aimed to hire and establish Dental Oral Care Team. Tool generated tremendous highest ever savings: 12 000 USD for 1 assessment and over 720 000 USD (60 assessments during 5 years). It was an inspiring challenge as Colgate didn't have such a tool before. Using new assessment tool caused great impact on business. Team, were selected by new tool, leveraged key business results - achieved and increased national leadership of Colgate as "#1 brand recommended by dentists".
•Initiated enthusiastic, above goal "Digital Hi-tech Recruitment Campaign" which overwhelmed our Recruitment savings (over 75 000 USD during 1, 5 years), reduced in 2 times search period. Innovative system integrated: Colgate webpage, Best Ukrainian Job portals, and Social Networking portals; generates high-caliber candidate pool and strengthens our Employer Brand position.
•Designed and implemented Orientation program for new comers - first formal Introduction Company's program, creates flexible and well-received tool that helps to create organizational, cross-departments alignment.
•Significantly upgraded and redesigned Talent Management & Succession Planning Process through implementing break–through technologies solutions, providing regular training, follow-up and advice to line managers and employees.
HR Regional Lead/HR Coordinator
from 03.2006 to 11.2010 (4 years 8 months)
COLGATE-PALMOLIVE, Київ (Consumer Goods)
Key Achievements:
•Implemented Best-in-Class first on-line HR system which provided managers and employees with critical tools to enhance productivity; ensured consistency and compliance with CP policies and procedures; Designed system is on-line single-source for keeping all HR data (Employee Data, Reporting, PM&D, Succession Planning, Training, Mobility, Compensation).
•Developed and tailored commercially automated Bonus calculation tools, organized in game-addictive manner used by all bonus eligible employees that links easily personal & company performance and bonus outcome amount.
•Improved accuracy of Compensation & Benefits Expat Management by creating from the scratch sophisticated tool which arranges in a more effective way all payroll and benefits items
Staffing and Development Specialist
from 08.2005 to 02.2006 (6 months)
MAY COMPANY, Київ (FMCG Leader of Tea Distribution)
HR Recruitment Specialist/ Internal Trainer
from 01.2004 to 06.2005 (1 year 5 months)
VITMARK UKRAINE COMPANY, Одеса (FMCG Leader in Juices and Beverages)
---
Education
Odessa State Economic University
International Economy Faculty, Odessa
Higher, from 09.1998 to 07.2004 (5 years 10 months)
---
Professional and other skills
Computer skills
Confident user of Microsoft Office Professional (Word, Excel, Power Point);
Professional User of SAP, Oracle program HR Module;
---
Language proficiencies
English — fluent
Russian — fluent
Ukrainian — fluent
Italian — beginner
---
Additional information
•HR manager with more than 15 years of global experience in large multi-nationals: pharmaceuticals, biotech, consumer healthcare, and manufacturing.
•Solid Generalist HR experience, strategic and operational in all HR spheres including Strategic Planning and Strategy Implementation; Organizational Design and Restructuring experience; Talent management; Staffing and Selection; Performance Management and team effectiveness; Compensation and Benefits; Retention; Succession Planning; Mobility and Expatriates; Coaching skill; Change Management; Employee and labor relations.
•10 years of people management experience.
•International HR Project Management experience in development of HR strategies/ programs/ initiatives for Europe, USA, Asia and Emerging Markets.
•Leader of change, business-focused, results-driven, practical.


Internationally certified coach for leadership trainings
---
Save to applications
---
Similar resumes
---