Ukraine's #1 job site
Resume from October 1, 2019 PRO
Melnychenko
Oleksandr
Key account, support manager
Full-time.
Age:

36 years

City:

Kyiv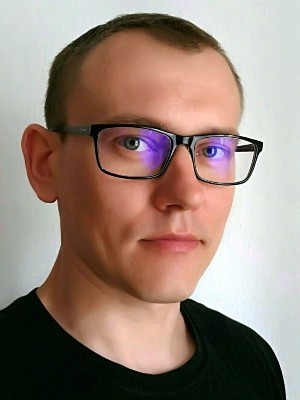 ---
Contact information
The job seeker has entered a phone number and email.
You can get the contact info for this resume on this page: https://www.work.ua/resumes/5476987/
---
Work experience
Account Manager
from 08.2018 to 05.2019 (9 months)
Prodex, Kiev (internet marketing)
Responsibilities:
Maintenance and development of long-term customer relationships for current projects.
Negotiations, presentations, client consultations on the company's services.
Competent statement of technical tasks to specialists, control over their implementation.
Control of KPI's achievement.
Reporting on projects based on internal data of the company system and analytics (Google, Yandex).
Control of receivables (timely payment and invoices).
Analysis and development of projects, making proposals for improving performance. Expansion and optimization of the package of services.

Achievements:
Ensured the development of client projects in the field of web-development, seo-promotion and contextual advertising.
Affiliate account manager, support manager
from 06.2015 to 04.2018 (2 years 10 months)
Mobytize, Kiev (internet marketing, CPI, CPA network)
In different periods I was a manager to work with webmasters and advertisers all over the world.

Responsibilities:
Search and attract new potential partners (webmasters).
Webmasters management, assistance in choosing offers, technical support, resolving disputable situations, advising on the use of company products. Quality control of traffic from webmasters. Reporting.

Search for new network partners (advertisers) and support productive relationships with existing partners around the world. Negotiations and presentations, coordination of terms of cooperation, signing IO, technical integration of networks through postback and API, establishment of new offers. Analysis of active partner campaigns, control KPI, maintain and increase traffic by offers.
Market monitoring and work with incoming requests.

Achievements:
Contributed to increasing the number of webmasters and advertisers, offers in the system. Increased the volume of processed traffic and network revenue.
Project manager I-LEAD
from 09.2014 to 02.2015 (5 months)
Prime ADV, Kiev (internet marketing, CPA network)
Responsibilities:
Lead development CPA network I-LEAD, landings and promotion materials for network.

Achievements:
In Axure I created a prototype of the administrative system of the CPA network and a technical task for its implementation. Led the network development process and development of landing pages. We got a working pre-production version. But further development was stopped by the customer due to financial difficulties.
Account Manager, Project manager
from 12.2012 to 08.2014 (1 year 8 months)
Websila, Kiev (internet marketing)
Responsibilities:
Interaction with the client, negotiations and signing of contracts for the provision of internet marketing services. Project management, generation of ideas and setting goals for development and promotion departments, implementation monitoring. Formation and reporting to the client.

Achievements:
Led the team work on the websites development and internet promotion. Ensured the implementation and development of dozens of client projects, starting with the design, content and functionality of the site, landing pages, pages in social networks, videos, banners, etc. and proceeding the internet promotion using SEO, SMM, lead generation, contextual and banner advertising.
Copywriter
from 02.2012 to 10.2012 (8 months)
Text Pro, Kiev (copywriting)
Responsibilities:
Creation of textual content of various subjects for sites.
Account Manager
from 05.2010 to 08.2011 (1 year 3 months)
Metr & Co, Kiev (internet marketing)
Responsibilities:
Work with Gogetlinks Exchange. Filling, administration and development of accounts. Creating unique texts of various subjects, accompanying advertising links. Placing on company websites paid promo-posts with links. Lead of the work of copywriters team.
Business Development Manager
from 09.2008 to 04.2010 (1 year 7 months)
Novations, Kiev (trade)
Responsibilities:
Establishing relationships with potential customers. Promotion, presentation and sale of laboratory, analytical, biotechnological equipment. Negotiation, presentations, preparation of commercial offers, conclusion of contracts.
Science researcher, software developer
from 01.2007 to 07.2008 (1 year 6 months)
RESEARCH AND DEVELOPMENT SUPPORT AGENCY, Bratislava, Slovakia (science)
Responsibilities:
Creating and testing software;
Computer simulation of physical systems;
Сarrying out calculations;
Work with large data arrays;
Analysis of the results.
---
Education
Taras Shevchenko National University of Kiev
Faculty of Physics, specialty «theoretical physics», Kiev
Higher, from 09.2001 to 06.2006 (4 years 9 months)
Higher education. Master's degree in Physics, teacher. Degree master's thesis defended and rated "excellent."
---
Additional education
"FREE SCHOOL OF JOURNALISM" (2013)
---
Professional and other skills
Computer skills
MS Word, MS Excel, MS PowerPoint, Photoshop, JIRA, Axure, Redmine, Google Adwords, Google Analytics, Yandex Direct, Yandex Metrika. Basic knowledge HTML, CSS, CMS Wordpress, Joomla. Programming in Pascal, Fortran.
---
Language proficiencies
Ukrainian — fluent
Russian — fluent
English — average
Slovak — average
---
Additional information
Professional and other skills:
MS Word, MS Excel, MS PowerPoint, Photoshop, JIRA, Axure, Redmine, Google Adwords, Google Analytics, Yandex Direct, Yandex Metrika. Basic knowledge HTML, CSS, CMS Wordpress, Joomla. Programming in Pascal, Fortran.
---
Save to applications
---
Similar resumes
---