Сайт поиска работы №1 в Украине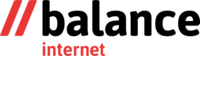 Balance Internet
Проверено
Отрасль:

IT

Размер компании:

50–250 сотрудников

Сайт:

Контактное лицо:

Maxim Baibakov

Телефон:
Balance Internet is an innovative, rapidly growing agency that specialises in the design and development of high performance eCommerce, CRM and PIM solutions for Australia's leading retailers, brands and manufacturers.
We focus on designing, developing and supporting high performing platforms for our client partners that deliver competitive advantage, sales and business efficiencies.
We are Australia's most experienced Magento eCommerce developer with a team of 100 plus including 40 Magento Certified Specialists
With a common focus on outcome and return on investment we apply our extensive retail, eCommerce and technical experience to developing fully integrated, multi-channel eCommerce solutions to meet the specific requirements of our clients.
We are designing and building customer relationship management and product information management systems across our client base.
Commencing with the strategy, architecture and user experience we design, develop and fully integrate eCommerce solutions to achieve competitive advantage, category innovation and sales while streamlining business systems to create efficiencies and cost savings.
We are Magento specialists. Having deployed over 50 Magento Enterprise solutions for a cross section of Australia's leading retail groups, both franchise and corporate, we know what it takes to build holistic ecommerce solutions and drive successful outcomes. Our eCommerce strategies are based on generating increased volumes of site visitors, maximising conversion of visitors to sales and for bricks and clicks retailers providing a true omni-channel customer experience.
A major component of these deployments is the integration of Magento with a wide variety of business and IT systems. Reliable integration with ERP, Finance, CRM, POS and loyalty systems is what we do, day in day out.
The ability to operate and manage multiple stores and channels like eBay, Amazon and other market places is a key feature of Magento. Many or our client partners are benefiting from the additional reach and sales these channels can generate. For many, the customer experience and engagement is further enhanced with the integration of Magento with email marketing platforms, social media networks and other digital marketing channels.
Whether your requirement is for a B2C eCommerce store or a B2B solution for account or private customers, Balance Internet have the experience and skill to architect, build and integrate the most complex solutions to transform and drive your business.
We truly believe that you should be in control of your destiny and your eCommerce store. Consequently we provide a full suite of training options from content management, to Magento promotions and customer segmentation and advanced eCommerce skills.
Сейчас размещенных вакансий нет.