Сайт поиска работы №1 в Украине
Резюме от 9 ноября 2018
Rukas
Anastasiya
Executive, Personal Assistant to the CEO
, 21 000 грн
Полная занятость, неполная занятость, удаленная работа.
Возраст:

30 лет

Город:

Киев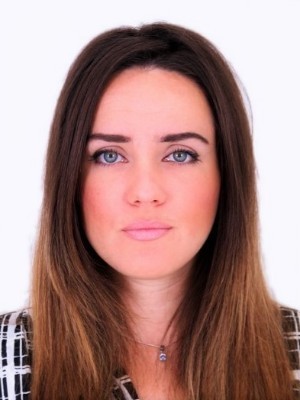 ---
Контактная информация
Соискатель указал телефон и эл. почту.
Получить контакты этого резюме можно на странице https://www.work.ua/resumes/4974310/
---
Знание языков
Английский — продвинутый
---
Дополнительная информация
Anastasiya Rukas

Nationality: Ukrainian
Current location: Kiev, Ukraine
Mob.: [открыть контакты](см. выше в блоке «контактная информация»)
E-mail: [открыть контакты](см. выше в блоке «контактная информация»)

Education:
2001-2006 The State Pedagogical Institute of Foreign Languages. Faculty of English.
Specialty: Philology.
Qualification: Master's Degree; Teacher of English, German languages and foreign literature.

Additional information:
2003-2004 - Course of Business English.

Languages: Russian, Ukrainian, English – fluent, (German - basic)

PC & Technical means and equipment:
User: Office Word, Excel, Internet, ReserveOut (restaurant reservation program)
Skills of work with office equipment (fax, printer, xerox, scanner).

UAE Driving License

WORK EXPERIENCE (10 YEARS):

09.2016 – 01.2018 Dubai/UAE
- Executive assistant to the CEO at "NTAA Group" Investment Company.

Responsibilities: Scheduling CEO's meetings, managing incoming calls and emails/replying and acting on his behalf when required to investors, partners or clients. Filing all the information on current projects, and working on them as a part of the team. Performing variety of administrative duties.

01.2016 – 05.2016 Dubai/UAE
- Marketing/Sales manager at "Media4all" advertising company (company stopped its activity).

Responsibilities: liaising with government departments (RTA, Municipality) in order to obtain necessary approvals or documents; search of appropriate locations for the future advertisements with further negotiation with management of the buildings, getting all the necessary documents from them. Team marketing planning of the strategy of customers search, pricing and offered benefits.

03.2015 – 01.2016 Dubai/UAE
- Hostess, Supervisor at "Claw BBQ" restaurant.

Responsibilities: Work with reservation system, taking reservation via phone/online, following up the process of events' arrangements, performing administrative duties as a management support: mailing, filing, incoming/outgoing calls. Waiters' coordination. Customer service.
10.2012 – 08.2014 / Istanbul/Turkey, Kiev/Ukraine
- Personal Assistant-Interpreter to the CEO of a British company in setting up of a tobacco factory "Kiev Tobacco Factory" in Ukraine.

Responsibilities: Search of the building suitable for the factory. Performing different administrative duties and support: meetings' arrangements and translating support, preparing necessary documents and required information research, liaising with government departments, lawyers, participating in setting up of the companies in Ukraine and overseas offshore areas for the future import/export of the goods and raw materials

03.2011 – 09.2012 Kiev/Ukraine
- Sales-consultant at the Airport Duty Free Shop of the German company "Gebr. Heinemann" ("Sisley" brand consultant).

Responsibilities: Selling of the cosmetics and perfumes of the whole shop, including target of the represented brand and regular reports to the brand coordinator, trainings' attendance.

02.2010 – 03.2011 Kiev/Ukraine, China
- Manager of delivery (import) of different kinds of goods from China.

Responsibilities: performing duties of a Customs Clearance Broker (work with associated documents: contracts, invoices, packing lists), business trips to China to the factories to make orders and check the goods.

11.2007 – 12.2009 Kiev/ Ukraine
- Personal Assistant to the Head of Supervisory Board of the Group of Financial companies/non-state pension fund and asset management company.

Responsibilities: Negotiation experience with foreign partners, development of relationships with Project of technical assistance USAID (USA), liaise as a representative of the company with American Chamber of Commerce - ACC, European Business Association – EBA; performed some duties in marketing department; Coordination of work of the area managers and was a director of "The Association of Non-state Pension Funds".

11.2006- 10.2007 Kiev/ Ukraine
- CEO's assistant/secretary in an international company HEXAGONE (importer of the high-class perfumery and cosmetics such as Bulgary, Prada, La Coste etc…).

Responsibilities: CEO's and team (over 200 people) administrative support, faxes, printers in/out goings emails/calls, couriers.

Personal qualities:

I have quite good communication and coordination skills, capable to keep a lot of details and task in my mind that helps me to put priorities of tasks and helps to predict future possible needs or complications.
Intelligent, ambitious, trustworthy, reliable, high responsibility, ability to learn fast and work under pressure, ability to work both individually and as a part of a team, attentive to details, presentable.
---
Сохранить в отклики
---
Похожие резюме
---