Ukraine's #1 job site
Resume from October 1, 2019 PRO
Виногородський Михайло
Олексвндрович
Оператор ПК
, 4 173 UAH
Full-time, part-time, remote.
Age:

24 years

City:

Vinnytsia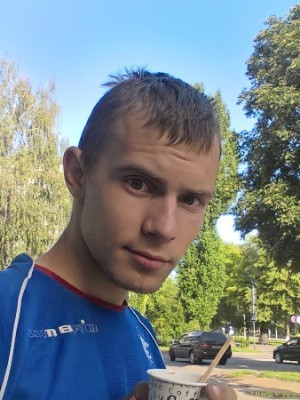 ---
Contact information
The job seeker has entered a phone number, email, address, Facebook and Instagram.
You can get the contact info for this resume on this page: https://www.work.ua/resumes/4546635/
---
Work experience
Робітник з комплексного обслуговування й ремонту будинків.
from 03.2017 to 04.2017 (1 month)
ТОВ "ШАНС-ДВА", Вінниця (Будівницво)
Поточне будівництво та ремонт будинків та інженерних систем.
Кухонний робітник
from 10.2016 to 10.2016 (less than a month)
Підприємство "Аргон", Вінниця (Роздрібна торгівля, виробницво кондитерських виробів)
Миття технічного приладдя, участь у виробництві кондитерських виробів.
Младший приемщик товаров
from 07.2016 to 09.2016 (2 months)
ООО "АТБ-Маркет", Винница (Розничная торговля)
Приёмка товаров по накладным, размещение товаров на внутреннем складе, возможна выкладка товаров, участие в переучете.
Вантажник
from 05.2016 to 06.2016 (1 month)
ПП магазин "ПродТорг", Вінниця (Роздібний продаж)
Вантажні роботи, доставка товарів до магазинів, сортування товарів на складах.
---
Education
Вінницький Національний Технічний Університет
Метрологія, Вінниця
Unfinished higher, from 09.2012 to 06.2013 (9 months)
Общеобразовательная школа "гимназия №2 винницкого городского совета"
Винница
Secondary, from 09.2001 to 06.2012 (10 years 9 months)
Полное среднее образование, дополнительные знания в области информатики и английского языка.
---
Additional education
Курси англійської мови (2012, 6 місяців)
---
Professional and other skills
Computer skills


Владею Персональным Компьютером на уровне продвинутого пользователя. Отлично разбираюсь в различном компьютерном и мобильном Программном Обеспечении.

Уверенный пользователь носимой электроники

(5 years of experience)




Advanced, I currently use it.
---
Language proficiencies
Ukrainian — fluent
Russian — fluent
English — beginner
---
Disability
2nd degree.
Не можна підіймати важке, але я відмінно справляюся з офісною роботою.
---
Save to applications
---
Similar resumes
---