Сайт поиска работы №1 в Украине
Резюме от 16 октября 2018 PRO
Даценко Александра
Валериевна
Commercial and Marketing Manager
, 25 000 грн
Полная занятость.
Возраст:

29 лет

Город:

Киев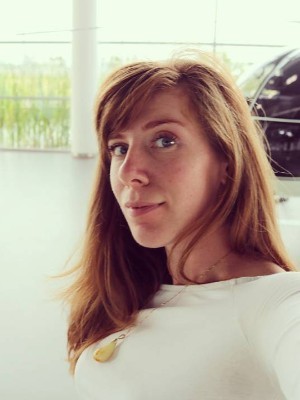 ---
Контактная информация
Соискатель указал телефон, адрес и эл. почту.
Получить контакты этого резюме можно на странице https://www.work.ua/resumes/5104342/
---
Опыт работы
Commercial and Marketing Manager
с 04.2017 по 10.2018 (1 год 6 месяцев)
flyARGO Rotorcraft Center Poland, Warsaw (Aviation business, Trade&Production)
• Оperating sales management (implementation of sales plans, building business processes, developing KPI).
• Preparation of commercial offers.
• Monitoring of competing companies, pricing control and system of discounts.
• Organizing of promotional events, participation in professional exhibitions and events.
• Operating marketing materials (catalogs, brochures, etc.), cooperating with the designers.
• Managing the regional sales team, organizing trainings and conferences.
• Supporting and developing the network of dealers and distributors,
•Taking part in business trips abroad.
• Participating in business negotiations, completing the key contracts and transactions.
• Organizing proofessional tenders.
• Developing and implementing of a marketing strategy, rebranding.
• Allocating monthly marketing budgets.
• Analizing the effectiveness of advertising campaigns.
• Administrating of social networks and corporate site.
• Participating in the development and launch of a new company site.
Account manager
с 10.2015 по 04.2017 (1 год 6 месяцев)
admitad GmbH, Київ (Global Cost-per-Action affiliate network)
• Accompaning and developing the advertising campaigns for e-commerce market (online stores, Internet services, trading platforms, etc.), creating successful sales channels with CPA networks and publishers (webmasters).
• Operating of the business strategies and business processes to improve affiliate programs.
• Creating and developing bonus programs and promotions for current partners and to attract the new ones.
• Preparating of marketing materials (banners, teasers, promotions, landing pages).
•Meeting the account management team to discuss client requirements and product background, brainstorming ideas and concepts.
•Advertising different offer-accounts by means of multitype ways to provide traffic on website.
•Allocating marketing budgets on all parts during the period of marketing providing.
SMM Manager
с 03.2015 по 10.2015 (7 месяцев)
Stuff, Doscuadrados, Київ (Trade)
•Administrating of social networks and corporate site.
•Preparating photos of the products , rewriting and copyrighting text , writing articles , translating articles.
•SMM with social networks ( FB, Instagram, VK, YouTube).
•Communicating with customers, dealing with negatives and irritations.
•Creating effective marketing activities.
•monitoring and analizing of market competitors, tracking market trends.
---
Образование
Special professional school in Warsaw
Floristry, Warsaw
Среднее специальное, с 10.2017 по 10.2018 (1 год)
distance learning

- business fundamentals
- business ethics
- business language
National University of Technology and Design, Kyiv
Specialist in Economics and Management, Kyiv
Высшее, с 09.2006 по 06.2011 (4 года 9 месяцев)
---
Дополнительное образование
Linkedin online courses, Adobe Muse (2017, 1 месяц)
---
Профессиональные и другие навыки
Навыки работы с компьютером
•Office software package (MS Word, MS Excel, MS Access, MS Outlook, Power Point)
•Internet , PC - advanced user
•Adobe Photoshop, other image editors (Gimp, Paint.net, Picasa , etc.)
•Social networks (Facebook, Linkedin, Twitter, Instagram, VK , Youtube, Telegram, Viber)
•Magento, Bitrix , WordPress
•1C: Enterprise 8.2
•basic knowledge of HTML , Google Analytics, Convead, Mailchimp
---
Знание языков
Английский — средний
Украинский — свободно
Русский — свободно
Польский — продвинутый
---
Дополнительная информация
Objective
To become an active member of a highly productive and creative professional team in the marketing field where my skills as an Marketing Specialist and Content Strategist will be implemented at the highest level.

Qualifications Summary
•Exceptional written communication skills.
•Strong ability to express thoughts clearly and effectively both orally and in writing.
•Experience with Microsoft Office and Internet communication, Photoshop, for 5 years.
•Research, creative, deadline-oriented individual with outstanding decision-making skills.
•Able to produce under pressure.

Email: [открыть контакты](см. выше в блоке «контактная информация»)
Social: https://www.linkedin.com/in/oleksandra-datsenko-135355b6/

Personal characteristics and hobbies

The high level of organization and a tendency to learn quickly , not afraid of large volumes of work , good communication and creativity. I am interested in the sphere of internet marketing , would like to develop in it.
My hobbies are handmading, snowboarding, listening to blues, watching old movies.
---
Сохранить в отклики
---
Похожие резюме
---