Сайт пошуку роботи №1 в Україні
Резюме від 27 березня 2020 PRO
Кишенька
Евгений
Project manager
Повна зайнятість.
Вік:

37 років

Місто:

Одеса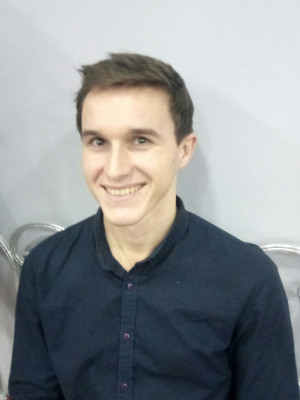 ---
Контактна інформація
Шукач вказав телефон та ел. пошту.
Отримати контакти цього резюме можна на сторінці https://www.work.ua/resumes/5126037/
---
Досвід роботи
Project Manager
з 06.2019 по нині (10 місяців)
Financial Company, Odesa (Financial services)
Manage workflow of developers; setting and monitoring tasks, reporting, project documentation;
development of a new microservice 1С database
Project Manager
з 04.2019 по 06.2019 (2 місяці)
VizualTech, Odesa (Custom Web Development Company)
Setting and maintaining tasks, daily communication with customers, maintenance of existing and launch of new projects (website, applications, SEO).
Manage workflow of developers; create mochups, sitemap;
setting and monitoring tasks, sitemap, reporting,
project documentation; dealing with clients feedback; Gantt chart.
Project Manager
з 02.2019 по 03.2019 (1 місяць)
Binixo, Odesa (Financial services)
Setting and maintaining tasks, creating wireframes and prototypes.
launch new project (website, app)
Project manager
з 11.2009 по 11.2018 (9 років)
Antey, Одесса (importer distributor sanitary engineering, B2B)
november 2009 – august 2011. content-manager
september 2011 – november 2018. project manager

1. development of milestones, timing, cost plan, maintenance of documentation for projects, creation of a technical and creative task, presentation and demo version of the project, coordination of project participants (designer, web designer, exhibition stands specialist, outsource performers).
2. breakdown of the project (polygraphy, web, actions, promotions, exhibition stands) into components and tasking the performers, monitoring of implementation.
3. planning the queue of small tasks for the current day (and determining the priority of major tasks).
4. marketing brand promotion

Development and realization of show-windows, branding, exhibition stands, exhibition brands.
Organization and holding of the exhibition stand of the company at the exhibition InterBuildExpo 2013 and 2018.

Development of print publications, websites, exhibition activities.

links of my completed projects on my linkedin page [відкрити контакти](див. вище в блоці «контактна інформація»)

successfully implemented projects:
development, launch, control of 6 sites
5 facebook pages of TM's
product catalogs (11 issues), booklets, banners, magazines
Buyer's Journal (print edition), annual publication (6 issues)
Web-designer
з 04.2009 по 08.2009 (4 місяці)
WarrantSport, Одеса (Online clothers store)
Photography of goods, photo processing, retouching. Administration online store
Web-designer
з 02.2006 по 05.2008 (2 роки 3 місяці)
Flamingo, Одеса (Online gift shop)
Administration and advertising online store
Web-designer
з 05.2005 по 09.2005 (4 місяці)
Odessa Regional Youth Library, Одеса (Library)
Administration library site, editing imagery
---
Освіта
Odessa State Environmental University
Faculty of Computer Science / Information-control systems and technologies, Odesa
Вища, з 09.2000 по 06.2005 (4 роки 9 місяців)
---
Додаткова освіта
Hillel, Project Management IT course

(august-november 2018)

IAMPM, practical course of business analysis

(October-December 2018)

Seminar/workshop "Laboratory of Online Business", Genius Marketing

(20-22 May 2016)

Training in Tapgerine's Academy of Mobile Marketing

(April 2017)

Anatomy of business: development and optimization of business. AWG.ua, Bitrix24

(07 november 2017)

English for IT (intermediate+)

(January-February-March 2019)
---
Професійні та інші навички
Навички роботи з комп'ютером
- Jira, Redmine, Basecamp, Trello;
- Balsamiq, Figma, Moqups;
- HTML, CSS, Joomla, Wordpress, Adobe Suite;
- Google Docs, Microsoft Office, 1C, Bitrix24, amoCRM.
---
Знання мов
Англійська — вище середнього
Українська — вільно
Російська — вільно
---
Рекомендації
Serhii Zheltonogov
Head of Advertising and Marketing, Antey, 0675179942, scaleuapipe@gmail.com
---
Додаткова інформація
Project Manager experience.
Successfully completed more than 30 projects in websites, apps,
print publications, exhibition activities.
Projects support, project estimations, creating work specification,
logistics.
I am good at managing, making decisions, organizing a quick and
high-quality process of a product creation, providing an
appropriate work atmospher to a team.
---
Зберегти у відгуки
---
Схожі резюме
---