Сайт пошуку роботи №1 в Україні
Резюме від 14 листопада 2018 PRO
Іващук Лілія
Петрівна
Hotel Sales Manager
Повна зайнятість.
Вік:

29 років

Місто:

Київ

Готовий до переїзду в:

Інші країни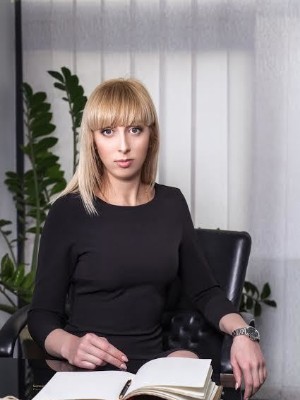 ---
Контактна інформація
Шукач вказав телефон та ел. пошту.
Отримати контакти цього резюме можна на сторінці https://www.work.ua/resumes/5130107/
---
Досвід роботи
Deputy General Manager
з 01.2012 по 09.2018 (6 років 8 місяців)
Hotel Ukraine, Луцьк (Hotel Industry)
- design and build hotel management structure from 0-level, control managers' orientation and training processes, build managers' interchangeability and team-work
- create reputation management and branding, reinvent branding strategies
- develop strategic action plans for hotel to drive measurable sales revenue
- develop and foster business through pro-active direct sales, marketing, telemarketing, direct mail, appointment calls and tours of the hotel
- set and update action plans and financial objectives
- create and update customers' and affiliates' database
- identify new markets and business opportunities and increase sales
- provide competitors and alternatives database, map hotel' competitive position
- manage and develop relationships with key internal and external stakeholders
- develop professional long term business relationships
- execute and support the operational aspects of business ( generating proposals, corporate rate application letters, writing contract, customer correspondence)
- create pricing strategies
- create corporate values: customer-oriented approach and promptness
- propose and implement effective marketing strategies to maximize conference-halls' occupancy
- providing financial and statistics reports, calculate hotel occupancy rate, monitor local hotel industry market
- provide reports, as required
- analyze figures
- plan activities and allocate responsibilities to achieve the most efficient operating model
- supervise work at all levels and set clear objectives
- communicate with customers when appropriate (welcome them in the facilities, address their complaints, find solutions to problems, offer information etc.)
- deal with maintenance issues, shortages in staff or equipment, renovations
- deliver excellent customer service, ensuring guests' comfort and safety
- manage and maintain the administration of all reservations, cancellations and no-shows, in line with company policy
- monitor, coordinate and respond to reputation management channels including online travel-related review sites to generate positive guest relations
- create and manage customer loyalty program
Reservation Sales Agent
з 09.2011 по 01.2012 (4 місяці)
Hotel Ukraine, Луцьк (Hotel Industry)
answer telephone and email inquiries in a timely manner, consistently offering professional, friendly and engaging service
- process reservations by mail, telephone, fax, from OTA or travel agencies with accurate information to ensure we exceed Guest's expectations
- communicate reservation/cancellation/modification information to the front desk, update and check reservations ensuring a flawless check in and checkout process
- open and close the availability as and when required of hotel in all the GDS channels, IDS channels and on the hotel website, make sure that information is kept up to date.
- aware of all front office procedures and assist with reception duties when required
- assist Guests regarding hotel facilities in an informative and helpful way
- arrange accommodation and activity requirements for leisure, corporate and wholesale Guests
- cooperate, coordinate and communicate with all other departments to ensure highest level of Guest service is maintained and the maximum profit is generated
- ensure revenue is maximized by up-selling guest rooms, through selling the right room to the right Guest
- tracks future room availabilities on the basis of reservations, develop room revenue and occupancy forecasts
- generate corporate customer invoices/foreign exchange invoices, check advanced payments
- build conference&banquet department, identifying new business and targeting the right markets
- propose and implement effective marketing strategies to maximize conference-halls' occupancy and suggestive sellings
- make bookings for catering, accommodation, transport and excursions
- organize, confirm, process, and conduct all customers' reservations, requests, changes and cancellations concerning conference service
- retrieve and organize banquet event orders
- review all group resumes and group meeting requirements and organize into chronological order
- handle multiple accounts and priorities, to ensure the successful completion of all job duties and client responsibilities
Personal Assistant
з 07.2011 по 09.2012 (1 рік 2 місяці)
Volyntorghlib, Луцьк (Hotel Industry)
- manage diaries and organise meetings and appointments, often controlling access to the executive
- act as a first point of contact: dealing with correspondence and phone calls
- deputize for the manager, making decisions and delegating work to others in the manager's absence
- translate English documents to Ukrainian/Russian
---
Освіта
Lesya Ukrainka East European National University
Foreign Languages Department, Луцьк
Вища, з 09.2006 по 06.2011 (4 роки 9 місяців)
Master's degree with Honor СпециализацияEnglish Language and Literature Средний баллA LEVEL (95)
Даты начала и окончания или ожидаемый год окончания 2006 – 2011

*graduated in English Language and Literature with Honour
* defended Master's Paper with theme "Pragmatic Peculiarities of Address as a Marker of Asymmetry in Communication"
* 5\2011 - participant of international conference
* have articles in university scientific journals
---
Додаткова освіта
Certificate of Completion of Interactive Opera PMS Online Course, Reception Academy, London (United Kingdom)

(2018)

Restaurant Management HORESpro

(2018)

«Corporate Culture Development» Kyiv Mohyla Business School

(2017)

«Strategic Marketing» Kyiv Mohyla Business School

(2016)

«Executive Development Program "School of Service"» Kyiv Mohyla Business School

(2015)

Hotel Organisation, PUM Training

(2012)
---
Професійні та інші навички
Навички роботи з комп'ютером
- Microsoft Office, Internet and Email
- Opera PMS (basics), 1C, M.E.Doc, Prozorro
- GDS
Tact and Diplomacy

(7 років досвіду)




Просунутий, використовую в даний час.

Ability to Work Well as Part of a Team

(7 років досвіду)




Просунутий, використовую в даний час.

Good Organisational Skills

(7 років досвіду)




Просунутий, використовую в даний час.

High Tolerance to Stress

(7 років досвіду)




Просунутий, використовую в даний час.

Multifuctional Skills

(7 років досвіду)




Просунутий, використовую в даний час.

Flexiable&Patient

(7 років досвіду)




Просунутий, використовую в даний час.

Strategic planning skills

(7 років досвіду)




Просунутий, використовую в даний час.

Leadership skills

(7 років досвіду)




Просунутий, використовую в даний час.

Time-management skills

(7 років досвіду)




Просунутий, використовую в даний час.

Analytical skills

(7 років досвіду)




Просунутий, використовую в даний час.

Decision-making skills

(7 років досвіду)




Просунутий, використовую в даний час.

Excellent internal and external communication skills

(7 років досвіду)




Просунутий, використовую в даний час.

Ability to develop and maintain mutually beneficial B2B, B2C

(7 років досвіду)




Просунутий, використовую в даний час.
---
Знання мов
Англійська — вільно
Українська — вільно
Російська — вільно
Німецька — початковий
Італійська — початковий
---
Зберегти у відгуки
---
Схожі резюме
---