Сайт пошуку роботи №1 в Україні
Резюме від 2 серпня 2020 PRO
Rafti
Vitalii
HRD, HR BP, HR PM
Повна зайнятість.
Вік:

43 роки

Місто:

Київ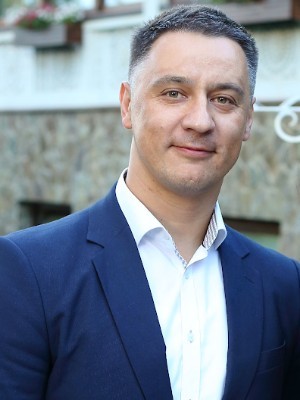 ---
Контактна інформація
Шукач вказав телефон, ел. пошту, адресу, Facebook та LinkedIn.
Отримати контакти цього резюме можна на сторінці https://www.work.ua/resumes/5821667/
---
Досвід роботи
HR and Organizational Development Director (project work)
з 06.2017 по нині (3 роки 2 місяці)
UBG Corporation, PJSC Bank Credit Dnepr, LLC Montpasier, Logistics, IT, Сall Center, Київ (Услуги для бизнеса - другое)
Development and implementation of mission, strategic vision, company values
Description and optimization of business processes, their automation
Formation of the organizational structure of the company
Organization of a system for the selection and adaptation of personnel, including TOP managers
Consulting and coaching TOP on staff issues, organizational structure
Budgeting in the company in all areas of activity and monitoring the implementation of the company's budget
Workflow structuring
Development of KPIs for all categories of employees and a motivation system for the sales department
Organization and holding strategic sessions
Methodology and training for employees
Head of Personnel Training Department
з 02.2015 по 05.2017 (2 роки 3 місяці)
National Bank of Ukraine, Київ (Государственный сектор)
Developing internal and external training projects
Streamlining staff training and development process
Making, controlling and coordinating of the NBU's external training budget
Selecting, training and developing trainers' team
Developing e-learning system due to the NBU's needs
Managing Training Center of the NBU
Organizing conferences with Ukrainian and foreign banks
Head of Personnel Training and Development Department
з 09.2006 по 10.2014 (8 років 1 місяць)
Easy Credit LLC, PJSC Russian Standard Bank, PJSC VAB Bank, PJSC Bank Nadra, Київ (финансы)
Analysis, design and implementation of a training system for Bank employees in all areas
Preparation, control, correction and coordination of the external training budget for Bank employees
Implementation of the E-learning WebTutor system
Selection, training and development of staff of department trainers
Development and implementation of the KPI system and coaching staff motivation
Coordination and control of all types of training for bank employees
Implementing Service Standards
Planning, organization and coordination of the unit with the number of employees from 5 to 50 people
Conducting trainings, sessions, coaching managers
---
Освіта
Banking University
Faculty of Economics, Київ
Вища, з 09.2015 по 05.2018 (2 роки 8 місяців)
Dnepropetrovsk National Mining University
Mine construction, Дніпро
Вища, з 09.1994 по 05.1999 (4 роки 8 місяців)
---
Додаткова освіта
Negotiation school, module program (4 modules), European Business Association, trainer - N. Baykalova,

(2017)

HR Management at the Central Bank (internship, Republic of Belarus)

(2016)

Situational management,

(2016)

Professional course in HR management, module program

(2016)

Art of conducting business training

(2015)

IPS The art of communication, training

(2015)

IPS The art of presentation and public speaking, training

(2015)

Improvisation and acting during public speaking (modular program, Black Square studio)

(2016)

Facilitation and strategic planning (modular program)

(2016)

Internal training of the National Bank of Ukraine,

(2017)

"Systematic approach to business training" - certification program, modular course

(2010)

"Training of transformational trainers" (8 days) - certification program, International Erickson University, Ukraine

(2011)
---
Професійні та інші навички
Навички роботи з комп'ютером


Expert, including е-learning systems

Training

(11 років досвіду)




Вільно, використовую в даний час.

Personel assessment

(10 років досвіду)




Вільно, використовую в даний час.

Coaching

(10 років досвіду)




Вільно, використовую в даний час.

Conducting strategic sessions

(10 років досвіду)




Вільно, використовую в даний час.

Facilitation

(5 років досвіду)




Вільно, використовую в даний час.

Team building

(11 років досвіду)




Вільно, використовую в даний час.

Personnel Management

(15 років досвіду)




Вільно, використовую в даний час.

Staff recruitment and adaptation

(12 років досвіду)




Вільно, використовую в даний час.

Corporate culture and employer brand

(5 років досвіду)




Вільно, використовую в даний час.
---
Знання мов
Англійська — вище середнього
---
Додаткова інформація
An accomplished professional with an entrepreneurial spirit and personal experience of the direct and corporate sales of FMCG and financial products possessing a proven ability to contribute to a company at both strategic and operational level when delivering management strategies to the staff
Managed staff from 5 to 40 employees
Developed performance management system, designed, developed and conducted employee welfare programs, strategic sessions and workshops for top, line managers and the staff
Developed and implemented disciplinary policy
Developed and implemented the performance appraisal system for the company and coordinated it with other line managers
Developed the HR plans and policies of the company
Developed induction programs for new recruits
Maintained good internal communication within the department.

Sociability, result orientation, proactivity, responsibility, punctuality, flexibility, ability to work in a team, ability to self-education, not conflict, ability to work in multitasking conditions, structured
---
Зберегти у відгуки
---
Схожі резюме
---