Сайт пошуку роботи №1 в Україні
Чижевская Александра Дмитриевна
Project manager, specialist of technical documentation
Неповна зайнятість, дистанційна робота.
Дата народження:

25 лютого 1983

(34 роки)

Місто:

Дніпро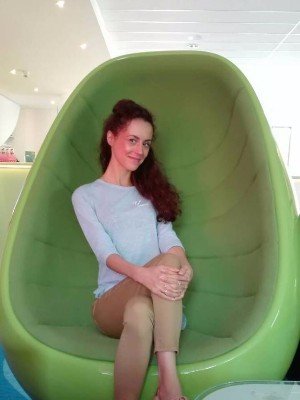 ---
Контактна інформація
Шукач вказав телефон та ел. пошту.
Отримати контакти цього резюме можна на сторінці https://www.work.ua/resumes/3418103/
---
Професійні навички
Навички роботи з комп'ютером
word
exel
1C
power point
---
Знання мов
Російська — середній
Українська — середній
Англійська — середній
---
Додаткова інформація
Resume

Chizhevskaya Alexandra D.
1Profession:
-Project manager,
-specialist in the technical documentation,
-Engineer,
-Teacher of chemistry and biology.
2 Date of Birth25th of February, [відкрити контакти](див. вище в блоці «контактна інформація») years)
3CityDnepropetrovsk . Ready to move to another city: Kiev, Odessa, etc.


4EducationPedagogy and methodology of secondary education. Chemistry. Qualification: teacher of chemistry, biology, fundamentals of ecology and life safety primary and high school
5Experience of work:
-02.2005-05.2005- chemistry teacher in secondary schools;
-09.2005-09.2014 process engineer physical and chemical laboratory of PJSC "Erlan".
-06.2015 -10.2015 LLC "Snack Production" department of standardization and certification, specialist in technical documentation.
-11.2015 -05.2016 project manager in company Al-Hasanat
5 Contact informationPhone: [відкрити контакти](див. вище в блоці «контактна інформація») ; E-mail: [відкрити контакти](див. вище в блоці «контактна інформація»)

Additional Information

1Project manager
-Gathering information, monitoring of market ,
-work with companies: from offers to getting final products,
-control of producing process,
-making reports about different steps of producing,
- control of shipment,
- getting final results (with photos and description on each step).

2Specialist of technical documentation
-Drafting technical information for consumer packaging and transport packaging according to technical regulations of – Ukraine, countries of Customs Union , Russia, Georgia, Kyrgyzstan, Kazakhstan, Belarus, the Baltic countries, Azerbaijan, Tajikistan, Uzbekistan.
-Drafting technical information for stickers on consumer packaging and transport packaging, according to regulatory documents, technical regulations.
- Translation of technical information to other languages, by translation agencies. Working with the translated texts.
-Check packaging according to technical regulations.
-Paperwork for barcodes on the products, work with GS1 Ukraine.

3Engineer of Physical and Chemical Research Laboratory:
1.Authentication: check naturalness of juices, nectars according to recipes, specifications, DSTU; check naturalness of concentrated juices, purees according to requirements AIJN (European Association of juices and nectars); Analysis of fresh fruits, berries and vegetables according to AIJN;
By using: Enzymatic analysis test kits R-Biopharm, quantitative determination of citric acid, L-malic acid, D- malic acid, sucrose, glucose, fructose; D-isocitric acid, D-sorbitol / xylitol, glycerol, sulfites, ethanol, L-lactic acid, ascorbic acid, nitrate, ammonia, L-glutamic acid, acetaldehyde. Determination fih.-chemical. parameters: solids content, pH, chrominance , turbidity( NTU), pulp%, tartaric acid stability (the protein, the polyphenol, total), pectins test, starch chromaticity by iodine scale test, Botsvik's viscosity method, chlorides (for tomatoes).

2.Chromatography: 1 Determination of hydroxymethyl, 2 Determination of hesperidin, naringin, 3 Determination of sweeteners and preservatives, 4 Determination of anthocyanins's profile, 5 Determination of ascorbic acid,
3.multi-stage water purification - checking physical and chemical parameters of water after filters: Mnogolsloyny; Ion exchange; Coal; Reverse osmosis.

4. Identification and control water parameters according to scheme technochemical control: hardness, alkalinity, color, turbidity, permanganate oxidation, pH, electrical conductivity; remaining active and free chlorine. Reserch water for the cation-anion composition (spectrophotometry, fotochek).

5. Product quality control on all stages of preparation, adjustments (if necessary), bottling and labeling products. Checking physical, chemical and organoleptic characteristics of juice's blends, nectars, non-alcoholic carbonated beverages and non-alcoholic carbonated free beverages according to recipes.

6. Control organoleptic and physico-chemical parameters during the bottling: juices, nectars, non-alcoholic carbonated drinks, mineral water.
• Control of labeling product according to scheme technochemical control.
• Check concentration of detergents (alkaline, acid, peroxide).
• Identification of nonconforming product during producing process.
• Paperwork on all stages of preparation and bottling products.
7. Preparation reagents, working with precursors.
8. Sensory training, participate in tastings of products and checking them for compliance with standards.
9. Work with computer (word, Exel, 1C).

Thank you for attention to my resume.
Best regards, Alexandra.

Зберегти у відгуки
Схожі резюме