Сайт пошуку роботи №1 в Україні
Резюме від 16 листопада 2017
Сливко Вероника Валентиновна
Web, UI/UX designer,
20 000 грн/міс.
Повна зайнятість, дистанційна робота.
Дата народження:

9 липня 1994

(23 роки)

Місто:

Київ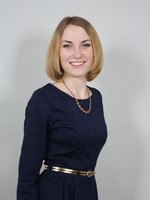 ---
Контактна інформація
Отримати контакти цього резюме можна на сторінці https://www.work.ua/resumes/3571835/
---
Досвід роботи
Web-designer, graphic designer
з 06.2016 по нині (1 рік 5 місяців)
Foxtrot, Digital Marketing & Advertising Agency Twist, Киев (marketing, advertising)
- creating website designs;
- making standart static banners;
- resizing of already made banners;
- creating html, flash,gif banners;
- producing sample sites;
- making html banners for google, yandex platforms, adriver, admixer;
mobile targeting;
- creating products(banners and landings) that are user-friendly, effective and appealing;
- development of different elements and parts of wed sites;
- drowing icons;
- creating and preparing banners for publishing;
- creating newspapers and other print media materials: leaflets, booklets, posters, catalogues, labels, sticks;
- creating posts for social media;
- making landings for special group of goods and different landings on topic.
Web designer, UI/UX designer
з 01.2016 по 06.2016 (5 місяців)
29FEB, Киев (full stack web development)
- planning, design and implementation of complete web sites;
- working on Web Designing using Adobe Photoshop, Adobe Dreamweaver, Adobe illustrator, Corel Draw, flash etc;
- well versed with office automation and internet applications.
- possess knowledge and understanding of subjects such as qualitative estimation of webpage designing including animation, Graphic Designing, sound and video editing;
- responsibilities included designing website layout using HTML, CSS, Dreamweaver & Photoshop;
- proficient with computer literate such as Photoshop, Dreamweaver, Flash, CSS, HTML etc.
- creating logos and advertising layouts for a web-site;
- developed graphic images and effects to achieve design goals;
- producing business cards for many clients;

My PORTFOLIO, where some of my works are represented.
nkraftwerk-blog.tumblr.com

THE LAST PROJECTS udmedia.com.ua in progress
and crossfitbanda.com
---
Освіта
Nizhyn Gogol State Pedagogical University
Foreign languages (English, German), Nizhyn
Вища, з 09.2011 по 07.2015 (3 роки 10 місяців)
---
Професійні навички
Навички роботи з комп'ютером


Advanced PC user, Microsoft Word, Excel, Power Point, Adobe Photoshop, 1C, HTML, CSS. Adobe Illustrator, Dreamweaver, Corel Draw.
---
Знання мов
Англійська — експерт
Німецька — середній
---
Додаткова інформація
PROFESSIONAL SKILLS
Build customised websites to the highest specifications.
Work under pressure and to tight deadlines.
Come up with solutions to seemingly intractable problems.
Carry out routine site maintenance.
Drive projects forward.
Work closely with other developers and professionals.
Make recommendations on the use of new and emerging technologies.
Produce feasibility and usability reports for projects as well as accurate cost projections.
Organize and manage multiple priorities simultaneously.
Communicate confidently.
Quickly fit into any existing team of developers.
Work through a project life cycle.


Excellent knowledge of:
Adobe Photoshop, HTML, CSS. Adobe Illustrator, Dreamweaver, Corel Draw, Google Wed Designer, Atom.


LANGUAGE SKILLS
English
Speaking competence – Fluent.
Written competence – Fluent.

German
Speaking competence – Intermediate
Written competence – Intermediate.

PERSONAL SKILLS
Team player.
Excellent interpersonal, verbal and written comminication skills.
Strong attention to details.
Strong interest in career growth, selfdevelopment and development of my company.
Friendly, polite, helpful and hard working.
Highly organised.
Flexible.
Critical thinker.
Quick learner.
Зберегти у відгуки
Схожі резюме