Сайт поиска работы №1 в Украине
Резюме от 18 января 2018
PRO
Холод Наталія Іванівна
Financial Analyst
Полная занятость.
Дата рождения:

29 декабря 1967

(50 лет)

Город:

Киев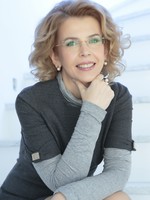 ---
Контактная информация
Соискатель указал телефон, адрес и эл. почту.
Получить контакты этого резюме можно на странице https://www.work.ua/resumes/1461114/
---
Опыт работы
Manager, Financial Analyst
с 11.2014 по 12.2014 (1 месяц)
Financial Sector, Banks, Kiev (bank)
SUMMARY
My primary experience is in the banking sector, concentrating on financial management, corporate business, and change management.
10+ years in financial management and corporate finance of all segments,
5+ years in project management, business-process organization, their reengineering,
9 years in cooperation with multilateral / international financial institutions (MFI/IFI) in correspondent business and financial analysis.

KEY QUALIFICATIONS
1. Senior Banking Sector Expert, with in excess of 20 years of experience in corporate banking, formulating and implementing institutional restructuring and development programmes in Ukraine. Corporate Banking expertise gained in more than two decades of financial services delivery, dealing with Large Corporates, Mid-Market clients, SMEs, and the retail sector. Senior position in management responsibility for the credit portfolio remained for three years.
2. Proven experience in formulating and rolling-out institutional change programmes in Banks in Ukraine. Great professional skills in business-process optimization and reengineering, financial management, strategic planning, business planning, organizational analysis and design, product range development and marketing promotion. Project Manager for Raiffeisen Bank Aval, formulating and implementing new processes and procedures for internal communications, staff management, document management, and Board level decision making.
3.Strategy development and implementation, targeted at corporate business development of all segments, as well as overall management and oversight of strategic plan and corporate marketing plan, targeted at insurance sector. Significant track record in structuring and managing teams and business lines in Banks, and providing management and oversight of Bank business processes, including oversight of Branch networks, and capacity building corporate sales teams. The experience in all management positions spans 9 years.
4. Risk management: credit and investment process; development of credit policy, methodology for industry concentration of credit risks, assessment methodology of financial condition of bank/enterprise; portfolio risk management; analysis of loan portfolio, bank reserves to reimburse possible losses on active operations; analysis of financial stability; implementation of management strategy as profit maximization (GAP management, duration, open currency position) and focus on risk minimization (fixing spread, immunization of BS, closed foreign currency position); liquidity management; limiting foreign currency position.
5. Corporate lending expertise is gained during 15 years, including structured financing under the insurance coverage of export credit agencies to the largest domestic producers, experience with the implementation of EBRD credit lines in Banks. Cooperation with MFI/IFIs and NBFIs to develop common financial services, common financial and credit projects.
Skills are confirmed in LinkedIn®
Relationship Manager (Corporate Business Department) with Margin Bank
с 06.2013 по 09.2014 (1 год 3 месяца)
Public Joint Stock Company "MARFIN BANK", Kiev (Financial Sector, Banking)
(segment - Large Corporate Business, MidMarket, SME)
* Identification of new sales opportunities.
* Formation, development and maintenance of relationships with corporate customers.
* Business analysis, structuring of transactions, restructuring of corporate loans, claims work with problem debts of large corporate businesses and lawsuits against them.
* Analysis of customer financial documents, processing of loan applications.
* Sales of banking products and services to corporate clients: cash and settlement services, deposits, credit lines, overdrafts, factoring receivables, documentary guarantees, acquiring, payroll projects, etc.
Presentation of loan proposals to Credit Committee, International Credit Committee.
* Formation and development of communications with other departments of the Bank (Risk Management, Legal Department, Litigation Department and others), coordination of their interaction to maximize the profitability of bank's business and minimize the risks arising from client transactions.
* Organization of Corporate Business Department and execution of head duties.
Department of VIP Client Services. Chief Credit Analyst
с 04.2012 по 09.2012 (5 месяцев)
Joint Stock Company "TAScombank", Kiev (Financial Sector, Banking)
(segment - VIP clients)
* Business plan, investment plan, and borrower project analysis.
* Analysis of financial statement (BS, P&L, CF, etc.) and managerial reports, analysis of financial condition, creditworthiness of client / group of related companies.
* Analysis of information about client / group of companies for management of credit risk and liquidity risk of collateral, study of main factors of client's activity, i.e. economic, industrial, financial, marketing.
* Preparation of commercial proposal to client / group of related companies.
* Structuring of transactions, financial modeling, including construction of cash flow models and stress testing.
* Preparation of loan applications for presentation to Credit Committee.
Project Manager
с 01.2007 по 01.2009 (2 года)
Open Joint Stock Company «Raiffeisen Bank Aval», Kiev (Financial Sector, Banking)
* Formulation of procedures and documentation to regulate activities of Executive Secretariat, MBO.
* Project "Circulation of Electronic Documents" initiated by Raiffeisen Bank International AG: Training delivery on Corporate Standards of Communication in Electronic Forms and Classification of Internal Documentation and Procedures (organisational structure and operations). Training on utilisation of Lotus Notes. Management of public tenders for hardware and server upgrades. Organisational and Administrative Measures included instituting assistants for structural units of Raiffeisen Bank in Ukraine, updating document management procedures, staff reduction, and increasing performance and efficiency.
* Project "Decision Making Process for Management Board of Raiffeisen Bank Aval": Project to formalize and update decision making procedures on the Management Board of Raiffeisen Bank Aval. Updated Regulations and Rules of Management Board, including formal documentation and procedures. Instituted administrative support roles for Board Members, and Management Board.
Corporate Sales Department. Chief Economist
с 01.2006 по 12.2006 (11 месяцев)
Open Joint Stock Company «Raiffeisen Bank Aval», Kiev (Financial Sector, Banking)
(segment - MidMarket)
Responsible for identification of Middle Market segment business opportunities. Responsible for organization and facilitation in the management of the Corporate Sales Department, and formulation of the Department Structure. Formulation and structuring of the department business line, covering segmentation of client base, delegation of responsibilities across Regional Directors and Major Branches, business planning (KPIs + MBO), and establishment of structural units within Raiffeisen Regional Directorates. Capacity strengthening and training for Corporate Sales Departments and Credit Support Departments.
Marketing And Client Policy Division. Deputy Head
с 01.2002 по 12.2005 (3 года 11 месяцев)
Joint Stock Company «Commercial Bank «Nadra», Kiev (Financial Sector, Banking)
(segment - Large Corporate Business, MidMarket, SME)
Responsible for strategy development and implementation, targeting business development in the Large Corporate, Middle Market, SME, and retail sectors. Developed and oversaw implementation of corporate marketing plan, targeted at insurance sector, and managed a regional network of sales experts. Oversaw separation of front-office and back-office functions, and managed the delivery of sales training programmes.
International Department. Chief Economist
с 01.1997 по 12.2001 (4 года 11 месяцев)
Joint Stock Company «Prominvestbank of Ukraine», Kiev (Financial Sector, Banking)
(segment - Large Corporate Business, IFI & NBFI)
* Servicing mechanism of international credit lines under sovereign guarantees.
* Credit projects financing under insurance coverage of Export Credit Agency, such as COFACE, CESCE.
* Facilitation of EBRD criteria for SME Line: IBP (Institution Building Programme), SOPS (Strategy and Operating Policy Statement), Credit Project Description.
* Credit and financial analysis of Financial Institutions & Nonbank Financial Institutions.
* Analysis of business plans, loan applications for Credit Committee.
---
Образование
Kiev National Economy University
Financial Economic Department. Profession - Finance & Credit, Kiev
Высшее, с 09.1985 по 06.1989 (3 года 9 месяцев)
Interregional Academy of Personnel Management (Kiev, Ukraine)
End date 2015

Professional Development Program "Financial Analyst in a Bank"
•Financial management in a bank, EXCEL;
•Banking management;
•Marketing in the bank, client policy.
Complex examination - evaluation is "excellent"


University of Economics and Law "KROK" (Kiev, Ukraine)
End date 2012

Profession Development Program "Chief Financial Officer"
•Financial Accounting, IFRS
•Managerial Accounting & Controlling, Budgeting & Forecasting
•Financial Management, Financial Analysis & Economic Analysis


Aspect Language School, Aspect College London (The UK, London)
End date 2002

English For Business & Marketing Course
•General English lessons
•English for business electives
•Marketing study sessions
---
Дополнительное образование
University of Economics and Law "KROK" (Kiev, Ukraine) (2012)
Aspect Language School, Aspect College London (The UK, London) (2002)
Interregional Academy of Personnel Management (Kiev, Ukraine) (2015)
---
Профессиональные навыки
Навыки работы с компьютером


Microsoft Word, Microsoft Windows, Microsoft PowerPoint, Microsoft Office, Microsoft Internet Explorer, Microsoft Excel, Microsoft Access, IBM Notes and Domino Social Edition, MS Outlook, Scrooge, RS-Bank-Citrix, Mac OS X, iOS 7

Customer Relationship Management

(10 лет опыта)




Эксперт, 1 год назад.

Corporate Business Methodology

(8 лет опыта)




Эксперт, 1 год назад.

Performance Management

(10 лет опыта)




Эксперт, 1 год назад.

Project Management

(10 лет опыта)




Эксперт, 1 год назад.

Risk Management

(10 лет опыта)




Эксперт, 1 год назад.

Credit Analysis

(10 лет опыта)




Эксперт, 1 год назад.

Financial & Economic Analysis Of Bank's Activities

(7 лет опыта)




Средний, 1 год назад.
---
Знание языков
Английский — эксперт
Немецкий — начинающий
---
Рекомендации
Latypova Larisa Ivanovna
Director of Central Branch of PJSC "MARFIN BANK" in Kiev, PJSC "MARFIN BANK", +380 44 521 0373, +380 50 414 6646, LLatypova@marfinbank.ua
Oksana V. Veligurskaya
Head of Retail Banking Branch-Senior Professional, PJSC "UniCredit Bank", + 380 50 548 71 31, Oksana.Veligurska@unicredit.ua
Tatyana V. Kochereva
Administrative Director, Member of the Board, ЛІГА: ЗАКОН, + 380 50 359 3419, + 380 98 286 4984, tkochereva@gmail.com
---
Дополнительная информация
Key Skills
Business Analysis - Planning & Organizing - Project management - Financial Management - MS PowerPoint - Marketing Analysis - Team management - CRM - PMBOK - MS Excel - Corporate Finance - Risk management - IBM Notes and Domino Social Edition - Resource Management - Decomposition Analysis - GAP Management - Project Finance Product Development - Business Process Optimization - Cluster Analysis - Strategic Planning - Cognitive Flexibility - Judgment & Decision Making - Negotiation & Business Communication - Service Orientation - MS Access - Critical Thinking - Coordinating with Others - Emotional Intelligence - Financial & Economic Analysis

Personal Qualities
- Energetic;
- Well-balanced: objective, mindful with inner composure, observational, systematic approach, flexible, resistant to stress, calm, self-confident;
- Professional & Educated;
- Loyal & Tolerant;
- Responsible & Proactive;
- Positive and effective communication: flexible in negotiations, non-conflicting with constructive dialogue, leadership, personal point of view, decision-making in non-standard situations;
- Well-developed organizational skills;
- Business Etiquette.

I am interested in Financial Analysis, Risk Management including Portfolio Risk Management, the formation of the Bank's Risk Model with such components as LGD, PD, EAD, definition of credit risk on active operations, its principles and standards in accordance with IFRS, IAS and requirements of the NBU.

Membership of Professional Bodies:
Credit Analyst Club Worldwide
Financial Analyst Club Worldwide
Global Financiers & Bankers

Public Profile & Recommendations
http://ua.linkedin.com/pub/nataliya-kholod/2b/50/3b9

Presentation
https://youtu.be/wyAbuBJ4tg4
https://youtu.be/agymrK_ah3s
https://youtu.be/4W0q-3HG0VU
Сохранить в отклики
Похожие резюме