Сайт пошуку роботи №1 в Україні
Резюме від 6 листопада 2018
Uvarov
Andrey
Commercial Manager, Head of Sales, Coach Trainer, Call Center
Повна зайнятість, неповна зайнятість, дистанційна робота.
Вік:

52 роки

Місто:

Київ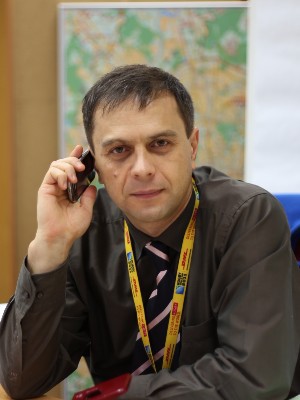 ---
Контактна інформація
Шукач вказав телефон та ел. пошту.
Отримати контакти цього резюме можна на сторінці https://www.work.ua/resumes/3913655/
---
Досвід роботи
Head of Sales Training Department / Sales Coach Trainer. English/Russian.
з 02.2017 по 05.2018 (1 рік 3 місяці)
Media Stream BHG, Киев (Financial brokerage company)
Conducting trainings for Telephone Sales professionals: an introduction to financial markets, telephone sales skills. Providing individual coaching sessions and auditing sales quality. Monitoring the effectiveness and efficiency of the corporate sales process..
Head of Training and Development Department/ Sales Coach Trainer
з 09.2014 по 07.2015 (10 місяців)
Bayadera Group, Ukraine (FMCG industry), Kyiv (FMCG, alcohol distribution company in Ukraine)
Company information: the biggest alcohol distribution company in Ukraine, international & local alcohol brands – Moet, Veuve Сlicquot, Don Perignon, Hennessy, Remy Marten, Johnnie Walker, Baileys, Sheridan etc / Khlebni Dar, Kozatska Rada, Persha Gildiya, Marengo, Koblevo etc. Company staff 4500+ employees. Sales Force 1200+ employees. Sales Branches in Ukraine - 26

Sales Trainings delivery = 50+ sales trainings were delivered for 500+ sales staff - sales executives and sales teams managers in Ukraine within 4 month period;

Deployed Sales Tools/Standards/Processes = (1) Product Catalogue 2015 covering information about company, production plants, product groups and 15 brands, (2) Sales Executives Standards, (3)KAM Sales Standards, (4) Merchandisers Sales Standards;

Implemented IT solutions = (1) LMS e-learning system covering CIS countries; (2) System for delivering webinars covering CIS countries; (3) Shared knowledge databases for Sales Force and Customers covering CIS countries (under implementation).
Sales Development Manager/ Sales Coach Trainer for Russia, Ukraine and CIS countries
з 01.2003 по 05.2014 (11 років 4 місяці)
DHL Express International (Germany), Kiev, Moscow (Transportation, Logistics, Warehousing, International Logistics)
Results per year:
2013 - DHL Russia is #1 worldwide in absolute EBIT (before China) as result of revenue growth in Q3 & Q4
2013 - DHL Russia is #1 in Europe region (39 countries) in Selling Against Competitor campaign
2012 - DHL Russia is #1 in Europe region (31 countries) in Selling Import Product campaign
2011 - DHL Ukraine within TOP10 countries with best Sales Excellence results in region (125 countries).
2010 - DHL Ukraine is #1 with Sales Excellence Award within region (125 courtiers).
Commercial Manager Ukraine, Sales Director Ukraine
з 08.1994 по 03.2002 (7 років 7 місяців)
Moulinex (France), Electrolux (Sweden), Rautaruukki (Finland), Caparol (Germany), Kiev (International trade)
Responsible for sales targets achievement at country level
---
Освіта
National Academy of State Regulation & Public Administration, the President of Ukraine
State Regulation, Kiev
Вища, з 09.1996 по 05.1998 (1 рік 8 місяців)
Master of Public Administration
Technical University Ilmenau, Germany
Measurement systems and computers department, Ilmenau
Вища, з 09.1988 по 05.1989 (8 місяців)
Diplom-Engineer, Graduated with Honours
Technical University Kiev, Ukraine
Statistics, computers, measurement devices, Kiev
Вища, з 09.1982 по 06.1988 (5 років 9 місяців)
Engineer, Graduated with Honours
---
Додаткова інформація
Sales excellence, constant improvement & learning-development specialist with 20+ years of experience with FinTeach, DHL, Electrolux, Moulinex, Caparol, Rautaruukki in sales related consulting, coaching, trainings, tools including CRM, reporting analysis, recruiting, sales development and sales audit. Industries – air-express courier service, fmcg, home appliances, video-audio equipment, construction materials, ferro/non-ferro metals, chemicals, import & export trading. Management & administration experience. English - fluent, German - basic, Ukrainian and Russian - native. Advance skills in computer usage and business applications. Driving license - since 1991. Key words - DMAIC, Lean, SIPOC, SIX SIGMA, Scorecard, Siebel, Dynamics, SalesForce, Bitrix, CRM, Pipeline, Sales Channels, Sales Process, Target, KPI, Activity, Opportunity, Loyalty, Acquisition, Retention, Ratio, Visio, Business Studio, E-learning, Online, SkillSoft, Mzinga, WebTutor, Mirapolis, Skype/Link, WebConferencing, Webex, Adobe Connect, MS Project, WordPress, Google Tools, Power Point, Outlook.

LIST OF TRAININGS FOR DELIVERY

Trainings for Company staff and Front-line

•Sales for non-sales people
•Selling by providing high-quality service
•Effective teamwork
•Handling difficult customers
•Selling in Service Point
•Selling in Call Centre
•Selling by Courier

Trainings for Sales Executives

•Customer Retention
•Customer Acquisition
•Telephone Sales Skills
•Sales Induction
•Sales Standards and Processes
•Sales Tools for Sales Executives
•One Day in Life of Sales Executive
•Consultative Selling for VIP customers
•Contracting & Advanced Negotiation with VIP customers
•Advanced Customer Management for VIP customers
•Time Management for Sales People
•Opportunity Management


Trainings for Sales Managers

•Sales Strategy Alignment
•Sales Audit
•Sales Skills for Sales Managers - Fast Track training
•One Day in Life of Sales Manager
•Management Standards and Processes
•Managing sales using KPIs & Scorecards
•Sales Tools & Reporting Tools for Sales Managers
•Sales Team Management
•Coaching for Sales Managers

CERTIFICATES:

•Introduction to Quality Management and ISO 9000:2000 – BVQI, July, 2001
•Recruiting Skills – DHL Express Int., April, 2003
•Sales Management – DHL Express Int., June, 2004
•Train The Trainer: Selling in physical channels - DHL Express Int., August, 2005
•Train The Trainer: Selling in Customer Service - DHL Express Int., September, 2005
•Project Management - DHL Express Int., April, 2006
•Train The Trainer: Best in Class Sales 1 – DHL Express Int. & TACK Int., October, 2006
•Best in Class Sales Management Coaching – DHL Express Int. & TACK Int., September, 2007
•Training development, level 2 - DHL Express Int., June, 2008
•Train The Trainer: Sales Coaching – DHL Express & Richardson, February, 2010
•Train the Trainer: Best in Class Sales 2 – DHL Express, March, 2010
•Facilitator Skills - DHL Express Int., October, 2011
•Train The Facilitator: Sales Management - DHL Express Int., October, 2011
•Train The Facilitator: Relationship Sales - DHL Express Int., December, 2011
•Train The Facilitator: Sales Tools & Processes - DHL Express Int., December, 2011
•DiSC® Evaluation Specialist – DHL Express Int., December, 2011
•DMAIC & Lean Master Bronze Certificate – Deutsche Post DHL, 2012

GRANTS & AWARDS

•Grant for the fruitful cooperation and assistance in program of self-employment for migrants from the Crimea and East Ukraine. USAID, KrymSOS. Kiev. April, 2016
•Grant for the fruitful cooperation and assistance in program of self-employment for migrants from the Crimea and East Ukraine. USAID, KrymSOS. Kiev. September, 2015
•Grant for the fruitful cooperation and assistance in program "How to start your business" for migrants from the Crimea and East Ukraine. USAID, KrymSOS. Kiev. November, 2015
---
Зберегти у відгуки
---
Схожі резюме
---